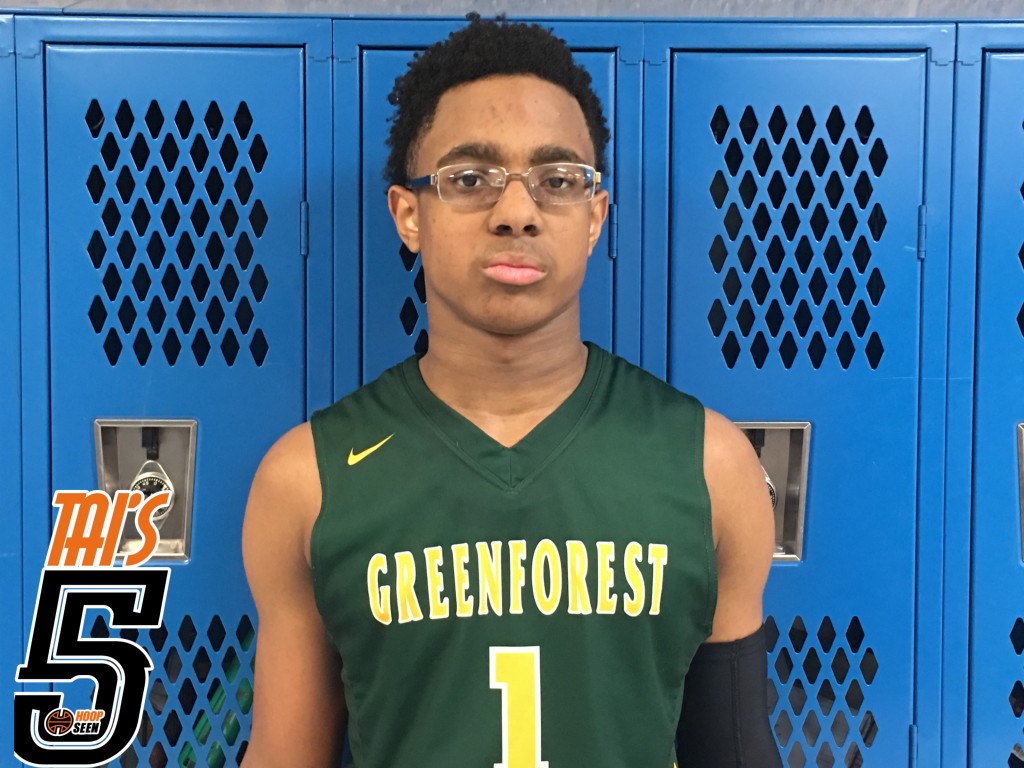 The Hawks Naismith Classic featured several quality teams that came in from all over the state. The two-day event has become an early staple for college coaches, fans, and media alike. While there was a ton of talent to take in, there were five players that put their team in a great position to win. 
Going into my third year of watching Saint Francis hoops, I've walked into games having already penciled in certain things I expect to see. Of course, there are the highlight plays that are sure to come from Xavier signee Dwon Odom, but there are also the plays from Chase Ellis that land on the opposite end of the spectrum. For what Ellis lacks in measurables, he makes up for with a heart that's twice the size of his opponents. His hard hat mentality has helped him surpass the double-double mark, more than a few times throughout the course of his career. The correlation between Ellis's production and the success of Saint Francis is easy to see. 
Is there anyone that embodies what I think a team represents? It's a question I thought of as I watched Lymon snag down board after board in a vicious manner. The word tough comes to mind anytime I watch Tri-Cities on the hardwood. Of course, they have talent. But if you peel that away to the core, you'll find a group of guys that know how to battle until the final buzzer sounds. Lymon is the perfect representation of that as one of the team's interior enforcers. If a rebound is in play, there's a great chance that Lymon is involved. With load management being a hot word over the past few weeks, it's always refreshing to see someone play with little regard for his body or his opponents. 
If you told Khi Cook that he couldn't touch the offensive side of the court, he would still manage to walk away with a handful of points. With a pair of hands like magnets, Cook would feast off of careless ball handlers and lazy passes all night. His pressure alone can change a game as he's one of the best I've seen at creating offense out of his defense. Flashbacks of Sandy Creek guard Kam Miller would come to mind as both mirror each other in regards to their relentless pursuit of a turnover. It will be interesting to see how guards react to his pressure through the course of the season. 
I love when players play as if they had a game circled on their schedule before the game started. That is the sense I got when I watched Micheal Whitmore this weekend. The bright lights of the nightcap didn't faze him at all as his bravado would carry his team throughout the night. Whitmore's steady pace on the offensive end was a stark contrast to what he displayed defensively. When it was time to dial in for a stop, Whitmore would set the tone by playing stout defense that made it hard to have a clean possession. When the crowd reacted, so did he. When Pace made a run, he calmed his team. For those that covet the truest form of a point guard, look no further than Woodward's pulse of the team.  
The back and forth between St. Pius and Greenforrest made in one of the more enjoyable games for me to watch throughout the day. I loved the difference between the makeup and styles of play between the two programs. While the back and forth was great from a spectators perspective, it seemed that Jalen Forrest had enough of it come the third quarter. A flurry of points would eventually give Greenforrest a lead that they would build on for the rest of the game. After the game, I spoke to Forrest about his mindset, and what it means to him to play the point guard position. 
Quick thoughts...
This was the best I've seen Drexel signee Lamar Oden play. As a playmaker, he's made one of the best improvements that I remember in recent memory.  
It was my first time watching a full game of St Pius '22 guard Chase Cormier. His shot-making is something that should bump up his recruitment sooner than later. 
Peyton Daniels did what some guards struggle to do when their shot is not falling early on and that is staying engaged. Seven rebounds and four assists attest to that. 
Kai Simmons has a ton of potential to tap into. His size and mobility are impressive. Continue to track to prospect as he's both young and big. 
Last year, Kennesaw State felt that Langston Hughes freshman Kobe Davis was worthy of a division 1 offer. Between his play at our Elite Preview and the Hawks Naismith Tip-Off Classic, I understand why.   
Lastly, I believe that the shot clock made the games much more enjoyable for everyone. As a spectator, there was a nice flow to the game that resembled what the game is like on higher levels. Talking to coaches post-game also gave me the perspective that it allowed them to do some different things defensively that they may not have had the chance to do otherwise. Hopefully, the shot clock reappears on a more permanent basis at some point.