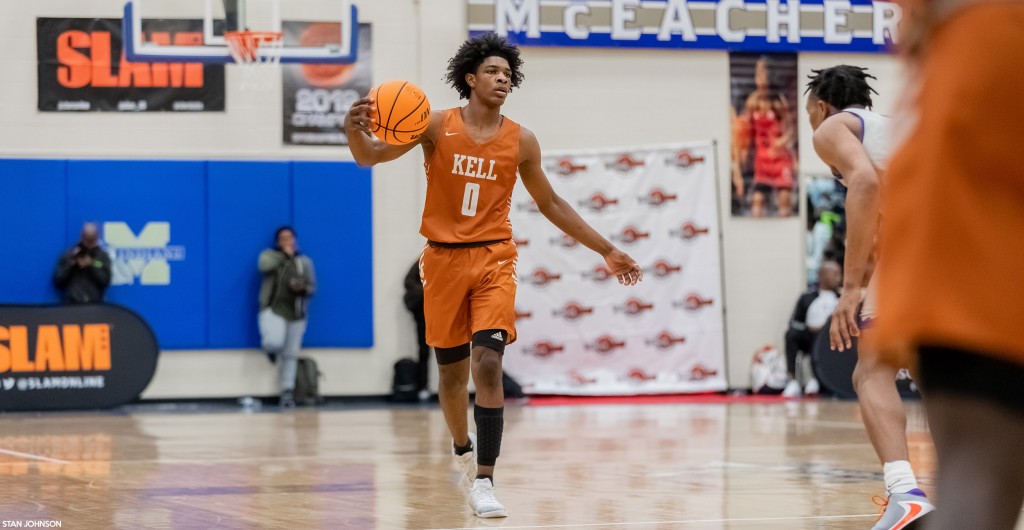 POWDER SPRINGS, GA - The high school season in the Peach State is officially underway and the annual starting point is the Georgia Elite 8 Tip-Off Classic at McEachern High School. We dive into the best performance, best win and best match-up of the day. 
BEST PERFORMANCE 
Sharife Cooper's 37-point outing in McEachern's 74-70 win over Berkmar. When it was time to turn up, the likely McDonald's All-American did just that in front of a late-night crowd on his home court. The game was a tight one throughout the night and Cooper's creativity with the ball, shooting touch from three and overall craftiness was just enough of a difference-maker in the action. McEachern's roster is very different than last year's 32-0 team. There's no doubt about that and Cooper will have to work a little harder to make an impact on the team, especially with Oak Hill transfer Dylan Cardwell sitting out during a GHSA denial of eligibility at the moment. So, that means even more from a ball-dominant Cooper. The game comes easy for him, no doubt, but in this one he had to work even harder down the stretch.  
BEST WIN 
Greenforest Christian head coach Rory Griffin, always passionate and always purposeful, walked calmly but proudly off the court after his team beat a big-time Pebblebrook team 49-40. But when the doors opened to the back hallway to the locker room, Griffin let out a roar. 
"This is what we do!" he shouted. "This. Is. What. We. Do." 
Greenforest mobbed each other and celebrated their win together. They should. They earned it. Of all of the teams and of all of the games, Greenforest looked like they were in midseason form. Defensively, they were dialled in against one of the best teams we'll see all year in the Peach State. 
"I'm extremely happy. The kids just buy into the fact that we just work hard," Griffin said after the game and after the passionate roar of celebration. "They just know. We just work hard. We don't get caught up in things that's not basketball. It's about the purity of the game - defense, sharing the ball and sacrificing for each other." 
Make no mistake about Pebblebrook either. They'll respond. Head coach George Washington will see to that. But Greenforest's length and defensive rotation were excellent on Saturday in Powder Springs. 
BEST MATCH-UP 
Coming into the event, the match-up of 2021 guards Scoot Henderson (Kell) and Dillion Hunter (Westlake) was the head-to-head pairing that I know I wanted to see the most. 
And it didn't disappoint. At all. 
While the two didn't match-up with each other all that much in the game, we saw the beauty of both of their games in this highly-anticipated match-up. Henderson comes at you like a one-punch knock out artist. Hunter is a round-by-round point-scoring boxer. We saw both of them shine in their own rights in the game. 
It took a while for Henderson's shot to find consistency in the beginning of the game. But he just kept shooting, like confident scorers should do. Henderson's ability to blow by his defender is next-level good. Few guys can control their athleticism and power like he can. And few defenders can keep up. Eventually, it would come. Much like Colin Sexton, Henderson just bullies his way to the paint and found himself at the free-throw line time and time again. 
He finished with 27 points and a 72-68 win and did so in front of a host of coaches. Coaches from Auburn, Georgia, Georgia Tech and Tennessee were on hand for the game. 
They also saw a calm and cool 16 points on few shots from Hunter. The ever-present point guard plays a patient game that doesn't waste energy or movements. His game is so understated and so productive that it can lull you to sleep only to wake to find a collective brilliant effort in the end. His game will thrive with high-level talent on the college platform. 
Both guys showed why USA Basketball likes them so much. Both guys showed why their production will play into their respective teams' successes on the court. What a fun back-and-forth to watch. 
We have more to come from the Georgia Elite 8 Tip-Off Classic on HoopSeen.com.