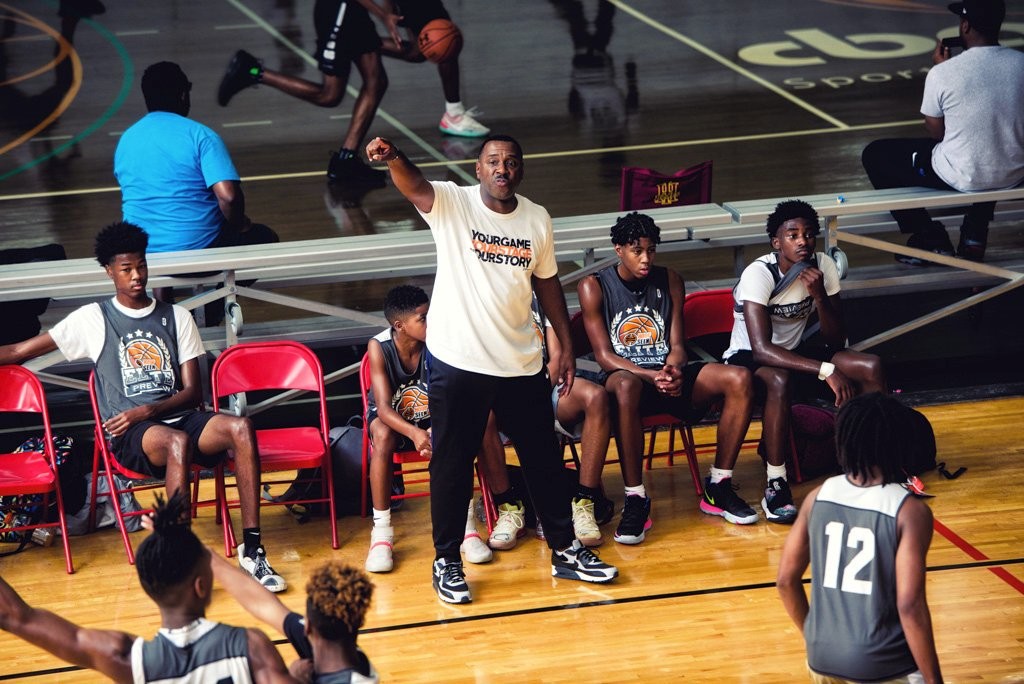 Our second fall preview camp is in the books as both players from Georgia and around the southeast met us at Suwannee Sports Academy. As the players competed and showcased their skills, our staff branched out to tell their stories. Here are our evaluations for team 4.
Tucker Lowe, 2021 G, Pickens: It was a struggle for defending guards to keep up with the speedy dribble of Pickens guard Tucker Lowe. Within a handful of dribbles, he could get end to end and allow his speed to dominate his matchup. The ending seemed predetermined as Lowes's strength and agility would help pull off some great finishes at the rim. When Lowe didn't have the ball his willingness to run the floor helped his team maintain a great up and down pace. 
Crosse Singilterry, 2023 G, The Campus Academy: On a team full of upperclassmen, Singilterry had to prove to his team that he was worthy of being trusted and overtime, he did just that. As his teammates began to appreciate his effort he was rewarded with more scoring opportunities. Although he wasn't able to cash in many attempts, his efforts defensively didn't not suffer because of it. For such a young prospect to not let his offense dictate his day, his future looks bright as he develops along the way.  
Brasen James, 2022 G, Evans: The shooting from James would stand out early as the sophomore guard knocked in a couple from deep. A quick flip of a shot would prove difficult to guard as James would hit his mark more often than not. When James wasn't hitting shots he could fall back on his athleticism to get him to spots on the floor. A ridiculously high motor kept him active defensively as he proved versatile on both ends of the court. This makes two weeks in a row that James highlighted the strengths of his game in front of our staff. Being named a top performer in the future is not outside of his realm of possibilities. 
LePra George, 2021 G, Sprayberry: Some shiftiness would make offense come easy as the junior guard would shake, maneuver, and drive his way to some contact finishes. His ability to hand in the air and finish with either hand proved useful as he evaded on coming help. Slicing through the defense came easy and from there a high lofting floater would get the job done. 
Grant Rosenbaum, 2021 F, Cambridge: It was apparent from the start of drills that the junior forward was ready to throw his weight around. One of the best rebounders in camp made sure to put his best foot forward whenever a shot attempt went up. His anticipation put him in good spots and afterwards his motor did the heavy lifting. Offensive rebounds in when he touched the ball and from there we saw his soft touch. Rosenbaum did not come in to play cool as so many of his peers do in this setting. Cambridge has a tough and reliable forward that they can lean on this season.
Bryson Taylor, 2022 G, Mill Creek: Taylor put his heart on the hardwood and opened things up with a charge to his chest. It was a great way to start the day as Taylor set the tone for team four's defense. Being at a size disadvantage didnt effect the effort from #15 as he battle bigs in the post.  His toughness turned into discipline offensively as his shot selection was better than most. Rarely do sophomores play like a true extension of the coach. Taylor has some intangibles that can't be taught. 
Devin McGlockton, 2021 F, South Forsyth: When the ball entered the post the offense didn't bog down for a second as Mclockton would kick out to open shooters. His physicality in the post defensively would make post touches difficult as he anchored his team from start to finish. A short day took away from what would have been a solid outing. 
Camden Blount, 2021 G, Berkmar: Despite his offense not clicking early on, Blount made sure to contribute in other winning ways. The thick body guard would rebound and get deflections on a regular basis as he worked through some misses. Once his shot came alive, the rest of his offense followed as he went on to have a productive outing. Very few guards could match his physicality as he bullied his way through constant traffic. Blount could find himself on some recruiting boards for programs that value toughness and shot-making. 
Jaylen Jackson was named a top performer by our staff. Read more about his day
here.