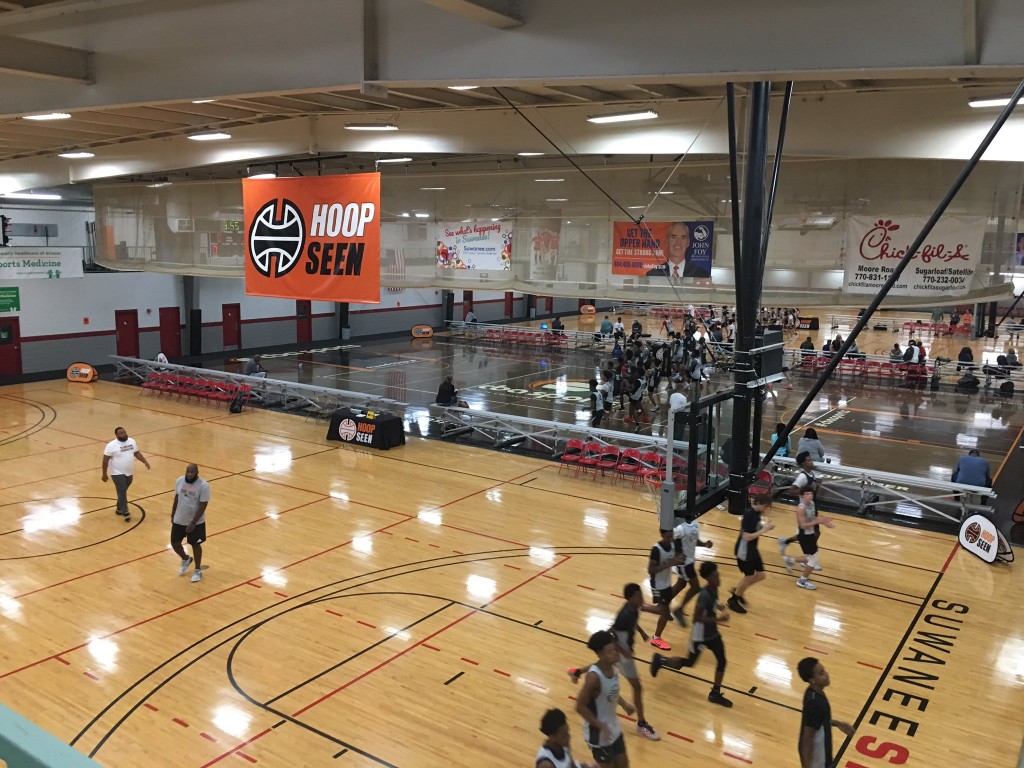 Our second fall preview camp is in the books as both players from Georgia and around the southeast met us at Suwannee Sports Academy. As the players competed and showcased their skills, our staff branched out to tell their stories. Here are our evaluations for team 1. 
Daryl Rice, 2020 G, Sandy Creek: Although he came into the camp with the reputation as a scorer, Daryl Rice displayed the qualities of a throwback point guard at camp. The pace was controlled throughout as he got the ball in the hands of slashers and scorers. Several player's points came easy with Rice at the helm as he knew when, where, and how to get others involved. Teams felt his pressure on the other end as he heated up ball handlers that causally handled their business. Rice was the ultimate spark plug for team 1. 
Michael Williamson Jr., 2022 G, Grayson: One of the beneficiaries from Rice's willingness to pass was Grayson sophomore guard Michael Williamson Jr. His knack for hitting the open shots made him a constant target whenever his playmakers got a piece of the paint. A few set shots from three made him one of the more consistent shooters on his team. Lazy passes got intercepted as his focus level kept him dialed in defensively. 
AJ Shepherd, 2022 G, Trinity Christian: The nets may have to be replaced after the outside shooting from the Trinity Christian guard. Three after three dropped as the sophomore found and kept his rhythm throughout the bulk of the day. A great IQ led to some open looks and from there the rest was easy. Shepherds teammates could count on him to cover their backs as he stayed in the right place defensively. Overall, Shepard showed some great qualities as a glue guy in different lineups. 
Robert Johnson, 2020 G, Hephzibah: Physical play came in doses as Robert Johnson would play much bigger than his listed size. As a slasher for team 1, Johnson's timely cuts would open up the floor some shooters on the team. On his cuts to the rim when he got the ball, the senior guard didn't shy away from contact. Johnson's strength would bail him out at the rim as oncoming defenders tried to use their size advantage. Rarely did it matter as he would walk away with several quality looks or wind up on the free-throw line. 
Xavier Ali, 2020 G, South Gwinnett: Ali's confidence as a shooter was evident as he put up attempts early in the camps action. With legitimate range outside of the three-point line, Ali stretched the court and found some consistency late. One of the highlights of the day was when Ali used his athleticism for an eye-popping block at the rim. One of the few seniors at the rim had a good showing in front of our staff. 
Oluwatoni Adenupe, 2020 G, Walton: When the opponent's best offensive talent got rolling it was Adenupe that stepped up to the task of guarding their hot hand. It's tough to cool someone down when their rolling but Adenupe's energy and effort made every possession as challenging as possible. With a build of a running back and a great first step, the senior guard made several downhill plays to get to the rim. His physical nature should benefit him well past his senior season. 
De'Kyon Taylor, 2023 G, Southeast Bulloch: Being one of the youngest players on his team didn't stop Taylor from getting his hands dirty. Taylor scrapped and hustled his way to be a contributing member His quickness loosened up the defense as he pushed the ball up defenders backs in transition. As the camp went along and players wore down, Taylor kept it coming with high energy hustle plays. 
Kyle Green, 2020 G, Norcross: Although Green didn't have a ton of offensive production, his willingness to stay locked into possessions proved valuable to his team. Rarely was there a mistake with the ball as he moved it freely within the offense. Green blended well on his team and had a low maintenance approach to the game. 
Raul Arias and Marvin McGhee were named a top performers by our staff. Read more about them here.