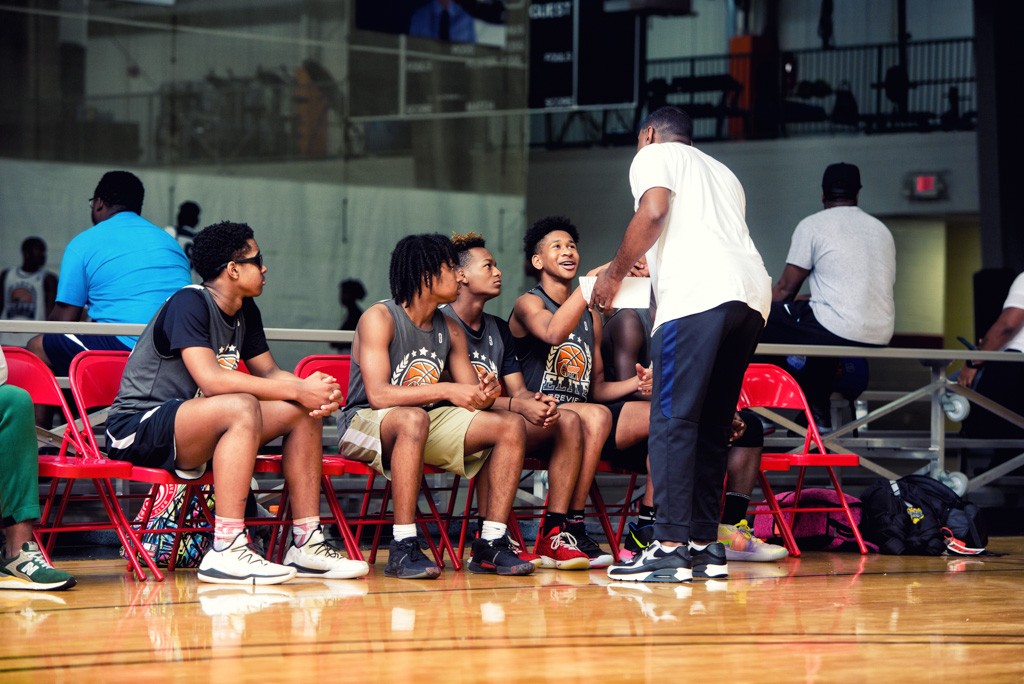 The 2022/2023 Elite Preview camp was loaded with great young talent from all parts of the Southeast. We dive deep into each team from the invite-only camp held at Suwanee Sports Academy. It's time to dive deep into Team 4.
Chris Anderson, Galloway School, 5-5, PG, 2023: The diminutive point guard handle the ball very well and got to spots with his quickness. He's quite crafty with the rock. His three-point shooting was good when he was open and can connect from deep.
Kanaan Carlyle, Milton, 6-0, PG, 2023: Looking for the quickest hands on defense in the camp? Look no further than Carlyle. He was a pesky defender and created opportunities because he was locked in on defense. His dog mentality allowed him to go hard to the rim as a driver. He plays with good pace and can really knock down shots when he gets into his rhythm. 
Jalen Forrest, Greenforest, 6-3, PG, 2022: Always looking to pushes the tempo, Forrest used his strong body to keep defenders on their toes. When he saw an opportunity to strike with a perimeter bucket, he did. He's a good shooter in space. 
Juvon Gamory, Wheeler, 5-9, PG, 2022: You could make an argument that he was one f the best shooters in the entire camp. He was consistent from three and made shot after shot. He's a ball-dominant guard that likes to push pace and play in speed. 
TJ Holmes, Pebblebrook, 6-0, PG, 2023: A tough gritty playmaker, Holmes is an athletic guy who always found his way to the rim with the dribble drive. He has a quick burst that allows him to get through traffic without getting bumped off his drive line. He's athletic and has long arms. There was a toughness to him that should bode well as he develops in Pebblebrook.
Seth Hubbard, St. Francis, 6-3, G, 2022: Hubbard was in a good zone as the camp moved on in the day. He hit open threes time and time again. His pull-up game is impressive and he did a nice job of creating for himself on the wing. Hubbard is long and skilled but continued work on his ball-handing will help make him into an even better weapon. In time, he could be a menace on the defensive end of the floor.
Lamariyon Jordan, Dacula, 6-3, SF, 2023: Jordan impressed us with his athletic game and ability to get to the rim. He runs the floor quite well and has good length. Jordan plays with a ton of effort and rebounds really well for his size and his position. He's a slasher supreme and great in transition. We loved his energy on the defensive end of the floor.
Joshua Mathurin, Dacula, 5-9, PG, 2023: The heady point guard showed that he's a good playmaker and played well in speed. Despite sometimes being the smallest guy on the floor, he rebounds out of his area and showed toughness in that category.
Andrew Phillips, Whitefield Academy, 6-6, SF, 2022: He's a good prospect right now and it is easy to get excited about what kind of player he can become down the road. He has a long frame and gets after it on the inside. He moves his feet well on the wing and could be a problem as a wing defender. As he develops his shot, ball-handling and his creativity, good things could be in store for him. 
Ja'Kobe Strozier, Drew Charter, 6-3, SG/SF, 2022: Strozier is a stasher who gets everything towards the rim when he's on the offensive side of the ball. He's a great athlete who plays fast and seeks transition basketball out. He's athletic and strong and finished when he got into the play. We loved how hard Strozier competed in this camp setting.