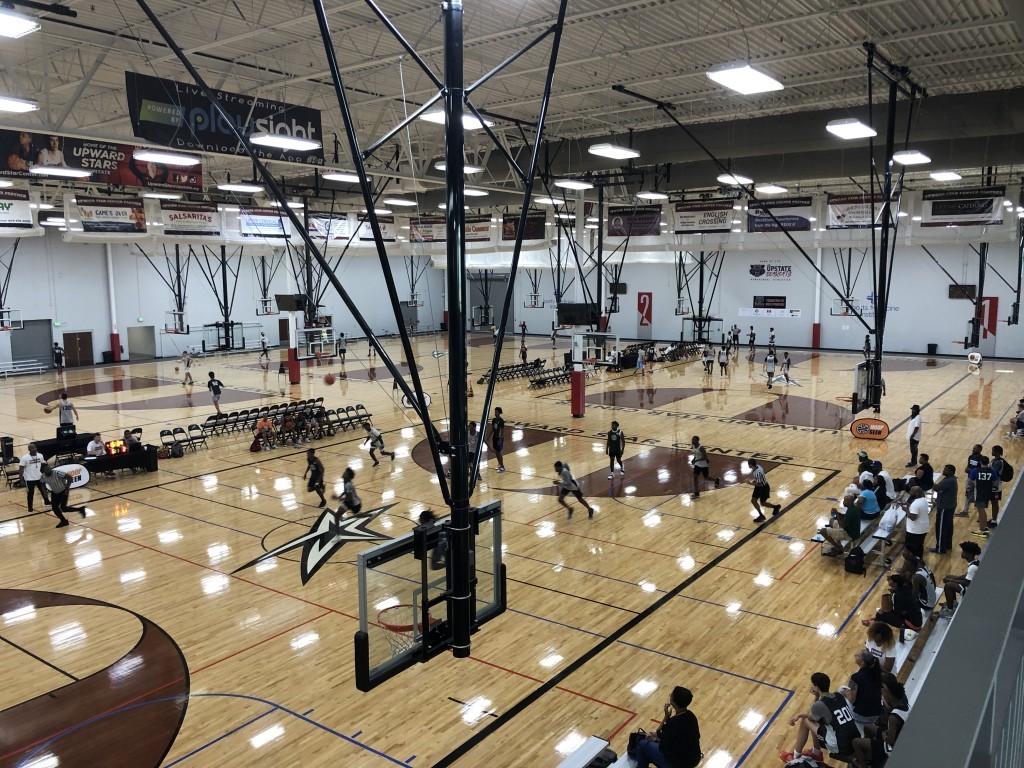 Isaiah Bruster, Spartanburg, 6-1, PG, 2020: Strong upper body point guard, likes to play physical on both sides of the ball.  Excels in on-ball screen with good court vision, ball handling with either hand and playing downhill with success finishing at the rim.  Can score from the perimeter and make the 3 ball when open.  Defends his position in the full or half court set without any problem.  Good rebounding instinct.
Jacoby Barnes, Lakewood, 5-8, PG, 2023: Young freshman, pass first point guard.  Willing to make the extra pass for a better play.  Average on ball defender, very coachable, good teammate, and follow instructions.
Christian Ferguson, Brookland-Cayce, 6'4, G, 2022: Long, athletic shooting guard, slasher, scores from the perimeter and attacking the basket.  Christian is a good plus rebounder and is able to start the break in transition with good handles and court vision to make plays for his teammates or himself.  Very active on the offensive glass for put-backs or getting to the free-throw line.  Good plus defender with long arms and active hands creating a ton of deflections, blocking/changing shots. 
Bryson Felder, Westwood, 6-2, SF, 2022: Very active long, bouncy wing, "GLUE GUY" doesn't take-off plays, a player you can always count on to make a play, get a bucket, make a stop!  Can score in multiple ways and always in attack mode.  Lock-down defender and rebounds against bigger players and plays unselfishly. 
Kory Davis, York Prep, 5-9, 2022, PG: Give me the ball leader mentality, crafty scoring point guard with a quick first step off the dribble, that puts pressure on the defense.  Handles the "ROCK" on a string, can beat his man one on one to the paint finishing with a pull-up jump shot, floater or at the rim with contact, excels in ball screens (pick and roll/pop) situations.  Kory scored anyway he want to, at the rim, mid-range to beyond the 3 point line.  Great court vision with the sense of founding the open man, ability to pass with either hand from the perimeter and in traffic.  High level "ENERGY" on ball/off ball type defender, took four changes in one game, total of 7 changes in three games.  Quick lateral movement with active strong hands causing deflections and tie-ups.  Great instinct for the ball, which makes Kory an outstanding rebounder for a point guard.  Always locked into the coach and his teammates.  
Channin Griffith, Legacy Early College, 5-10, G, 2021: Combo guard, tough as "NAILS" type of player.  Offensively, attack/slasher finishing at the rim.  Can score from the perimeter with good shot selection.  Handles the ball well and gets to his spot to make plays for his teammates or himself.  A defensive stopper, willing to give up his body for the team.
Lucas Heckaman, Westminster Catawba Christian, 6-6, SF, 2021: Long wing forward, with deep ball shooting abilities.  Can score off the dribble, catch and shoot with good accuracy.  Can catch fire from any range.  Puts the ball on the deck and finishes at the rim/above rim with either hand.  Lucas is comfortable with starting the break and making the right decision in transition.  Good defensive/offensive rebounder with long arms.  Can defend on the perimeter and in the paint, sneaky shot blocker.