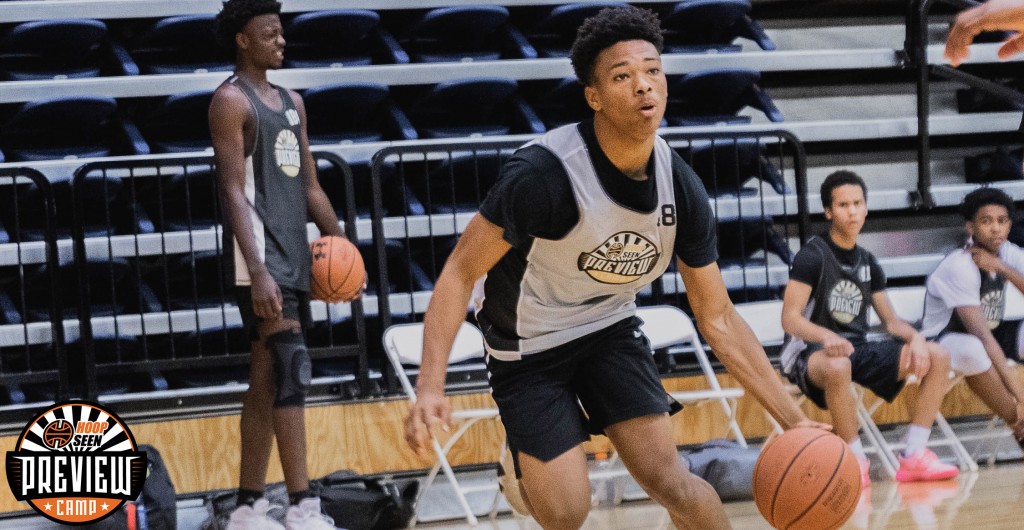 Our North Carolina Fall Preview camp is in the books and our staff of evaluators and coaches have gone through their notes of every player in the camp. Every. Single. One. Today we look closer at Team 1 from camp.
Darius Abraham, Harding University, 6-2, SG, 2022: Harding University High School in Charlotte was well repped at the NC Preview. The future is bright for LJ Johnson's squad and Abraham will be a key piece to their success in the future. The 6-foot-2 combo guard shot it really well during all of his games. He consistently made shots from the perimeter and showed that he can get into the paint off the bounce. 
Nick Boone, Knightdale, 6-6, SF, 2021: Another Garner Road Basketball Club prospect, Boone has good size at his position and his biggest attribute was his shot blocking ability. He doesn't get a lot of blocks because of his athleticism but because he has impeccable timing. If he was in the paint around the rim, it was either an altered shot by the opposition or Boone was making a block. 
Silas Demery, Millbrook, 6-2, SG, 2022: We keep talking a lot about Millbrook. Demery is another guy that will play a role for Chris Davis' squad this season and he impressed our staff during the event. What Demery brings to the table is a reliable shooter from outside that has good size and time after time made shots. He is a shotmaker. 
Christian Foy, South Christian, 6-5, SF, 2023: Long and athletic. Foy was impressive with his ability to handle the ball like a guard. At his age at 6-foot-5, Foy does a lot of things that guys his age can't yet. He is a reliable rebounder and defender and can guard multiple positions. 
Jordan Lynch, Greenfield School, 6-2, SG, 2020: The skill level is there and is still getting better. He can knock down shots from the mid-range out to the three-point line. Lynch is a high-level decision maker with the ball in his hands and he rarely make mistakes. One word that best describes Lynch is, shifty. He can get by defenders with ease and make things happen with the ball in his hands. 
Justin Monden, Heritage, 5-9, PG, 2022: One of the quickest players at the event from end to end. Has blow by speed that he uses effectively. He showed that he can knock down the mid-range shot and be effective in the half-court offense with always finding the right time to make the correct pass. 
Sam Perez, Middle Creek, 6-7, SF, 2021: The Team Wall prospect caught our HoopSeen staffs' eye with his ability to handle the ball on the perimeter and take defenders off the bounce with his size. He has really good timing that he uses to block shots and he takes it to the rim with toughness, leading to him getting fouled or making the basket. 
Isaac Phillips, East Wake Academy, 6-7, SF, 2020: Phillips passes the look test. He has broad shoulders and a good frame, he rebounded really well at the event and scored in the paint. He was able to knock down some 15-footers around the baseline that were some positives. 
Jakel Powell, Neuse Christian, 6-4, SF, 2023: Our staff really likes what Powell can be in the future. Great size for a rising freshman. He does a fantastic job of creating separation to get his shot off and has some nice footwork at the early stages of his game. Powell was also a consistent shooter from the perimeter.