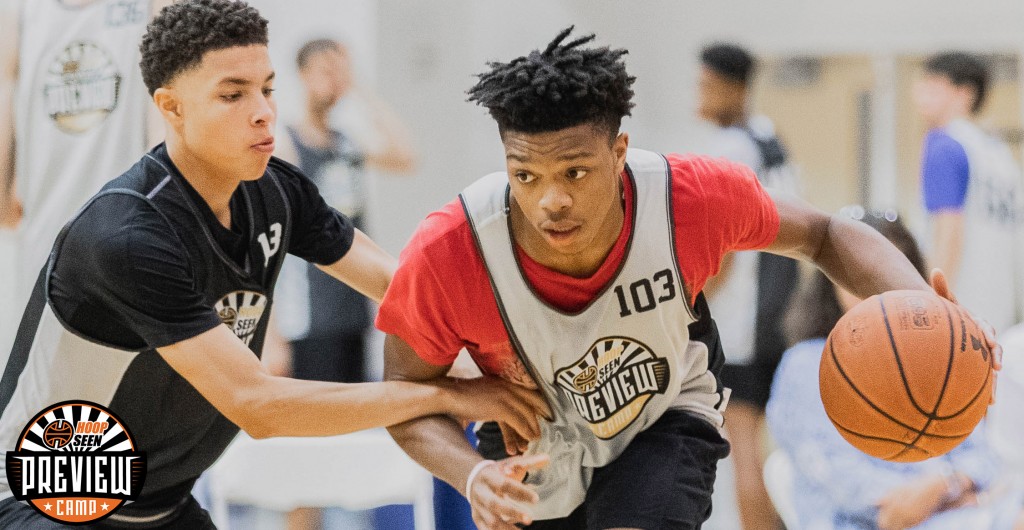 Our North Carolina Fall Preview camp is in the books and our staff of evaluators and coaches have gone through their notes of every player in the camp. Every. Single. One. Today we look closer at Team 1 from camp.
Chance Bryson, Harding University, 6-0, SG, 2021: As our HoopSeen editor-in-chief Justin Young tweeted, "If you talk in any capacity at a camp setting, you're 10x ahead of the game," then Chance Bryson was who he was talking about. Bryson does a great job of being vocal on the floor and showing his leadership. He is a smooth scoring guard that moves well without the ball. 
Robert Johnson,  Hephzibah, 6-0, SG, 2020: Johnson loves to get out in transition and make plays happen. He did a really good job of getting to the basket on the break and moving the ball up the floor. His passing ability was something that impressed the HoopSeen staff, making difficult passes look easy for him. 
Jayden Lawrence, Cox Mill, 6-0, CG, 2021:Lawrence consistently knocked down shots from the mid-range level out to the three-point line. The 6-foot combo guard has a quick first-step and used it to perfection blowing by defenders and getting into the paint. One of North Carolina's more storied program over the past three seasons has as good one in Lawrence. 
Markus Nastase, Clover, 6-2, SG, 2020: We saw Nastase this summer with the NC Flames on the HoopSeen stage. He doesn't shy away from getting involved with bigger players battling for rebounds in the paint. He is a knock down shooter that made a lot of shots on the day. Our HoopSeen staff thought he did a really good job of defending through the camp. 
Callum Richard, Gaston Day, 6-9, C, 2023: The young big man was impressive and this was our first time seeing him. Richard possesses a soft touch around the rim, keeps the ball high on rebounds not allowing smaller defenders to get a steal, he knows how to execute sealing off the defender for easy baskets. Most impressive was his willingness to run the floor and finish with his off-hand. 
CJ Vaughn, Glenn, 6-3, SG, 2023- Our HoopSeen staff are big fans of talking on the defensive end and Vaughn did that every game. Vaughn has some length to his game and was one of the top 2023 prospects in attendance. He shot the ball at a consistent rate and look seasoned in executing the pick and roll. 
Logan Wheeler, Middle Creek, 6-3, SG, 2021: The junior from Raleigh was one of the better positional defenders we saw at the camp. Wheeler has good size at the shooting guard position and has the stroke to match. Our staff was impressed with his passing ability from the guard spot and thought he was a threat to knock down mid-range shots.