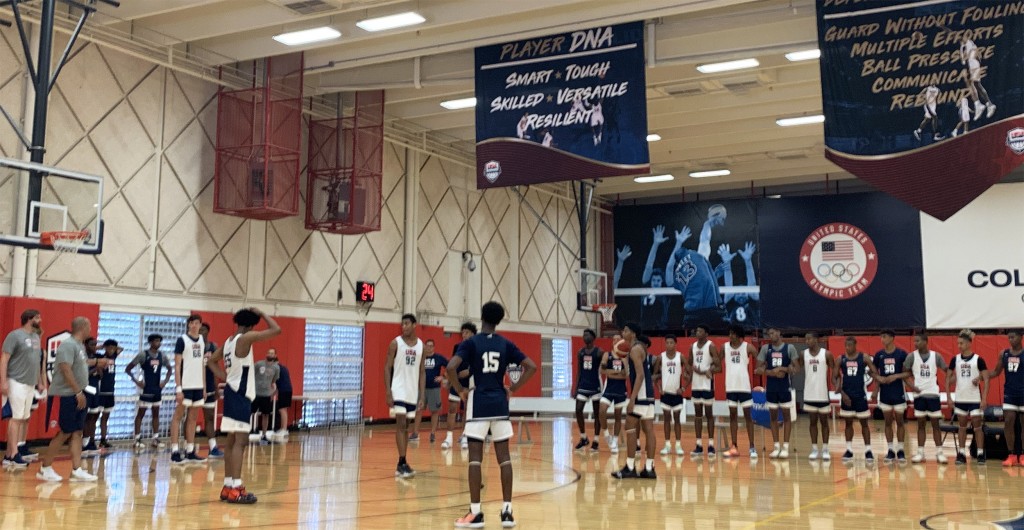 COLORADO SPRINGS, CO - Day one of the USA Basketball Men's Junior National Team Minicamp is in the books. As the players went through a full day of drill work, they capped the action off with a light set of scrimmages. 
As the camp grows older, the action will certainly intensify. Here's what stood out on Friday here in the Rocky Mountains. 
I liked everything Bryce Thompson did. The 6-foot-5 guard from Oklahoma impresses me every time I see him play. He was consistently drilling shots from deep and everything he did was effortless. Thompson cooked everyone on Friday night. He's had a tremendous spring and summer. When we unveil our new rankings for the 2020 class, the Tulsa guard will be inside our national top 15. 
I liked the way Caleb Love impacted the game in every facet. The St. Louis guard played like a guy who has been to the battle zone a time or time. Love played physical, running guys into hard screens, he was the hard screener and he also powered to the rim with a seasoned-vet drive to the rim. There was a leadership value to his approach on Friday. It will be interesting to see which 
I liked the way 6-foot-10 forward Nate Bittle shot and passed. The southern Oregon prospect from the 2021 class is a hard match-up because of his length and feathery shot as a corner three specialist. Bittle found a nice zone in the scrimmages and connected for a handful of triples. His passing is very good for a player of his size and position. 
More quick hitters from Friday… 
I like the way 2021 PG Kennedy Chandler runs his team on both ends of the floor. He has quick hands, great speed when he needs it and has elite vision. 
I like the way 2021 CG Max Christie was verbal in the drill work, helped coach his teammates and was locked into the instruction. 
I like 2022 Gradey Dick of Kansas every time I see him. He has good size (6-5), good bounce and is a good shot-maker. 
I liked the way 2021 PG Bensley Joseph competed throughout the day. He plays hard, showed a good pull-up three and was bouncy around the rim.