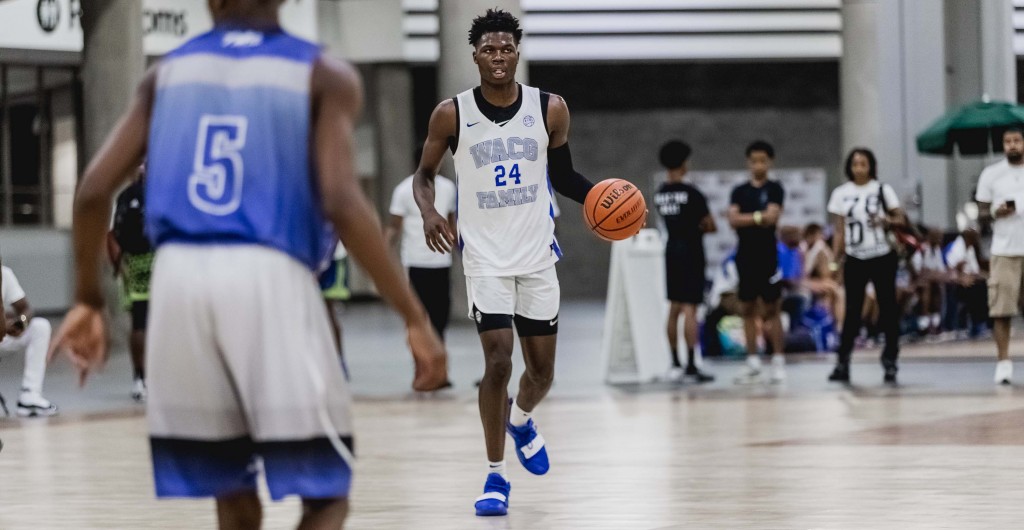 Day Two of HoopSeen's "Best of the South" did not disappoint as teams and players from various states showed what their area is made of. Check out my Friday notebook from the games I caught.
Friday's Standouts
Chris Livingston - We All Can Go: This 2022 prospect is proved why he will be one of the top players on the country when his time comes. The 6'5" shooting guard from Akron dropped 27 points including five treys against Team Parsons SWFL. Livingston is a high-flyer, has the ability to rise up above the defense in-transition and slam it home off the alley-oop. It's easy for him to get separation, and create his own shot in the midrange area. Obviously hitting five threes, we know the outside shooting ability is there. Without question, one of the best overall players in this field.
Korin Bradley - Jax Gamechangers: Although playing for a travel team out of Jacksonville, Florida, Korin will lead Gainesville-Eastside for his upcoming senior year—and is looking like he will lead them well. He notched 22 of his 26 points in the first half vs. Team New York, knifing through their defense for tough buckets at the rim. His personality is very stoic, never appears too rattled or overly-excited when on the floor. It translates into him making the RIGHT play more often than not. Though he can hit his fair share of jumpers, on-the-drive is how this guard makes his living. Looking forward to an awesome senior campaign from him.
Patrick Smith Jr. - Team WHBH: The 2021 Tennessee point guard made it hard for defenses to check him with how quick he was able to get the ball out of his hands. P.J. had a shooting day of his own, hitting five triples en-route to a 23-point showing vs. Team Speights 16U. Regardless of if he had a hand in his face or not, P.J. was wetting it all game. As he enters the second half of his high school career, look for Pat to continue to make a splash.
Tyrone Baker - Team Parsons SWFL: Baker is another 2021 prospect that should continue to make waves throughout the state. The energy he brings in the paint is something Team Parsons 2021 feeds off of, on offense and defense. He's another guy that lives above the rim, teammates love setting him up for quick alleys after the guard has penetrated the paint. On defense, he's great at going straight up-and-down, and defending tries at the rim. He swatted a few shots in the process during his game vs. We All Can Go. A solid offensive rebounder, Fort Myers-Riverdale has a real one on their hands.
Jatavius Washington - Nike Team Wildcats: This 2020 guard is slightly on the shorter side at 5'10, but he makes up for it with his speed. Washington was the quickest player I saw all of Friday, regardless of if the ball was in his hands or not. He led his 17U squad with 16 points en-route to a win vs. GE Elite. His first step off-the-dribble is nearly uncatchable. He sells the head-fake extremely well to freeze defenders and burst towards the hoop. Love the attitude he plays with. Definitely has a chip on his shoulder. 
Tre Carroll - Team Parsons SWFL: This rising junior out of Fort Myers, FL showed that he could do a bit of everything throughout the day. At the core, he is a scrapper. Plays solid on-ball defense and fights for loose balls when it's up for grabs. On the offensive glass, he's proving to be a viable rebounder—on defense, he'll swat your shot with ease. In game two on Friday, he knocked down a couple of treys, and got a couple slams in, as well. Definitely a well-rounded player that will only get better.
Unsigned Senior Watch
Ryan Wilcox - Team WHBH: This Tennessee senior is 6'3", but plays bigger than his height would assume. He battles for this buckets in the midrange and in the paint. Definitely not afraid at drawing contact and getting his points at the line. He's capable of stepping out and hitting the three. He notched 15 points in their win over PSB-McCarthy. Wilcox would be an asset at the next level.
Saigon Kitt - AC Georgia Black: Kitt is a 6'2" guard who can really fill it up from deep. The senior hit four treys & finished with a team-high 14 points in their final game of the day vs. TNT HoopSquad 2020. He was a major catalyst towards AC's first-half, 20-point lead. His energy didn't die down the entire game.
Braylan McIntyre - ATL Playmakers Elite: This South Carolina native, who plays in Florida at Oldsmar Christian, scored 16 of his 25 points in the second half during a win vs. Team ARG. McIntyre can dish it in a variety of ways, but primarily in the painted-area as he bullies defenders who try to keep him from getting shots off close to the cup. He's great at drawing fouls, and can step out and hit the trey, as well.
Jaylon Wooten - Team ARG: Wooten has almost a Tayshawn Prince type of frame, and can shoot the trey just as well. He finished the game vs. ATL Playmakers Elite with 24 points, including five treys. His length makes it hard for opponents to get passes through, in-transition. He deflected a good number of them. On offense, he can draw contact, and finish in-spite of. 
Carlos Felix - TNT HoopSquad: The Downey Christian senior came up big for his TNT squad, scoring 11 of his 15 in the second half to help rally the troops & earn a comeback win. He personally came back out in the second half looking like an entirely new player. More patient, yet more aggressive in picking his spots to get a bucket. Loved the tenacity.
Hi, My Name Is..
Joseph Dupree - MEBO Team Hood: Dupree is a wall of a 2021 kid. Standing 6'6", presumably at least 250 LBS, Dupree gave his squad 12 points by being a ball-handler, breaking down his defender, and working his way to the cup. He almost has a Demarcus Cousins type of build, and when he puts it on the floor, you're a bit surprised how well he can weave in and out of traffic. Like him.
Markel Allums - Team Nike Wildcats: Allums is an offensive rebounding machine. He finished his game vs. GE Elite with seven of those to go along with 14 points. The 6'4" junior doesn't mind getting hit on the way to the rim. He sank 6-of-6 free-throws en-route to the win. Love the energy he played with.
Omarie Sherrod - Team Speights 2021: Florida-St. Petersburg High has a great one in Sherrod, who albeit in a loss to Team WHBH, notched 18 points in the game. Eleven of those came in the first half, while going 5-of-5 from the stripe. Only 5'8", he has the bulldog mentality that always makes up for the lack of height. Absolutely fearless going through the hole, score most of his field goals at the rim. 
Myles Davis - Atlanta Playmakers Elite: Davis is a 2020 guy who can really get to the cup easy, and showed it by scoring 10 of his 15 points in the first half in the win vs. Team ARG. Standing at 6'3", the small forward operated primarily from the midrange area, down. Definitely a guy can go GET his own buckets, and doesn't have to wait to be set up.
Javian McCollum - Team Parsons SWFL: This 2021 guard is going to be instrumental for Fort Myers High School later this year, as he had a 10-point first half in the two-point lost to MEBO. He's a speedster, can get up and down the floor very quickly—especially when the transition offense is in his team's favor. Look out for him over the next two years.