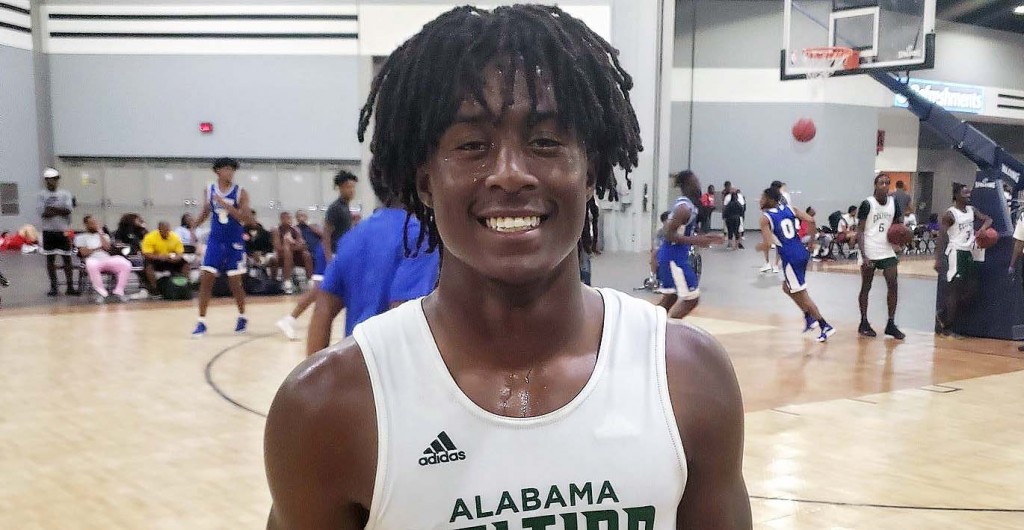 By Derik Williams
With Day 2 of Best of The South complete one can only imagine what day 3 can possibly have in store. Here is a look at some of day two's top performers plus more.
TOP PERFORMERS
2021 6'1 Ga'Quincy "Kool-Aid" McKinstry, Alabama Celtics 16U. "Kool Aid" put in a cool 36 points in a game vs. Team Parsons earlier in the day. His speed, strength, and athleticism made him virtually unstoppable when going downhill. McKinstry also happens to be a 5-star cornerback and is currently ranked as the best defensive back in the county. 
Silky Smooth 6'3 CG Scoota Malone of Bluff City Legends has the look of a prototypical lead guard. He is extremely creative with his handle and can create space or blow by any defender. He has the size to overpower smaller guards in the paint or raise up and shoot right over them from deep. He has a cool demeanor and never seems to get rattled but has the edge and toughness to be a lockdown defender.
Matthew Hill Jr., Freedom Hoops: This 2020 PG is the definition of a pitbull on the court. He guards from the time you get off the bus until you get back on it. He has a tenacity to compete that cant be taught. He is also extremely crafty on the offensive end. He can get by his defender at will with his handle and finishes well with contact over bigger defenders. 
Jamal Norris, 2020 6'3 SG, Team TMac: Scored every way imaginable on Day 2 dropping 25 points including five 3-pointers. He simply knows how to get shots up but seemed to never settle for bad shots. He exceled in the open court finishing with an advanced lay-up package and moved well without the ball in the half-court showing off an impressive skill set.
Denzel Aberdeen, 6'1 2022 PG, Team Parsons 2022 Elite: This shifty PG knows how to get in the paint. He is an excellent floor general and has extreme confidence with the ball in his hand. Loves to create space and has deep range off the dribble. He has a quick release so not much space is needed for him to get of a good look from anywhere inside half court. He is definitely one to be on the lookout for as he is doing all this playing up in the 16U division.
Sola Adebisi, 6'6 SF, Reach Higher Kings: This long rangy athlete looks the part of a future lock down defender, but don't think he is just a defensive player. He has a well-rounded offensive game with the ability to score from all three levels. He plays above the rim and is a terror in the open court. He is the ultimate "watch your head" player because he looks to make posters out of defenders. He challenges every shot at the rim and can be an intimidating force for opposing teams.
Braxton Williams, 6-5 SF, Alabama Fusion Jones: Williams is what you will call a "solid player." Its not much he can't do on the basketball court. He handles it like a big guard, has a confident stroke from deep, and is not afraid to mix it up on the inside. He ran the floor well throughout day 2 and guarded at a very high clip. Never seems to be moving too fast but will blow by defenders in a flash. Looking forward to seeing how he progresses throughout the rest of the weekend.
HI, MY NAME IS... 
Xavier Griffith, 6'5 PF, Alabama Fusion: Don't let the size fool you Griffith is a deadly shooter from beyond the arch. He moves very well is for his size and is a prototypical pick-and-pop power forward. He is a space eater when in the paint and is an aggressive rebounder. He can put the ball on the floor and get to his spots and score and overpower defenders when he gets his feet in the paint.
Jorden Flowers, 6'2 SF, Memphis Royals: Is a true throwback a tough nose lefty with a strong body. He is a relentless pursuer of contact when attacking the basket and once he makes up his mind, he wants to get to the paint not many can stop him. He has the make-up of being a beast on the defensive side of the ball and will bully you once you change ends of the floor.
DeQuarrin Ezell, 5'9 PG, Alabama Celtics: Yes, his height says 5'9 but don't think he is just floor general. He is a scoring PG once he gets into the flow of the game. He is a pest defensively and is very good at turning defense into offense. He scores at the rim and controls the flow of the game. He only knows one way to play and that is hard.
TEAM OF THE DAY: Tony Bradley Elite
It was a very impressive team on Day 2 taking down the likes of Reacher Higher Kings and narrowly losing a hard-fought game to Alabama Fusion Jones. What they lack in size they make up for in grittiness and effort. They play more like a school team than a travel team with their communication and cohesiveness. If you're fan of basketball being played the right way make sure you take a look at this team they are definitely worth watching.