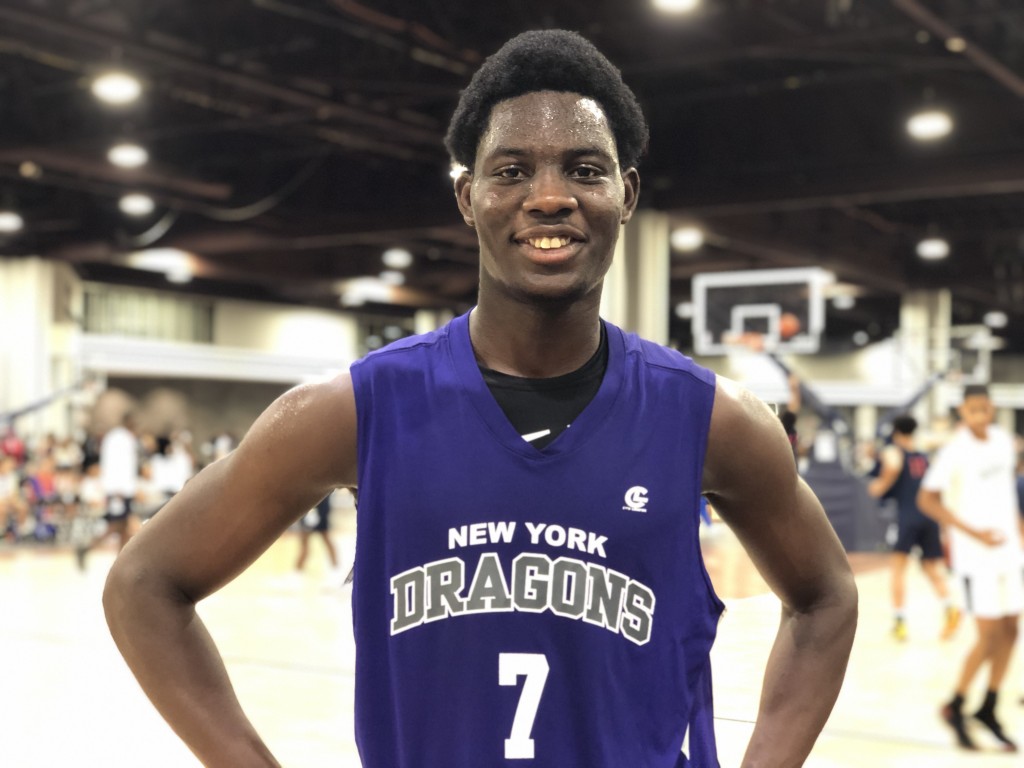 The Best of the South is here in Atlanta, Georgia. Teams from 32 states made their way to The Georgia World Congress Center to be a part of just under 1,000 games being played over four days.
Day two is in the books and here are my notes from the day as I took in some of the younger divisions during the morning and early afternoon sessions of the tournament. 
NEW YORK DRAGONS BIG MAN PICKS UP WVU OFFER 
West Virginia Head Coach Bob Huggins was in this morning to see 2021 F Seny Ndaiye of New York Dragons. Huggins offered a scholarship shortly after Ndaiye tells HoopSeen. He has only been in the United States for six months. "I am excited about the offer but I just want to continue to play basketball," he said. 
16U #BOTS STANDOUTS FROM FRIDAY
Jamaal Esco, MEBO Team Hood
The 5-foot-8 point guard is a blur with the ball in his hands. He has great court-vision and doesn't turn the ball over. He defends with energy and plays hard all the time. He reminds me a lot of Deshaun Ruffin with the same program in the 17U division and was an all-tournament performer at The Bob Gibbons Tournament of Champions. 
Zyun Reeves, Team BOND
The 6-foot-7 big man for Team BOND was impressive with his big, wide frame. Has some back to the basket moves, runs the floor really well and blocks a lot of shots. He showed he can handle the ball well enough to push it up off the rebound and has a long wingspan. 
Jarmarvious Phillips, MEBO Team Hood
Really good athlete that is long and still growing. Could see him get to 6-foot-7 and be a college level four-man with his shooting ability. Alters shots and rebounds well. 
Tre Carroll, Team Parsons CP25
The 6-foot-8 forward prospect can hurt you in so many ways. He can score from all spots on the floor and attacks the rim when he goes up. He has solid footwork to go along with a high-level skillset. He has already picked up an offer from Florida Gulf Coast. 
Gates Flynn, Cincinnatti Royals
High basketball IQ guard that uses a nice little floater and a smooth stroke to score from all spots on the floor. He doesn't turn the ball over and is a good passer. 
Kobe Rodgers, Cincinnatti Royals
One of the best shooters in the 16U division here at #BOTS. Made four in the first half against Landfall Elite. Does a good job of moving without the ball to get into scoring position. 
Micah Octave, Landfall Elite
Octave is long, has some bounce off the dribble, has a good feel for the game, he is wired to score and he wants the ball at all times.
RAYNOR, PORTER and PARSONS SHINE 
Team Trezz came into the second day at Best of the South and won both games against some good competition. 6-foot-5 wing Reggie Raynor is one of the more athletic players at this event. He scored 16 points from all over the floor in the first win of Friday. Point guard Isaac Parsons scored 15 points in the first game and 11 points in the second game. 
6-foot-5 wing Keishon Porter scored a team-high 23 points in a win over Carolina Pressure in front of college coaches from App State, Gardner-Webb, Furman, The Citadel, High Point, UNC-Wilmington, SC State, and UT-Chattanooga.