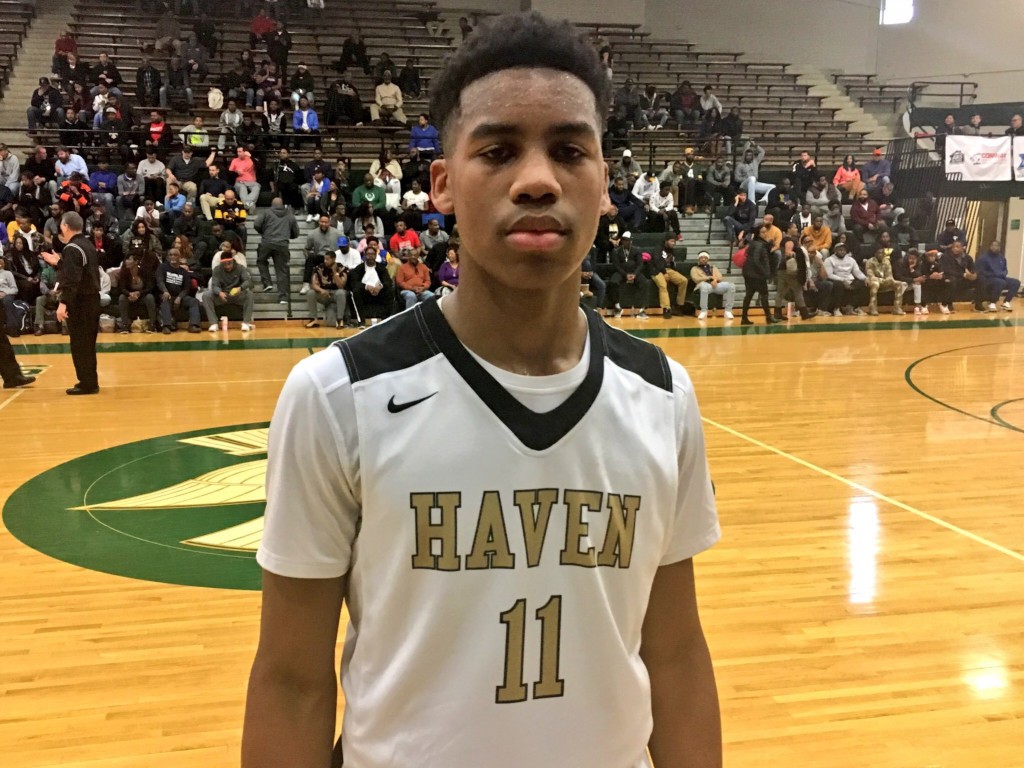 The new NCAA Format for the "live period" was on full display this past Saturday at Blackman High School in Murfreesboro as the BCAT, a Coaches organization in Tennessee, present the inaugural BCAT Tennessee Top 100 to a bevvy of college coaches from all levels. 
TOP PERFORMERS
Matthew Murrell (Whitehaven/IMG) / pictured
6'5 SG 2020
The best player in the gym without question. His ability to explode off the floor for his jump shot and rise above defenders in transition or off the dribble makes him a valuable recruit in the Class of 2020. Every major coach in the Southeast was in attendance when Murrell took the floor and he did not disappoint. He brought the crowd to their feet on several occasions with explosive dunks and quick pull-ups from every corner of the floor. 
Jonathan Lawson (Wooddale, Memphis TN)
6'7 SG/WF 2021
The final piece of the legendary Memphis Lawson family. Jonathan is special in his own right and showed some serious basketball ability at the event. He is the best passes among his siblings, he sees the floor and is always in attack mode. He plays upright and spots cutters while delivering pinpoint passes for easy buckets. His outside shot is a work in progress and his strength on offense is his vision and his ability to attack the closeout. He glides on the floor and scores effortlessly using his length and size. Once he gains strength he will be devastating. 
Jalen Macon (Hillsboro, Nashville TN)
6'6 SG/WF 2021
The lean scoring machine showed he belonged among the states elite with his performance at the Top 100. Slight built but so skilled he has the ability to score on all three levels and is especially adept at hitting the short pull-up from the foul line extended. He doesn't over dribble using this tool as a method to set up scoring chances and he is unselfish enough to see open cutters and make plays for his mates. He plays with confidence and is a player with serious upside, so keep him on your respective radars. 
BREAKOUT PERFORMERS
David Dixon (MAHS, Memphis, TN)
6'7 WF/PF 2021
Next level athlete was one of the most talked about competitors at the Top 100. Grown man body, he has explosive leaping ability and likes to finish around the rim. He has some ball skills but tends to hold the possession far to long. His shooting touch is adequate if his range is true and he competes on defense. He challenges shots and he likes to crash the glass. If his mental attitude remains good this kid could be a real find on the college landscape, your first impression is of shock and awe as he explodes towards the rim, someone to keep a big eye on for sure. 
Mason Miller (Houston, Germantown, TN)
6'7 SG/WF 2021
Long and lanky lefty who showed a variety of skills at the Top 100. He has impressive length and attacks the basket at each and every opportunity. His outside stroke is good, a little compact, but his follow through is fine. As a lefty, he is that hand dominant, as most are, but despite his slight built he will poke it on you every chance he gets. I like his basketball IQ, he understands the flow of the game. The son of former NBA player and current Memphis assistant Mike Miller. 
B.J. Edwards (Catholic, Knoxville, TN)
6'3 PG 2022
This kid plays with a poise and a grace that truly belies his age. He has great size for a lead guard and knows when to go and when to pull back. His outside is good enough but his ability to decipher game situations is as impressive as anyone his age or older. He finishes with either hand, he absorbs contact and he gets everyone involved. He directs traffic and shows leadership qualities on the floor. Very impressive young man. 
SCHOOLS IN ATTENDANCE
The inaugural BCAT Top 100 brought a solid crowd of college coaches to the forefront. The staging format put all the coaches in the same gym with two contests playing at the same time with seating available to view both courts equally well. Coaches in attendance included Florida, Florida State, Ole Miss, Vanderbilt, Auburn, Missouri, Iowa State, North Carolina State, ETSU, Western Kentucky, Belmont, Lipscomb, Evansville, Tennessee Tech, Chattanooga, Morehead State, Air Force, Georgia Tech, MTSU, IUPUI, Troy, Memphis, Furman and Austin Peay. Also several from the levels including D2, D3, NAIA and the junior college ranks. 
UNDERCLASSMEN WHO RANG THE BELL
Braeden Moore (CPA, Nashville, TN)
6'8 WF/PF 2022
Good sized young man showed some much improved athletic skills and has gotten himself in better shape since we last viewed him play. He is a knock down outside threat and has the size and basketball savvy to create his own scoring chances. He is not the most fleet afoot but he has learned to use head fakes and interject his shooting prowess into his overall game. He understands post positioning if he needs to take advantage of a match-up, he seals and uses a slick drop step to score, his mid-range is solid with his immaculate stroke. As his body works to get in better athletic shape the rise of this youngster will be epic. 
Eric Rivers (McCallie, Chattanooga, TN)
5'10 PG 2021
Quick, intelligent and aggressive are three of the attributes for this outstanding young lead guard. Rivers was most impressive in the chaotic nature of the camp games, slowing down tempo when called for and attacking when the enemy was on their heels. He is a pass first, defend first and score second point guard who makes a coach's life easier. He sees the floor, despite his slight build. He is ultra quick and explodes to spots to make plays. His shot is good and he will make you pay if you disrespect that aspect of his development. He excels on the help side and makes so many plays off deflections and tips that lead to scoring chances. 
Kameron Jones (ECS, Memphis, TN)
6'3 SG 2021
My how he has grown from a diminutive point guard to a nice player who could play either backcourt spot if called upon. His lefty stroke was impressive and he shoots with the ultimate confidence. He glides along with the ball, waiting for the chance to attack. He explodes to the bucket and despite a slight build will finish with a flourish. He excels with the ball in his hands leading many to believe the lead guard will be his spot eventually. That shot gives him the ability to be versatile enough to be a weapon with or without the ball in his hands.