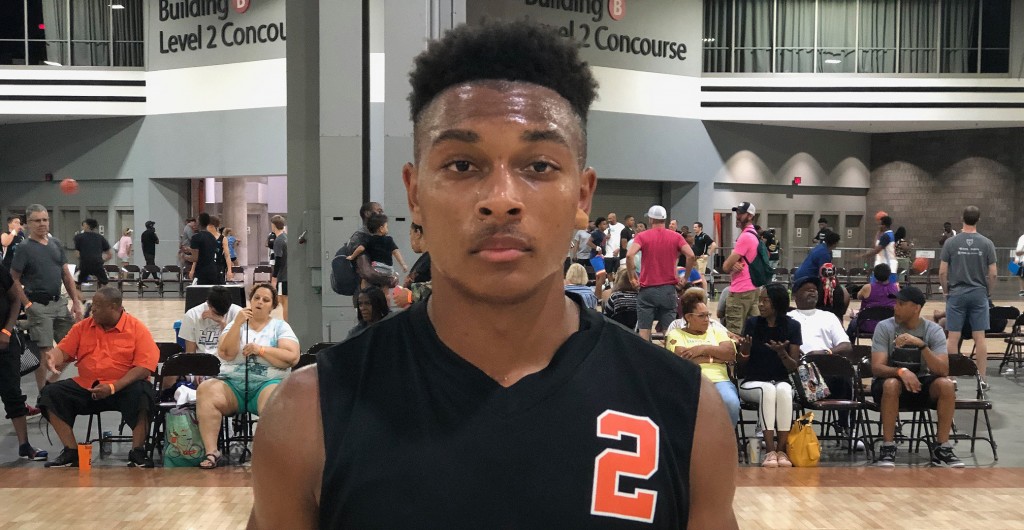 Austin Smith checks in with his notebook from Saturday after a busy and action-packed day of action at the HoopSeen Best of the South in downtown Atlanta. 
TOP DOG 

Dezhion Carter, 2021 PG, Montgomery Fire: Carter could easily double as a high school running back. He's got a similar physique, explosiveness, and mindset as a prototypical ground rusher. Those traits were evident in his 30 point game vs. the Kentucky Defenders. He built real estate in the paint and at the charity stripe. His game was the absolute definition of "getting downhill"….and FAST. He absorbed contact and converted finishes at the basket all game long.

HI, MY NAME IS...
Justin Borders TNBC Elite 2021: Some point guards just posses a unique feel for the game. Borders is one of them. He's vocal, puts his teammates in the right spots, and get's the job done. I thought he handled on-ball pressure very well. After getting past the first set of defenders, he made the defense collapse and he set his teammates for open shot attempts.

Jack Groeteske- Beyond Ball 24K, 16U: Jack fits the exact mold of the "new-age" Stretch 4. Long, lanky, and capable of knocking down the three-ball. He stands at 6-foot-7 with the long wingspan to accommodate his frame. When he's on the floor he adds to his team's spacing because now other bigs. have to guard him on the perimeter. He shot the ball with no hesitation in Beyond Ball's 59-55 win over Game Elite Blue. He made 3 three pointers although getting in foul trouble early on.

TEAMS OF THE DAY
I enjoyed watching Florida Elite 16U battle it out in their 9:10 am game vs. Team Strap. This squad had all the right pieces in the right place. It was clear to see why they picked up the 69-56 win. Renaldo Garcia was great with the ball in his hands at the lead guard spot. Ryan Weir's five three-pointers made him lethal as the team's go-to shooter. They had their glue guy in Matt Mulfinger; a smaller, brute forward who hustled on both ends and scored inside and out. And finally, Javaris Patterson (6-foot-7) and Hank Hughes (6-foot-6) manned the charge in the front-court. 
Team TMAC is slowly making their case as one of the better teams in the 17U White division. In a blowout victory vs. Stamp Squad, 3 players scored in double figures. The MVP of that game went to Dorian Allen. 18 points in. A well-rounded scorer. Also, Jamal Lewis added 18 points.
RECRUITING UPDATE

After a stellar performance from Minnesota Fury in their victory against Team Parsons 2020, I briefly spoke with three of their top players to get insight into their recruitment.
Brady Williams said he's been offered by Minnesota Mankato, Morehead State, Winona State, Concordia St.Paul, Sioux Falls and Saint Cloud State.
We'd expect the recruitment of Charlie Katona to take off. To date, he has been offered by Minnesota-Duluth, Winona State, Concordia St.Paul and Bemidji State.
Big man Jacob Hutson said he's been offered by George Washington, North Dakota, Illinois, Southern Illinois, Elon, Appalachian State. 
OTHER NOTABLES 
Marvin McGhee, 2020 G, Game Elite Blue Hubbard 17U: In a loss to Upward Stars Upstate, McGhee finished with 21 points. He's a guard who's flown under the radar, but I've been impressed all weekend. He can shoot it from beyond the arc, he is comfortable in setting up his team offensively, and he competes on both ends. A good combo to keep an eye on. 
Cam Lee, 2021 G, Flame 2021 16U: Cam Lee was intricate in leading his Flame 2021 to victory in their win over AC Georgia Black. Both teams went back and forth, but Cam made some keys plays in the second half to give his squad the edge. He finished with 12 points.