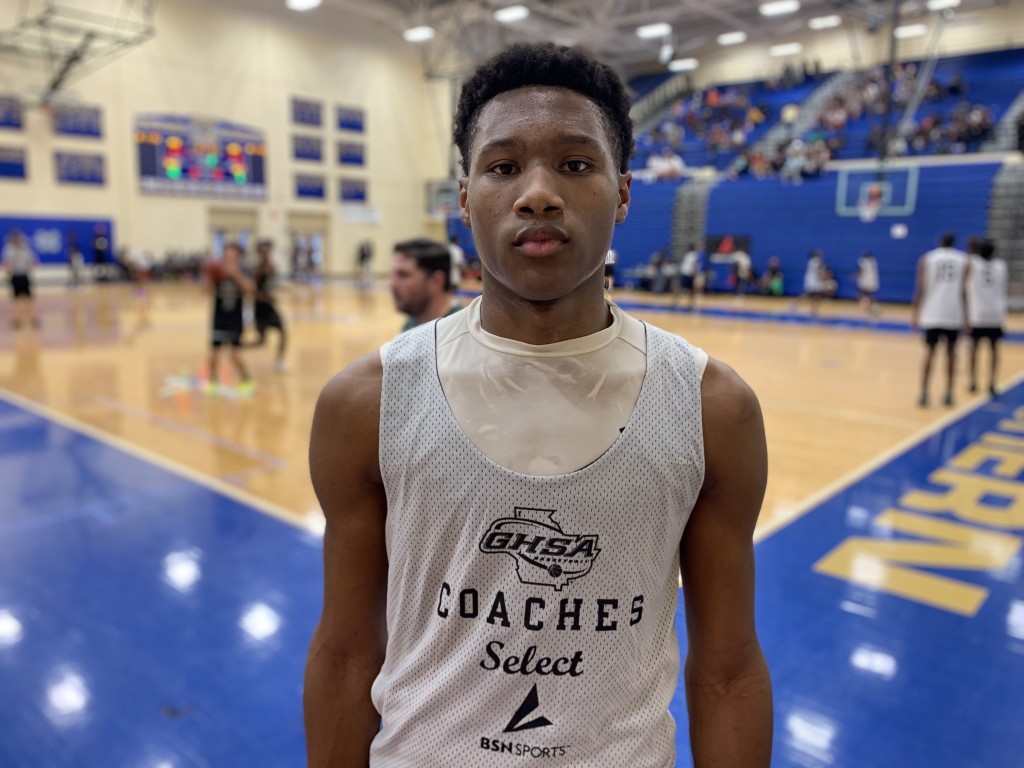 POWDER SPRINGS, GA - Opening night at the NCAA Georgia team camp was a great opportunity for players from all levels to shine on a big June stage. The first ever summer camp for high school teams to play in front of college coaches has already proven to be a valuable stop on the recruiting trail. 
TOP DOGS 
Melvin Edwards & Marcellous Lockett, Carrollton
The class of 2020 duo have impressed us all travel season long with Team Forrest and it doesn't surprise us that the 1-2 punch from West Georgia was trending amongst the college coaches on Friday night. Edwards is a hard-playing forward that can beat you inside and out. Lockett is a big time defensive guard who a great motor. Both played well in front of dozens of college coaches. 

Omarion Smith, Douglas County (pictured above)
The class of 2021 forward is quickly becoming one of my most favorite players in the Peach State. He reminds me of former Georgia Tech forward Jeremis Smith. The younger Smith is a long-armed 6-foot-5 shot-blocking machine in the low blocks. He's a high-energy guy with an infectious motor. Georgia State is involved, he said. 
Jaylon Brown, Alexander
The class of 2020 PG had a little mini-Kamar Baldwin flavor to his game The skinny point guard from Douglasville plays much bigger and tougher than his frame. He was engaged on defense, scored well at all three levels and competed with a fire that was hard to deny. Brown said he's heard from Tennessee State, Wofford and Georgia State. 
Anthony Hardy, Jr., Lithia Springs
We've seen him pump in the points a rapid pace over the years at our HoopSeen events and on Friday night, he was doing what he always does. Hardy was a trending name among the college coaches on Friday night. He had it rolling on the offensive end of the floor and should have sparked an interest in a number of low and mid-majors that were on hand watching. 
HI, MY NAME IS… 
Solomon Ray, Wheeler
The 6-foot-8 big man was a nice eye-catcher on the opening night of the event. In a class short on size, Ray certainly made college coaches take notice. Ray is intriguing and should see a spike in his recruitment after this weekend of work. 
Jaylen Jackson, Douglas County 
The transfer from Westlake has made an immediate impact on DC. The class of 2021 forward is a terrific athlete and shines in the up-tempo style of the program. Paired opposite of Smith (listed above), Jackson had a lot of opportunity to play in transition and above the rim. He's an energy-giver and he's impressed every time we've seen him this season.
Matt Jones, Berkmar
The 6-foot-5 class of 2021 forward impressed with his high-energy on the defensive end of the floor. He was absolutely everywhere on the hardwood. Loved his desire to guard whatever position he was in. Jones ran the floor, played athletic and active throughout the event. 
THE KIDS ARE ALRIGHT 
Berkmar big man Malique Ewin will be a name we read a lot about over the coming years. The 6-foot-8 post from the class of 2022 showed flashes of why so many in the basketball community have touted him as next. Ewin has great hands and a soft touch around the cup. His size will certainly attract a wide variety of schools. 
South Cobb 2022 prospect Robert Dix was an eye-catcher on Friday night against Sandy Creek. The 6-foot-5 forward is big and strong and aggressive and ready for the kind of stage that he had on opening night. Dix should be a key member of this young and talented South Cobb squad this upcoming HS season. 
RECRUITING NOTES
Berkmar's 2020 forward Jalen Deloach said he has interest from College of Charleston, South Carolina, South Carolina Upstate, Appalachian State, Elon and Georgia State. The Savannah native played at Grey Collegiate in South Carolina last season. 
2020 Alexander big man Bryce Robinson said he will take an unofficial visit to The Citadel next week. The 6-foot-8 PF/C said he is also hearing from Gardner Webb and Yale.