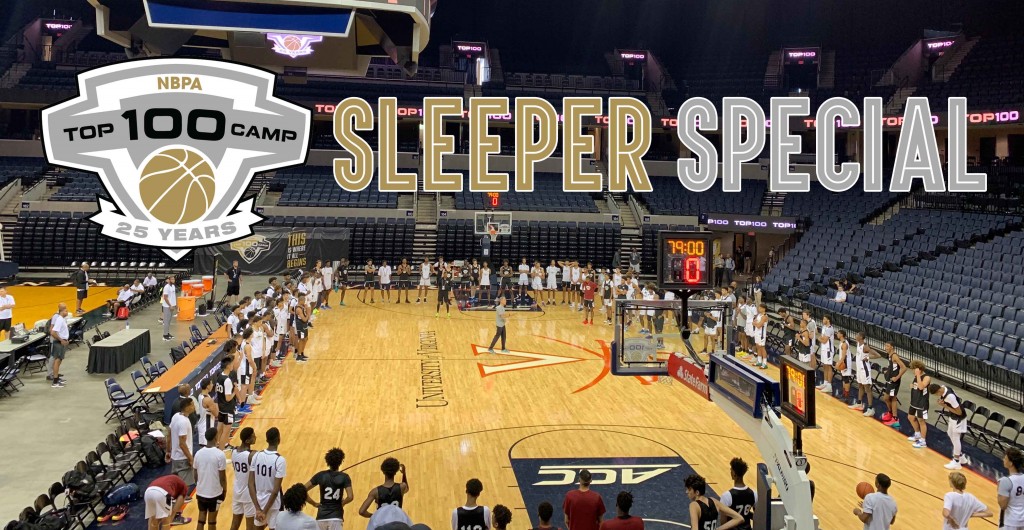 Rarely, if ever, do you find a true sleeper at the NBPA Top 100 camp. The talent is usually well-covered and prospects have been well-vetted to get into the camp. 
But, on a rare occasion, a player shows up and few people outside of regional scouts know much about a prospect. Some players are legacy attendees - sons of former players or NBPA members. Some players are international prospects. And some are just true to life sleepers. 
On Wednesday night, there are three players from each of those categories that made sure people took notice. 
2020 Jo Smith, C, Selma, AL, Crestwood Prep (CAN)
"Who is No. 60?" That was a question that ran through press row on Wednesday night after the big man showed flashes of good things around the rim. The 6-foot-10 center played in Canada and the hoop mavens didn't know much about him, myself included. But the points of production he showed were intriguing and warranted another look this week at the camp. His first impression was a solid one and begged for my real-time viewings. Size with a ceiling doesn't pop up all that often. 
2020 Chase McKey, F, Johns Creek (GA) HS
Admittedly, I don't miss much when it comes to Atlanta area players. With McKey, I certainly missed. If I've seen him play before, I don't recall. On Wednesday night, I made sure to see him as much as possible. The 6-foot-7 from north metro Atlanta came to the camp as a legacy player (he's the son of Derrick McKey) and took full advantage of a big stage. McKey found his moments in the transition style of play that ran through the camp. He ran the floor with ease and looked quite comfortable among the top 100 talent. This camp will certainly spark a rush of recruitment. 
2022 Yannick Manzila Nzosa, PF/C, Stellazzurra Basketball Academy (ITALY)
The young man was all kinds of intriguing on the opening night of the camp. The 6-foot-10, 175-pound big man is one of the youngest players in the camp and one of the more intriguing international players in the field. Some of the international players take a while to find their groove in this camp and Nzosa will certainly need some time to mesh with this setting. But we saw some really good things in spurts on Wednesday night. It looks like he has a super high ceiling and was engaged in the action. The first impression was a good one. Where does his game go after this camp? What's his trajectory? Both good and justifiable questions. But know this - we haven't heard the last of him. He could one of those players we look back on and say, "Wow, I can't believe he played over here as a 15-year-old."