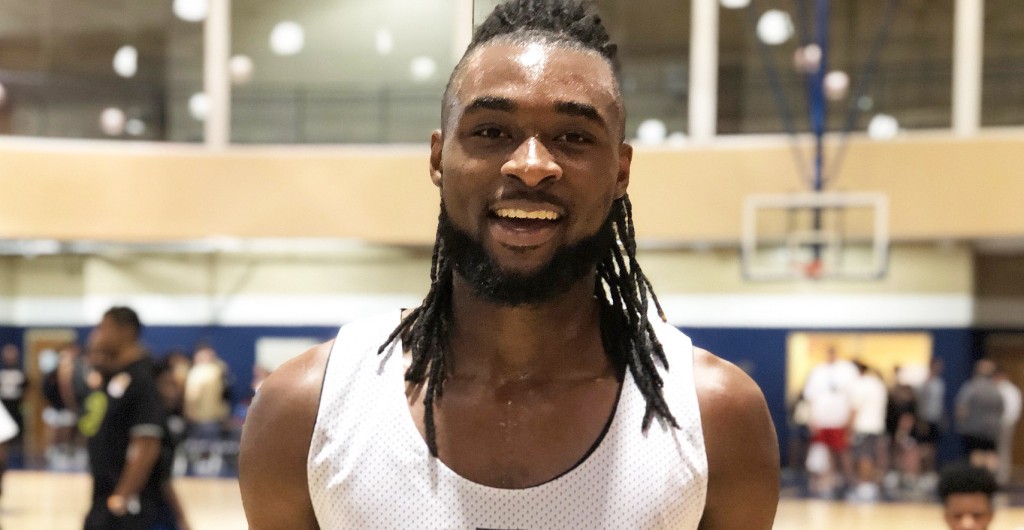 POWDER SPRINGS, GA - McEachern High School was packed and loaded on Day 2 of the GHSA Team Camp. Here's a brief recap through my lens on Saturday's action. 
TOP DOGS
Ja'Queze Kirby, Jeff Davis (pictured above): Mr.Kirby did everything possible to strengthen his reputation as a "go-getter". If you've ever seen him, you're familiar with his aggressive playing style on the floor. Every dunk, every block, and every attempt for a rebound correlates with one word. POWER. The 6-foot-6 forward also displayed a nice outside shooting touch by connecting for multiple three-pointers throughout the day. His versatility continues to expand, and schools are taking notice. Ole Miss offered recently, and it was no surprise to see Tulane Head Coach Ron Hunter along with UGA Assistant Chad Dollar watching on the baseline.
Caleb Murphy, Grayson: Although his squad came up a few points short against a talented Kell HS team, you couldn't deny the impact of this young man. Murphy played very well. Using his "playground" style handle, he got downhill past defenders and consistently finished through contact at the rim. Murphy remains one of Georgia's highly-touted prospects in the 2020 class. Coaches from just about everywhere in the Southeast region were in attendance to watch him play. With his move to Grayson HS to play alongside nationally-ranked PG Deivon Smith and Toneari Lane, Murphy will continue to have big opportunities to showcase and improve his skill set. 
Myson Lowe, Campbell: With the departure of current KSU Owls point guard and Cobb County standout Terrell Burden, there's a new floor general at Campbell HS. Myson Lowe continues the dominance at the lead guard spot for the Spartans. When his squad needed a bucket, he called for the basketball and made it happen. Lowe is quick, elusive, and plays with a smooth game. On Saturday, he did what he does best by beating defenders off the dribble, finishing around the rim, and burning the nets from beyond the perimeter. He holds an offer from Alcorn State. North Florida, Wofford, and Middle Tennessee State are all showing interest.
HI, MY NAME IS... 
Ja'Quavian Florence, South Atlanta: Florence added even more value to his stock In a solid win over South Cobb HS. He had a strong mix of plays above the rim on both sides of the ball. Defensively, he found himself swatting away shots from opponents and manning his territory on the perimeter. Offensively, he made several appointments at the rim for strong dunks. He found the three-ball a few times on spot-up jumpers also.  His grit and effort secured his game as a Two-Way player. 
Chase McKey, John's Creek: McKey was back in the fold on Saturday for John's Creek HS following his NBPA Top 100 camp appearance. Using his gained exposure to his advantage, he made sure to add on to his recruitment with his play at the GHSA Team Camp. The rising senior showed his ability to convert shot attempts in the paint, be a defensive interior stopper, and stretch his game out to the wing. Alcorn State is his only offer. Georgia Southern, Northeastern, and Wofford are expressing interest. 
THE KIDS ARE ALRIGHT
Scoot Henderson, Kell: If there was film from Kell's victory over Gwinnett powerhouse Grayson HS, it would clearly display why Henderson earned offers from both Florida and Florida State. "Scoot" Henderson played exceptionally well, and he did everything you'd want in a point guard. He manned the tempo, changed pace at the right moments, and picked his spots accordingly. He frequently found his teammates for open threes leading to big momentum changes. He showed a high IQ for his age and he didn't shy away in big moments. He's got a bright future in the class of 2022. 
Zocko Littleton Jr, South Cobb- The sharpshooting PG has become one of my favorite players to watch. He didn't disappoint this weekend either. Zocko is more than just your tradition knockdown shooter. He's confident in putting the ball on the floor and creating for his own shot. But, what was the most noticeable thing from his time at the GHSA Team Camp on Saturday? His playmaking ability for others. He drove baseline multiple times leading to an easy dump pass to a big for a layup. Littleton also stepped up as more of a vocal leader for the Eagles. It'll be fun to watch him during his sophomore campaign.
Best Game:
Pebblebrook vs. Southwest Dekalb: This was easily my favorite game of the day. Two prominent programs got the chance to go head-to-head in the inaugural weekend of the GHSA Team Camp. Coaches from Xavier, UGA, Vanderbilt, Clemson, Alabama, Georgia Tech, Virginia Tech, Georgia State and more were on hand to watch this one.
Southwest Dekalb pulled away late in the second half giving them a 39-34 win over Pebblebrook. '20 PG KD Johnson (SW Dekalb) was at his usual lightning-quick speed. He led his squad in more of a facilitating role looking to make the correct pass for teammates in transition and in pick-and-roll. However, he still opened his acrobatic-layup toolbox while finishing over taller defenders. As always, he was gritty on the defensive end.  
'20 6-foot-9 F Mohamad Diallo was valuable in the frontcourt for SW Dekalb. He showed some impressive footwork on the low block while securing rebounds and contesting shots on the defensive end. For Pebblebrook, their young core showed signs of huge promise.
'21 W Jamall Clyce led the way with 10 points. He was aggressive and didn't back down from the challenge. '21 forwards Blake Headley and Kaleb Washington both stand at 6-foot-7. They competed on each possession and made the most of their scoring opportunities. These two could become a strong frontcourt duo in the future.  '21 W Tyler Shirley made a few nice plays as well.