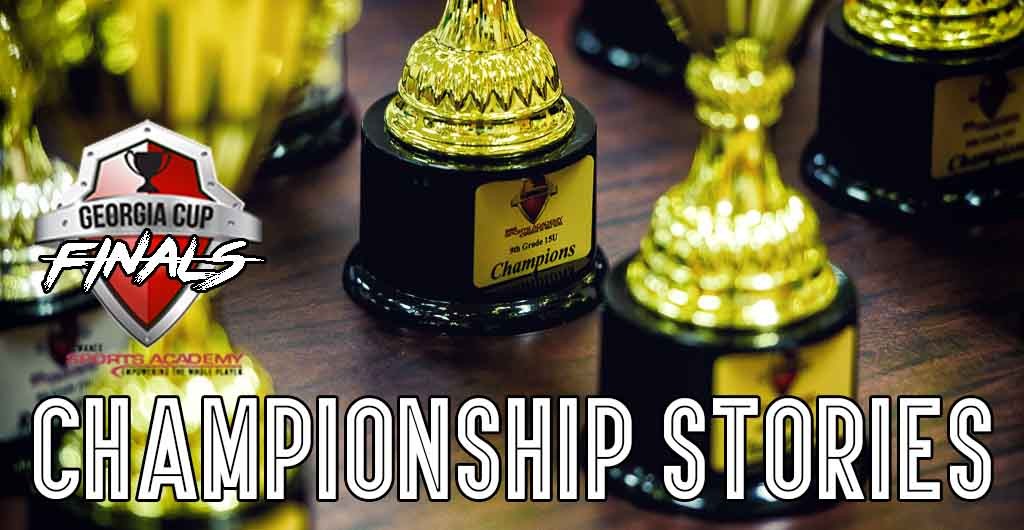 The Georgia Cup season has come to an end and we have crowned the final champions of the year. Here's a look at all of the title games from Championship Sunday. 
17 AND UNDER: Memphis Royals 58, Atlanta Xpress Hook 32
The Memphis Royals came to Atlanta with a purpose and that was to play a brand of basketball that is tough, frantic and end-to-end tough. In the championship game, the Royals reigned supreme. 
Throughout the weekend, the Royals took care of business every step along the way. They are balanced from top to bottom and won with that approach every game. In the title game, the scoring was not=surprisingly balanced. 
Robert Green led the way with 14 points, Andre Eason scored 12 points, Malik Moore had 11 points and Vincent Thomas put in 10 points and Caleb Spann scored six points. That was the story of the Royals - they could beat you in a number of ways. 
For the Xpress, the team from the south Atlanta suburbs ran out of gas. McIntosh's Camerin Lyons scored 14 points in the championship game. He had a good weekend of work, playing game-saving shot-maker down the stretch on Saturday. 
Joshua Smith and Daryl Rice were also strong throughout the week for the Xpress, a team that has put together a strong spring resume as we head into the summer schedule. - Justin Young
16 AND UNDER: Flame 2021 80, Warner Robins All-Stars 67
Flame 2021 beat the Warner Robins All-Stars 80-67 to win the 16 and under division of the Georgia Cup Finals tournament on Sunday. 
 Joshua Battle led Flame with 22 points from a variety of transition layups and strong drives in the half court, drawing fouls that resulted in numerous appearances to the free throw line. Lekendrick Lyles also scored 19 points, making 5 three-point baskets. Flame 2021 played solid throughout the game and found ways to get effortless three-pointers in the half court offense along with strong play in transition.
Andrew Grane III led the Warner Robins All-Stars with 19 points from pushing the tempo and attacking inside. Gregory Jones also contributed 13 points from a strong post presence in the paint. - Chase Crawford
15 AND UNDER: Newnan Elite 69, D Favors Celtics 47
The first half belonged to Sammy Moss as his scoring carried Newnan Elite early on. The athletic lefty would turn defense to offense while only surrendering eight first-quarter points. Newnan Elite would soar in transition as the bulk of their points would happen around the rim. With a defense that kept their foot on the gas, their swarming pressure, and helpside defense keep the D Favors Celtics offense at bay. A late second quarter push wasn't enough as Newnan Elite held on tightly to a 16 point lead. 
Both teams played a competitive third quarter as both offenses churned out 12 points apiece. John Lawton had a solid second half with 12 total points, but Newnans first-half lead remained strong at 16 points. Sammy Moss came alive again for Newnan Elite scoring 10 points in the fourth quarter alone. Newnan Elite would eventually go on to capture our 15U championship with a final score of 69 to 47.  - Tai Young
14 AND UNDER: Core4 68, North Georgia Warriors 48

Core4 beat the North Georgia Warriors 68-48 to win the 14 and under division of the Georgia Cup Finals tournament on Sunday. Karris Bilal led Core4 with 27 points and is a very versatile player and showed an ability to get inside with exciting finishes along with a strong 3 point jumper. Chris Anderson Jr also scored 12 points and is a phenomenal floor general with great vision and navigated the offense effectively.
This Core4 team is a very young and powerful team that is very balanced and talented with a bright future.
Jeremiah Telander led the Warriors with 14 from strong drives in transition especially early in the first quarter while James Trowell also added 13 and had several trips to the free throw line. - Chase Crawford
13 AND UNDER: Georgia Jayhawks 74, Georgia State Warriors 56
The Georgia Jayhawks beat the Georgia State Warriors 74-56 to win the 13 and under division of the Georgia Cup Finals tournament on Sunday. 
Antwan Horton led the Jayhawks with 19 points and displayed a strong three-point shot making four in total. Joshua Banks also contributed 12 points mainly off of strong drives inside and good play in transition. After a close 17-15 first quarter, the Jayhawks dominated in transition outscoring the Warriors 22-10 in the second quarter and kept their foot on the gas for the remainder of the game.
Aiden Adams led the Warriors with 15  from several good inside baskets and a few three-pointers as well while Gabe Bolden also scored 10 points mainly from inside the paint. - Chase Crawford
12 AND UNDER: Macon Mavs 35, Georgia Coast Ballers 28 
The Macon Mavs had a hard-fought win to claim the 12 and under division of the Georgia Cup Finals. Earning the gold trophy was no easy task either in the final game of the day.
The black and teal battled it out and won 35-28. Brandon Ashley led the way with 14 points in the title game. Nick "Lil Zion Williamson" Woodford had a great weekend of work once again on the HoopSeen stage. Jamal Lawrence is one of the most well-rounded players in our 12U division.
The Coastal Ballers were led by Andrew Matthews, who had 8 points. Jackson Powell pumped in 7 points. Jeremiah Moore scored six points and Brandon McDonald had six. - Justin Young
11 AND UNDER: Orlando Team Jayhawks 59, Athens Renegades 13
The Florida squad came up to Atlanta and took care of business every game along the way. Their championship game dominance was the stamp of a dominant weekend. 
The Jayhawks pressed with intent and balance on defense. On offense, the Orlando crew is deep and rich with talent. 
Jermaine Kinsler scored 13 in the title game while Marley Barnes added 12. Gustavo Roca scored eight points. Zavian Vickers, Caleb Smith, Samuel Teague, Travis Scott, Martay Barnes, Jerdarrius Jackson, Timarion Jarrells and Ethan Diaz all played well in various ways. 
Athens Renegades had six points from Barry Jones in the championship. They had a great weekend from big man Tylek Rucker. Guards Harper Ford and Colton Grant also recorded a great weekend. - Justin Young