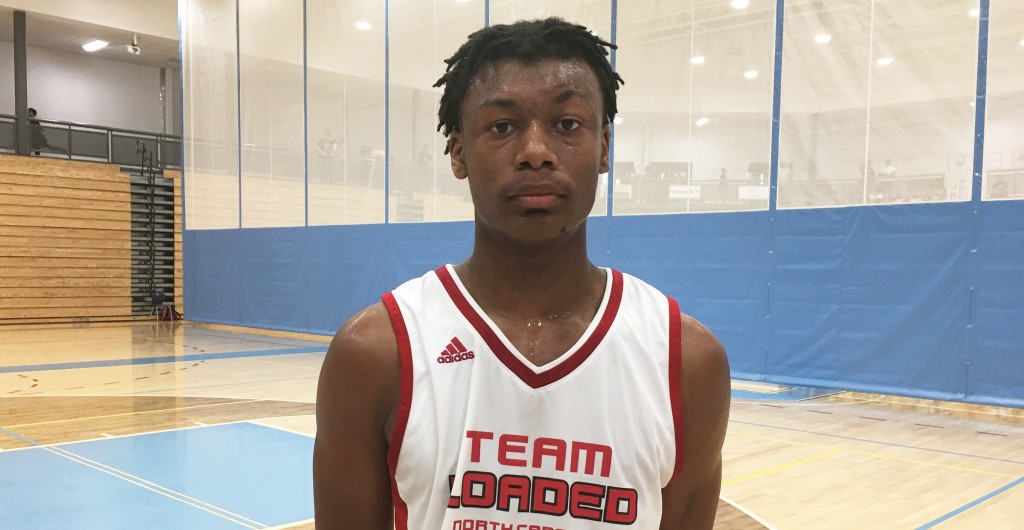 The underclassmen at the 2019 Bob Gibbons Tournament of Champions were outstanding. Our Justin Byerly takes a look at three that jumped out to him over the weekend.
Harrison Alexander, Team Loaded NC (pictured above)
The class of 2022 prospect went off for 37 points and 25 points in two games on Saturday for Team Loaded NC 15U. He scored the 37 points while knocking down eleven three-pointers. The 6-foot-7 wing has the size to get his shot off with ease from the perimeter and has a high basketball understanding where to be on the floor at all times, while moving well without the ball. He has to be on the short list of top rising sophomores in the region.
Jeremy Gregory, Team Charlotte 
When I first saw Gregory, I knew he looked familiar. After some research, I realized he is the younger brother of Appalachian State incoming freshman Donovan Gregory, an all-state performer out of Carmel Christian. The younger Gregory also looks like a college level prospect with his size and mobility. He has huge hands and a long wingspan. He controlled the boards in the two games I watched and is a really good outlet passer. What was also impressive was his ability to handle the ball and start the break himself. He is going to be one to track over the next few years in the Queen City.
Jahreece Lynch, Team Winston
The 6-foot guard showed flashes of what a player at the same age has the potential to be a college prospect at the mid-major level. Playing up an age group, Lynch is in the eighth grade. He has the pedigree, his uncle Lapreece Lynch was a standout at Mt. Tabor High School before a solid college career. The younger Lynch has the tools with a mature mid-range game and an ability to create space off the dribble. He can get by defenders in transition and finish at the rim. With a couple of more inches to his frame he solidifies himself as one of the top incoming freshman in North Carolina for next season.