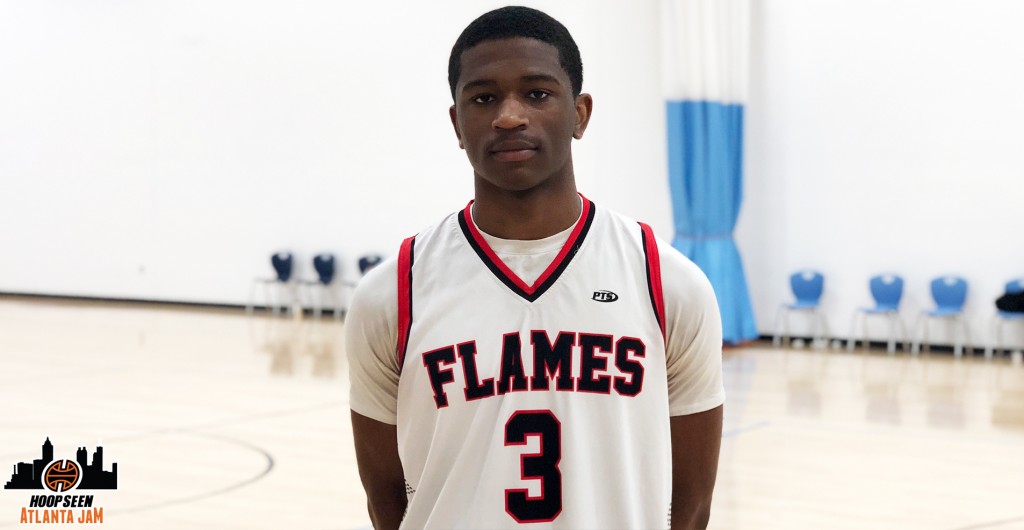 With a stage like the Atlanta Jam, there are bound to be players who take their games to the next level at the right time. These three players from the state of North Carolina took full advantage of the NCAA Live Period, according to our staff.
Tavis Bridges, Team Phoenix Elite
Production always has a place in college basketball and Bridges can produce. He has the length and footwork to be a college level player. He is a strong rebounder and moves well for his size. One key to his game is his ability to grab the rebound, push it forward and he runs the floor well enough to be the finisher on the same play. His upside is high with his length, footwork and overall feel for the game. I expect some Division Two and low-major Division One programs to get involved with this prospect who is trending upwards.   
Tyrece McNeal, NC Flames (pictured above)
McNeal is known around the Charlotte prep area for his scoring. At Atlanta Jam it was easy to see why. He can score from all over the floor whether it's from the perimeter or getting to the basket off the bounce. He has a quick change of pace and has an extra gear when he's driving in transition. McNeal came out hot in the second half on the final day against VA Hard to Guard and chipped in 8 points in roughly 3 minutes to finish with 16 on the day.             
Landon Sutton, Carolina Wolves NC
At the Division Two or Three level, Sutton would be a must have. He is not going to jump out at you with athleticism or flashiness but he shines by making the right reads and passes. He does a little bit of everything really well. Sutton has a really solid looking stroke from the floor and can knock down some shots. He has an offer from West Virginia Tech and is gaining some other interest at the D2 and D3 level.