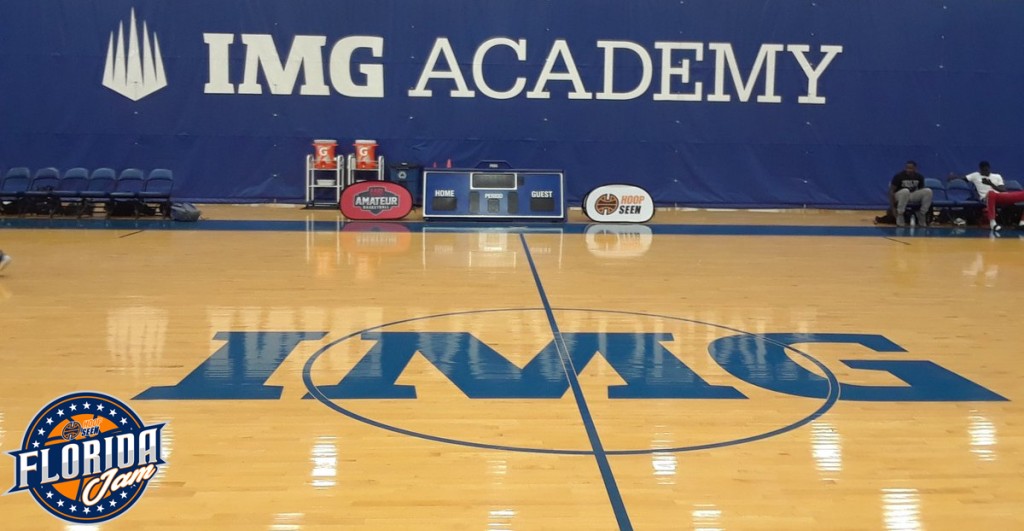 By Jerome Reed
BRADENTON, FL - Saturday at the Florida Jam saw some talent from all over the state emerge. Who stood out amongst the ranks?
Saturday Standouts
2020 Wiregrass Ranch F Jacob McCaslin notched 17 points in their first game of the day, and at 6'6", can pull down offensive rebounds with ease & finish with contact all over him. If he gets doubled in the paint, he knows how to swing it to the open man in the corner for the trey—he even dons a little soft hook shot in his arsenal. Can see him being an asset for a Division II program.
Lakewood Ranch 2022 Combo-G Andreas Junge was one of my favorites to watch for Team Wave Black. In a loss vs. Miami City Ballers, he had 15 points in the first half. He near deadly from three & boasts a deceiving crossover to create space for it. Junge dons the ability to push the break from end-to-end & finish strongly. On defense, he's great at challenging shots at the rim without fouling. Excited to see his progression over the next few years.
The youngest of the field to make a splash, 2023 G Shawn Russ Jr. brought that energy from start to finish for Team Hoops On Mission. He notched 11 of his 13 points in the first half during a 66-399 win over Next Step Elite. Russ is an aggressive defender, knows how to frustrate ball-handlers and is great at forcing the steal. On offense, his was the best rebounder on the team. Driving to the cup, Russ knows how to finish with defenders draped on him.
Almando Cyrius, a 2021 guard from Vero Beach, earned 14 of his 20 points in the first half vs. Suns Team Harris. The crowd quickly noticed how well he slashed to the bucket for easy lay-ins. Cyrius knows how to get through the paint for offensive rebounds and putbacks. On defense, he defends the drive better than most, and boxed-out every time a shot went up.
2022 Miami City Ballers guard Reiner Obray was the key to their double-digit comeback vs. WAVE Basketball. In that game, 16 of his 19 points came in the second half. Obray is quick to take you off-the-dribble & finish in-traffic. He can hit the three, off-the-catch. In the paint, he possesses a nice turnaround J. Obray is as tough as they come.
Unsigned Senior Watch
Brian Parker of Wiregrass Ranch scored 11 points to help his squad get the 63-47 win over 941 Elite. The six-foot, 2020 guard is an above-average ball-handler, and can beat his man off-the-dribble to get to the cup, with ease. Loved his active hands in-transition, forced a couple of steals. Could see him in a Division II situation, if given the chance to prove himself.
His teammate, Nasir Edmonds, is on the shorter end of the guard spectrum. But, he makes up for it with his outside shooting. The rising senior earned 16 points and four treys in the same game. Edmonds knows EXACTLY where his spots are at, and doesn't hesitate to get to them. At least for right now, I could see a JUCO or Division III program pulling the trigger.
Damian Tucker, a 6'4", 2020 wing from Atlantic High, put on a show for Team Boynton Heat vs. IMG, on Saturday. Tucker scored 13 of his 19 in the second half in the win. He handles the ball extremely well, knows how to assert himself to get to the rim & finish. If he needed to absorb contact to get the and-one, he'd do that. Tucker hustled for all loose balls, and can knock down the three, as well. In-transition, he can flush it home, with ease. Definitely, a guy to inquire about over the next year.
Jonathan Saenz, a 2020 wing from Park Vista, was another Team Boynton Heat hooper who hustled the entire night. He was aggressive on the offensive boards—got two tap-ins to suck a bit of life from IMG during the win. Like his teammate Tucker, he knew how to go & hustle for the loose balls. He runs the floor & drives through the lane, with purpose. Also another guy who can take contact and get the and-one. Another guy who can make an impact at the Division II level if given a shot.
Hey, my name is…
Elijah Stewart, a 2022 PG for "For The Love" and Naples-First Baptist Academy, really caught my attention as soon as the whistle blew. He is already a floor general, one of the most vocal players on the court at all times. Loved how active his hands were in the paint, was able to swipe away a couple steals. On offense, he can hit the three and sink the floater.
Josh Middlebrooks, a 2023 wing playing for Miami City Ballers, is someone that I could see making waves for the next four years. He forces steals, was extremely active on the boards, and his overall defense was solid the entire day. His most notable play? Up 3, and earned a clutch steal with 40 seconds left, in a game they were down as many as 15.
Aryan Arora, a 2021 guard who genuinely makes his teammates better, came up big for his 10th grade IMG squad. 14 points, and can hit the midrange J while giving the effort to follow his teammates' shot attempts for possible putbacks. Always looking for the open man when the ball is in his hands. Keep his name near, purely off the idea of "team player".
Mariner High has a project in 2022, 6'5" forward Zach Everly. A wiry one, Everly rebounds the ball at a high clip and can hit the three-ball if given the space. He definitely made the most of every minute given, and never let his energy dip. Look out for him as the years go by.
Jesus Rivas of Miami City Ballers is a 2022 kid that is already pushing 6'6". His presence in the post couldn't be ignored. There was a stretch where he earned three straight blocks on three straight defensive trips. He's a beast on the offensive rebounds, too. Needs to work on finishing around the rim a bit better, but for where he's at right now, there's a HIGH ceiling for Rivas.
Other Notables

2022's Sebastian Dosa of Naples-St. John Neumann was a solid piece to Team "For The Love", on Saturday. Dosa moves very well without the ball and is a solid cutter/slasher to the rim. He uses the shot fake to his advantage, pulling it out a number of times to create an opportunity to get a shot off.
Quincy Smith, a 6'1" 2021 guard from Wiregrass Ranch, isn't afraid to seek contact and take it to the rim, in-traffic. He's a guy that will scrap for you, no matter what. He put up 11 points in a win vs. 941 Elite. Also made a few hustle plays that helped maintain the gap as 941 tried to make a push.