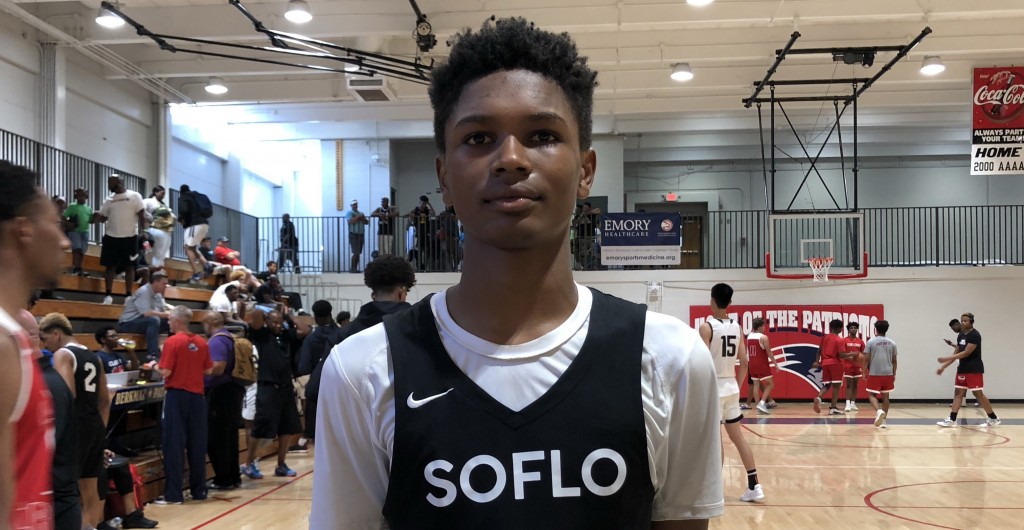 By Kory Keys 
LILBURN, GA - The talent at the Bob Gibbons Tournament of Champions extends well past the 17U division of the event. Our staff was scattered about metro Atlanta to see all of the action. Here's a peek at the top dogs from Denmark High School in the 16 and under division. 
PSB Wing Duo Gets It Done
Any time you play a PSB Elite team, you know you can expect to see a team that's well coached and full of skilled, high IQ players. The 16U bunch didn't disappoint, particularly wings Graham Worland and Cade Tyson.
Tyson went off in the first half of his team's lunchtime game, displaying a perimeter stroke that gave his team a comfortable halftime lead.
In the second half, it was his backcourt mate, Graham Worland. Worland got it done both from the perimeter and off the bounce. Low-major Division I programs should add both of these guys to their radars.
Team Loaded Carolina Showed Off Its Depth
Team Loaded has a few teams competing at the 16U level this weekend, but I came away impressed with their Carolina squad's depth.
There wasn't much weakness at any point on the roster and they proved that in a win over the Georgia Kings.
I was particularly intrigued by the duo of long, 6'7" bigs Jordan Wildy and Leontae Moye. Both were long, athletic and always around the ball.
It was guard Tyler Rice that kept the motor running, though. The 6'0" guard got to the rim whenever he wanted to, especially in transition. 
Game Elite Bounced Back Strong
Even though Friday night wasn't their best performance, Game Elite bounced back twice on Saturday. 
In the afternoon session, it was 6'5" wing Jaylin Galloway that really spurred his team by hitting a few triples. 
Aside from Galloway, Robbie Armbrester, Jahiem Hudson, Omarion Smith, Gai Chol Kwir, Garrison Powell, and George Pridgett Jr. all chipped in during the route. 
This team will have something to say come Sunday at Gibbons.
Hello, Jatarion Warren
I had heard about Jatarion Warren, but not seen him until Saturday. I'm glad I did.
Warren's length and athleticism set him apart from his peers. He excels at rebounding out of area and makes an earnest effort to work with his back to the basket.
I'm really interested to see how the South Georgia product develops going forward.
Best Game I've Seen So Far: Florida Pro vs. MEBO Team Hood
This game was back and forth until about 10 minutes left when Florida Pro put on a run that ultimately won the game.
Florida Pro twins, Amen and Ausar Thompson were the two guys that came out of nowhere for me. Both are long, smooth guards that are simply ballplayers. They make plays and make their teammates better in a variety of ways. 
They weren't alone. They were complemented by 6'4" post Dylan Canoville. His strength and athleticism allowed him to finish through contact on multiple occasions.
On the other side, MEBO had a handful of guys that caught my eye, specifically 5'10" guard Jamal Esco. He's the engine that makes that team go. His game off the bounce is really good and he gets teammates involved well. 
Esco wasn't the only one. 6'4" Vashon Sims, 6'6" Caleb Rawls, and 6'4" C.J. Keyes all showed flashes of why they should be on college coaches' radars this summer.