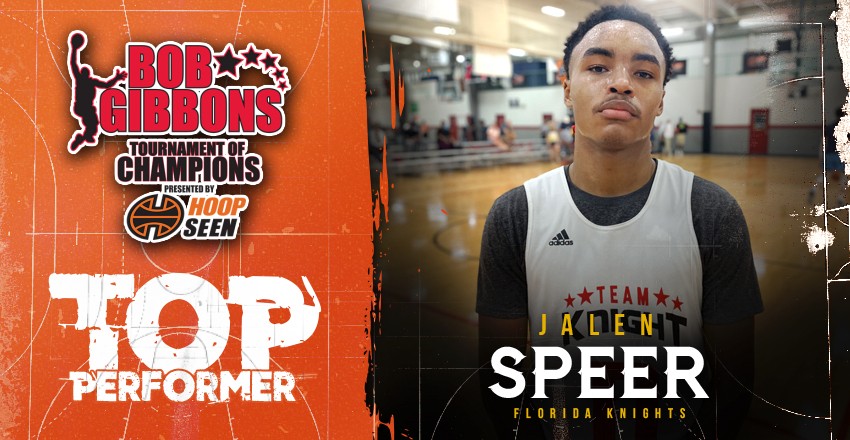 SUWANEE, GA - Opening night of the Bob Gibbons Tournament of Champions is in the books and there was plenty to see and plenty to talk about. Here is a peek inside of what Justin Young saw as we tipped off the action at the nation's most storied grassroots basketball tournament. 
TOP DOGS 
Jalen Speer, Florida Knights: What a terrific opening game from the point guard. He scored at will in an opening night win. The 6-foot guard from Gainesville, Florida pumped in 29 impressive points in a win. Speer played the role of great scoring point guard. He's one of the best point producing floor generals I've seen on our HoopSeen circuit this season. He set the tone for what kind of weekend it should be for the Knights. Southern mid-majors should be making calls about him. 
Devin Carter, Florida Knights: Playing opposite of Speer in the Knights backcourt, Carter was equally impressive. He connected on four three-pointers and shined as a great on the ball defender. Carter is just tenacious on both sides of the ball. He was a problem no matter which way you looked at it. He justified the handful of mid-major offers that he currently holds. 
Franklin Bailey, SEBA FCI Warriors: If you watched Chattahoochee (GA) High School play this season, there was a common theme with the squad - they make three-point shots. Bailey, a starter on the state tournament team from Atlanta's 'burbs, carried over his hot hand from high school to the travel circuit. Bailey went off for eight made triples en route to 28 points in a win over Pro One. Bailey was automatic as a triple-maker. He was also terrific on the defensive end of the floor. 
NOTES FROM THE NOTEPAD
EAB guard Keon Johnson has trimmed his list down to Ohio State, Virginia and Tennessee. The athletic guard from Tennessee has been one of the very best players we've had on our circuit over the last three years. He was great tonight, scoring 27 points to help EBA beat Team Winston. 
Pro One guard Giancarlo Valdez scored 26 points in a loss to the SEBC FCI Warriors. Valdez has been the most consistent scorer on this year's 17U Pro One squad. He's a talented point producing low-major prospect. 
Team Georgia Magic was down 30-11 at one point but powered back and made it a game against Team Parsons tonight. Thanks to the hot hand of 2021 guard Javian Mosley, the second half comeback was impressive. Moseley scored 18 of his team-high 24 points in the second half. He's one of Georgia's top 2021 players. 
HI, MY NAME IS… 
I really liked what I saw from Team Florida tonight. They have good size and nice guard play. I'm excited to see more of them this weekend. Johni Broome, a 6-9 big man from Tampa (FL) Catholic, could be the best sleeper post player I've seen in the South this year. Every time I see him, I'm amazed more schools aren't recruiting him. 
Atlanta Timberwolves guard Griffin Neville has been good every time I've watched him this travel season. The 6-foot-2 combo guard from Gainesville, Georgia is a terrific mix of scoring, shooting and smarts. In a defeat to the Florida Knights, Neville shot lights out and finished with 24 points in the defeat. He's shown enough to prove himself as one of the top 65 players in Georgia's 2020 class, a group that is deep with college-level talent.