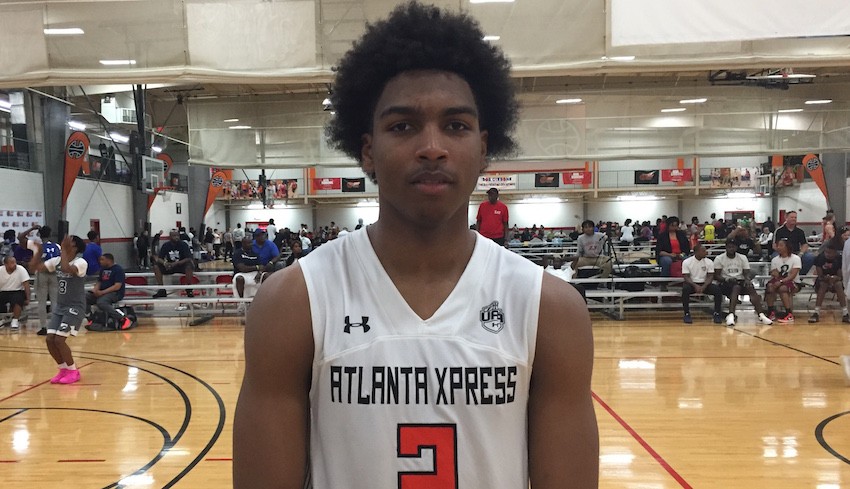 The second day of the Bob Gibbons Tournament of Champions did not disappoint on Saturday, as the best teams rose to the top with bracket play getting underway. Guard play dominated the action on Saturday, two mid-major scorers made their case, and a potential five-star proved his worth. 
JAMAINE MANN & QUINCY CANTY GETS BUCKETS
I thought 2020 Starr's Mill (GA) forward Jamaine Mann put together a quality day for the Atlanta Xpress. At 6-foot-4, the junior was nearly unstoppable attacking the basket. He used his strength and toughness to his advantage, as he was able to power through opposing big men in the paint and make thing happen. In two viewings, Mann scored 23 points and 25 point, respectively. 
Up to this point, Mann's recruitment has been quiet for the most part. He lists interest from Georgia State, Georgia Southern, Arkansas, Xavier, Florida Gulf Coast, and Georgia. 
Quincy Canty, a 6-foot-5 forward with Southeast United, put together a strong day of basketball. With a high IQ and old man's game, the combo forward was able to make winning plays and played a huge role in his team's near comeback win against Team Florida to end the night. As an efficient scorer at all three levels, he is valuable as a guy that can stretch the floor. 
As the summer unfolds, I think both Mann and Canty should be priority players for mid-major programs in the Southeast. 
GUARDS, GUARDS & GUARDS
Over the past few years, Gibbons has been dominated by guard play. That's no different this year, as the teams who have advanced in bracket play are led by impressive guards. Here's a quick rundown the backcourt stars from Saturday…
The best guard in the field thus far has been 2021 Mississippi Express guard Daeshun Ruffin. Despite only being 5-foot-10, he has been able to light up the scoreboards at Suwanee Sports Academy. The sophomore is wired to score the basketball and helped put MEBO over the top in a bracket win over the Atlanta Xpress to end the night.
2020 guard Bradley Douglas has put together a quality tournament thus far for Team Florida. The 6-foot-1 guard is tough as nails and has made winning plays for his team. He defends multiple positions and rebounds well as a guard, too. Douglas' lone offer right now is from North Florida but that should change come July. 
Myles Adams of Team Hickory came into Gibbons as a virtual unknown to most but he will leave as a potential Division I prospect. After an impressive opening game on Friday, the 6-foot-3 combo guard had a strong day on Saturday. The long lefty has excellent ball skills and made a ton of plays off the bounce throughout the day. He showed the ability to score at the rim and made shots, too. I would expect low-major programs to follow him during the July evaluation periods. 
The Georgia Kings backcourt duo of Matavious Burton and Antonio Lewis shared scoring duties throughout the day and looked good in their own respective ways. Lewis excelled in the first half throughout the day and used his strong upper body to create points at the rim and free-throw line. Burton was able to get hot from behind the arc a few times and really impressed as a crafty scorer off the bounce. 
The Ville has come to Gibbons and made quite an impression to this point. Much of that is because of the outstanding play of 5-foot-9 point guard Jacob Jones. The energetic floor general has dominated the backcourt and won his matchup each time, and that's the main reason why they advanced in bracket play.
COREY WALKER BACKS UP LOFTY RANKING
It's safe to say 2020 wing Corey Walker has lived up to expectations thus far at Gibbons. He was brilliant in pool play, highlighted by a big performance against Pro One. 
Walker, a skilled 6-foot-7 wing man, scored the ball in a variety of ways in the game. He opened the game scoring the first ten points for his team. The most impressive aspect of his scoring package was his ability to operate in the mid-range. He was able to get to his spots on the floor and take advantage of quality scoring opportunities. 
The future Tennessee Volunteer continues to make his push towards a potential McDonald's All-American game selection, as my colleague Justin Young has said the past few months. I'm a big fan, and Walker should be another player under the tutelage of Rick Barnes.