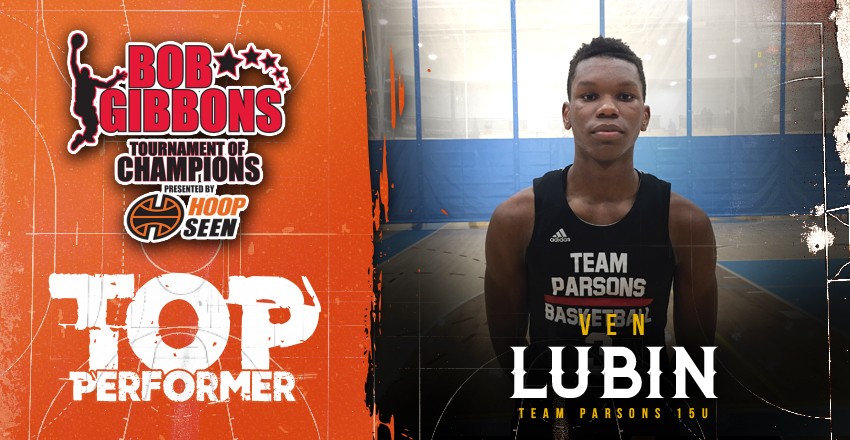 The always entertaining opening night of the Bob Gibbons Tournament of Champions is officially in the books, and, like usual, some of the best talent in the Southeast was on hand. Garrett Tucker spent Friday evening patrolling the underclassmen of the event. Here's a snapshot of what he saw to start the tournament.
VEN LUBIN MAKES HIS CASE
Over the past few years I have made it a priority to go off-site and watch young kids on the opening night of #Gibbons. Along the way, I've got a head start on some of the best young talent in each respective field and tonight was no different. The find of the event may come from the 15U division in 2022 Team Parsons forward Ven Lubin. 
Lubin, a standout at Orlando Christian Prep (FL) this past season, put together an impressive 27-point performance in a blowout win for Team Parsons. The 6-foot-6 forward is blessed with length, athleticism, and fluidity and it was all too much for Team Hickory to handle. The freshman is extremely skilled for his position, as he put opposing defenders in tough situations with his versatility and mismatch capabilities. He had several smooth finishes at the right and even added some shots from the perimeter. On defense, Lubin made an impact with his length and shot-blocking ability.
While it is still early in Lubin's development, he looks like a prospect that will be a priority recruit for high-major programs nationally. In fact, I'll go out on a limb and say he'll flirt with a top 50 ranking in the 2022 class when it's all said and done. Lubin is really good right now, but his best basketball is well ahead of him.
GEORGIA STARS 15U ROLL ON OPENING NIGHT
The Georgia Stars 15U team is loaded with young talent. Despite only having six players available on Friday, they came out and set the tone and rolled to an easy win to start #Gibbons. The Nike squad was led by a three-headed monster in Ja'Kobe Strozier, Anthony "T.J." Grant and Robert Cowherd.
Strozier, a strong, athletic slashing wing, led the way with 22 points. He was able to slice through the defense and make plays at the rim. With his body control and strength, I think it will be tough to find a better slasher in the 15U division than Strozier. 
Grant, a 6-foot-5 do-it-all utility guard, doesn't 'wow' you with his play necessarily, but he's a player that fills the stat sheet with his versatility and well-rounded game. He was impressive setting up teammates with his passing ability and high IQ. 
Cowherd got off to a slow start at the beginning of the game after a minor injury, but he was able to get things going in the second half. He connected on three triples in the second frame to finish with 17 points in the game.
TEAM MANIMAL WINS A THRILLER OVER HYPE HAWKS
One of the most intense games from opening night centered around Team Manimal and the Hype Hawks. At one point leading by 20, Manimal was able to hold on to a narrow victory behind 22 points from 2021 wing Isaiah Mason.
Kentucky-based Team Manimal is an entertaining team to watch with their intensity and high motors all over the floor. They used their defense to jump out to a good start, as they were able to smother the Hawks to open the game. 
2021 wing Matthew Cleveland struggled making shots from the perimeter for the Hawks, but he didn't let that stop him from making an impact on the game. In fact, the super sophomore led a huge comeback in the second half of the game. He was nearly unstoppable slashing through the lane and finishing at the rim. Cleveland dropped a game high 36 points, and, along the way, he showed flashes as to why he is so highly regarded in the state of Georgia. His intangibles and upside are through the roof and he is another top 100 prospect from the Peach State.
THINGS I LIKED...
I liked the backcourt from Team WHBH 16U. Jaylen Pegues and John Windley both looked good on the opening night of Gibbons. Pegues, a 6-foot-2 combo guard, scored well off the dribble and controlled the game from start to finish. Windley performed well with his high IQ and ball skills. They should win some games this weekend behind the duo.
I really liked 2022 guard Khristian Clark from the Hollywood Stars 15U team. The 6-foot-3 guard has a good feel for the game and performed well as a setup man and passer. He picked his spots when to score, but his distributing abilities were the highlight of the night. 
Florida Pro's 16U squad has talent up and down its roster. I'm excited to see them more in-depth as the tournament goes on.
I liked the competitiveness and motor from 2022 Auburn Raptors Josh Paige. The 6-foot-3 wing competed from start to finish against the Georgia Stars. He also hit four 3's in the game. 
I liked 2022 forward Logan Blair from Team Charlotte 15U. The 6-foot-5 forward is tough as nails and made plays on both ends of the floor.