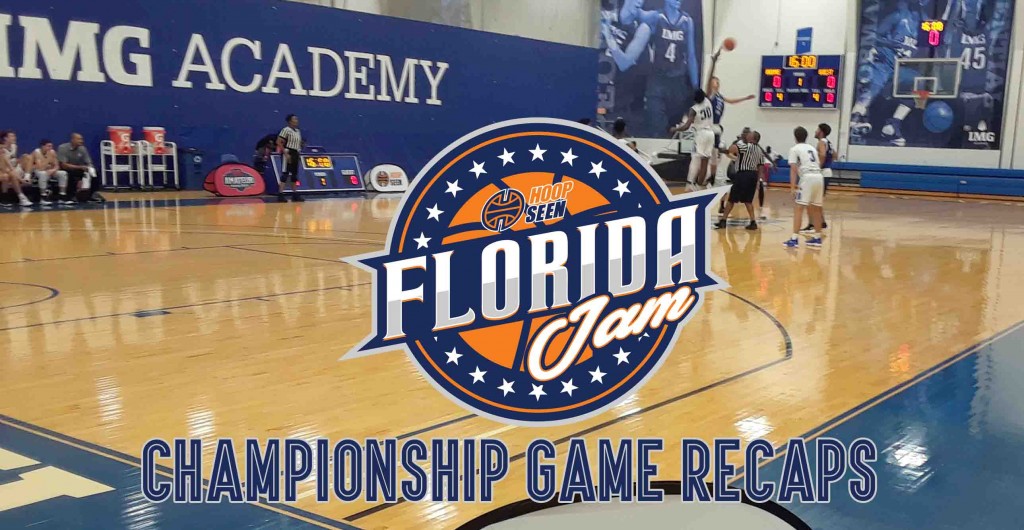 By Jerome Reed
The HoopSeen Florida Jam ended with some title games coming down to the absolute wire. Take a look at how each of the champs were crowned on Sunday at IMG Academy.
Varsity Bracket Championship: Liberty Edge 53, IMG 43
The Liberty Edge held off every surge IMG could muster en route to claiming the Varsity Bracket Title. Sam Battle came up big for the Edge, offering 17 points in the win. Big man Caleb Geisendorfer put in 15 of his own, while Malachi Pearson chipped in with 11 of his own.
IMG played well the entire day on Sunday, but with only one player in double-digits during the final, and no other player having more than seven points, it was hard for the Ascenders to get over the hump. 
Pearson left the game earning Bracket MVP honors. Battle and Geisendorfer both were named All-Tourney. This team knows how really rely on each other, and it was evident on the court.
10th Grade Championship: Let It Fly 58, Team Under Pressure Elite 48
Team Let It Fly couldn't be stopped in the paint on the way to their ten-point win over Under Pressure. The offensive rebounding, the tough and-ones, their effort on the glass could not be denied. 
Bracket MVP Desmond Romer led his squad with 16 points, while Kellen Cashman put in 12 and earned All-Tourney honors. Logan Cashman also earned All-Tourney while dropping 11 points.
Keep in mind, that this team had the smallest roster of their age group with just six players. Still, they flew away the victors.
9th Grade Championship: Next Step Elite 56, Hoops On Mission 44
Next Step Elite suffered a loss to Hoops On Mission on Saturday during pool play, but got their revenge in the title game. One of their biggest changes from game one to the rematch involved how well NSE penetrated the paint to get to the rim. They were really able to capitalize off of some holes left by the H.O.M. defense.
NSE's Nick Yanckowitz laced 23 points and earned an All-Tourney nod, in the process. Kevin Torano was dubbed "Mr. Hustle" while dropping 16 points of his own.
8th Grade Championship: Mambas Elite 62, Florida ACES 59
This Mambas Elite group is as resilient as they come. Coming in as the shorter team, the Mambas used balanced scoring from nearly the entire team to keep themselves in it and eventually get the title win.
Randy Wilson earned 12 points for the Mambas. Jaden Baker added 11 points while Andrew Carter, the Bracket MVP, earned 10. Isaac Ashley & Kevin Everhart, both earning All-Tourney honors, put in nine points, each. Connor Kerr also offered nine points.
Jason Jackson of the ACES earned 17 of his 24 points in the first half, but unfortunately left the game late in the second due to a foot injury. John Gamble offered 16, while Joseph Rivera had 11.
7th Grade Championship: Florida ACES 53, Balkman Elite 50
Another close title game in the books, the ACES closed out a tough win vs. Balkman Elite & did it in the final seconds. The Aces were another group that had a balanced scoring approach with Adonis Moise leading the way with 16 points and an All-Tourney nod.
Xavier Porter added 10 points along with his All-Tourney nod, and Khyre Ellis hit three triples while earning Bracket MVP. Jahyere Chin scored nine points while going 6-of-6 from the free throw line.
For Balkman Elite,Tyree Smith led the way with 23 points. Sian Morris followed with 12 points.
5th Grade Championship: Wellington Wolves 46, Florida ACES 33
To round out the Florida Jam, the Wolves were led by Cayden Daughtry's 20 points en route to their title win. Gary Mann, Dennis Pierre Jr., Dylan Bennett, and Tariq McLeod offered six points each. This is definitely a squad who gelled more and more as the event went on.
Isaiah Jenkins scored 11 of his 15 in the second half, with four other players scoring a few buckets.