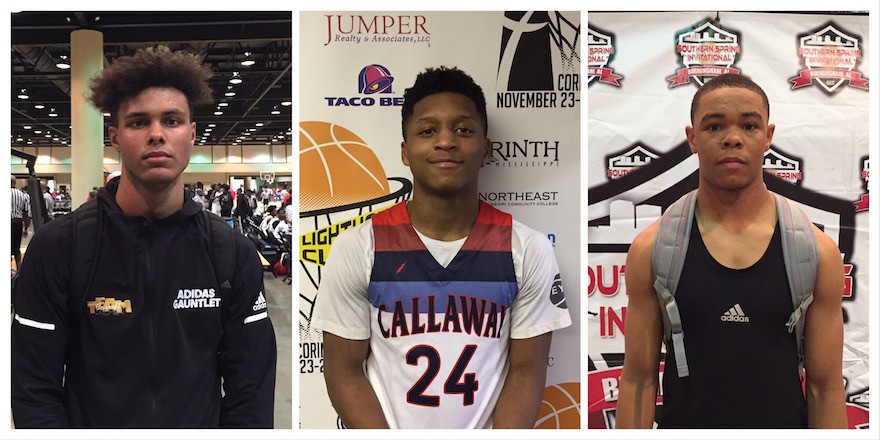 Team Carroll Premier hosted the annual Southern Spring Invitational over the weekend, and, as usual, some of the best teams from Alabama and the surrounding states were in attendance. After a jam-packed weekend of basketball, here are ten things Garrett Tucker learned from his time in Birmingham...
1.) Colby Jones is the ultimate glue guy
2020 Mountain Brook (AL) guard Colby Jones had a huge weekend during the first leg of the Nike EYBL circuit and it carried over into the Southern Spring. The 6-foot-4 guard is one of the best glue guys in the 2020 class nationally, as he has proven over the past few weeks that he can score, pass, rebound, and defend with quality. I had a college coach actually compare him to Milwaukee Bucks guard Malcolm Brogdon, and to be honest, I don't think that's far off. Georgia, Clemson, and Xavier offered last week to join the likes of Harvard, Yale, Middle Tennessee, and UAB. I think it's safe to say more will be coming.
2.) Alabama's 2022 class is going to be really, really good
It's still early in the development stage for current freshmen, but the Southern Spring Invitational had some of Alabama's best 2022 talent all under one roof. Will Shaver, Barry Dunning, Tyrese Elliott, Jacari Lane, Calen Lighford, J'Quan Broxson, Antonio Kite, Martavious Russell, Johnathan Murray, Evan Smith, Hastan Alexander, Tai Hayes, and Jamari Hill all look like college prospects. It will be fun to see how they progress as their high school careers continue. 
3.) Will Shaver is the best prospect in the state of Alabama
Tai Young and I have discussed this since the fall when he was a standout at our Alabama Fall Preview camp, but I feel comfortable enough now to publish that 2022 big man Will Shaver is the best prospect Alabama has to offer going forward. At 6-foot-8, the Oak Mountain (AL) product has good hands and feet, as well as the ability to step out and shoot the 3. He made several 3's per game this weekend, and, with his advanced skill-set, Shaver has drawn comparisons to Alabama forward Alex Reese. UAB extended an offer last week and Alabama and Auburn are showing early interest. It's safe to say the freshman will play host to many other high-major programs as his high school career progresses. 
4.) Malique Ewin will be a top 50 player in the 2022 class
It's hard to miss 2022 big man Malique Ewin, a 6-foot-9 standout for Team YRN's 15U group. Much like Shaver, Ewin has an impressive skill-set for a player his age and size. He extended the floor out to 18 feet and showed the ability to make shots from the perimeter consistently. However, the majority of his damage took place around the rim. Ewin can score with his back to the basket in a variety of ways, too. The Georgia native says he will be suiting up for Berkmar High School next season. Expect to hear his name some more going forward. 
5.) Daeshun Ruffin is the most entertaining player in the country
I've said this since the Lighthouse Classic at Thanksgiving this past year. There aren't many players that I consider to be "must-see TV" at the high school level, but Daeshun Ruffin is definitely that. At 5-foot-10, the 2021 Callaway (MS) guard is one of the most gifted scorers in the country. He is one of the most prolific scorers in the country and his recruitment justifies his ability. Several high-major programs have already offered the sophomore. He's a guy I would buy a ticket to see play.
6.) Mississippi's 2021 class appears to be stocked with talent
Many Mississippi people will tell you that the talent level is down in the 2020 class around the state, but, have no fear, it looks to be on the upswing with the 2021 class. Aside from the aforementioned Daeshun Ruffin, the Mississippi Express 16U group has a strong nucleus of prospects on its team. Caleb Rawls, Vashon Sims, and Joseph Dupre are just a few of the names that suit up for MEBO, and then the Nike Elite Stars have a couple of Mississippi players, including Devin Carter. 
7.) Trinity Bell is going to produce in college
I'm still on the fence in regards to what level Trinity Bell will end up being at the next level, but if this weekend was any indication, it's safe to say he will produce on the floor. The 6-foot-7 big man was one of the best rebounders in the field. He is also a versatile defender and the type of defensive big that basketball is evolving to at all levels. Wherever Bell ends up, he's going to bring defense and rebounding to the table immediately. 
8.) Arkansas is a basketball state
Over the past few years I've seen my fair share of talent from the state of Arkansas. From the blowup of Kansas signee Issac McBride to Reggie Perry, Isaiah Joe, and Desi Sills, the state has proven time and time again that it has underrated talent. The Arkansas Hawks reiterated that this weekend, as their 16U and 15U groups are stocked with talent. Camren Hunter, Jalen Ricks, Tamara Releford, and Quion Williams are all intriguing prospects that should have no problems finding homes at the collegiate level.
9.) Alabama has plenty of guards to choose from in 2020
Some of Alabama's best 2020 lead guards competed in the Southern Spring Invitational. Trey Bonham and Duke Miles (Team Carroll) and Tommy Murr and Mark Sears (Alabama Fusion) are all different guards that bring something productive to the table. Add in Pinson Valley guard Kam Woods, who wasn't playing this weekend, and you have an interesting debate among those five guys. I think all of these players will end up competing for similar scholarships, and it also wouldn't surprise me if the majority of them end up in the same league (A-Sun, OVC, SoCon) competing against each other at the next level. 
10.) Hayden Lamey is one of the best shooters in Alabama
Lamey, a 2020 shooting guard from Briarwood Christian (AL), has been shooting the lights out this spring. He had quality showings at the Bama Jam and Atlanta Jam and followed it up with another quality weekend at the BJCC. The 6-foot-3 guard averaged 18 points per game on the weekend, headlined by a 25-point outing in the JBA Jayhawks final game of the tournament. Lamey is a high academic prospect non-majors will need to keep an eye on going forward. 
11.) Bryson Hall is one of the most intriguing players in Alabama
After a lackluster start to the spring, 2021 Tuscaloosa County (AL) forward Bryson Hall was clicking on all cylinder this weekend. At 6-foot-6 and 250 pounds, Hall brings a unique mismatch effect to the floor each time out. He has the skill-set of a guard and can play on the ball while also having the strength and power to play on the block with his back to the basket. North Alabama extended a scholarship offer last fall. It will be interesting to see where his recruitment goes going forward.