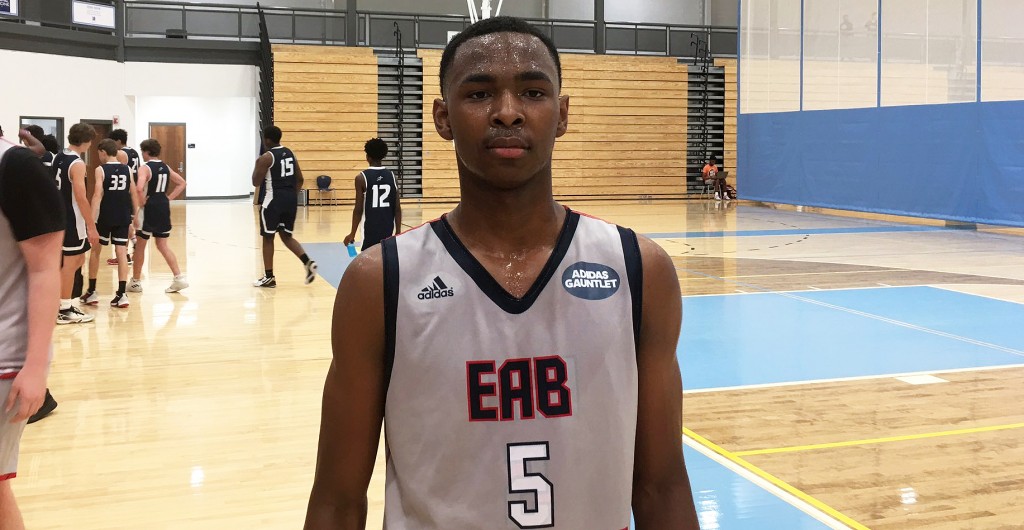 By Chase Crawford

ALPHARETTA, GA - The talent at the Bob Gibbons Tournament of Champions extends well past the 17U division of the event. Our staff was scattered about metro Atlanta to see all of the action. Here's a peek at the top dogs from Denmark High School in the 16 and under division. 
Felix Okpara, Georgia Stars 2022
The 6-foot-8 post made his presence felt immediately on the court. With two monstrous blocks in the first minute of the game, Okpara intimidated the opposition for the remainder of the game. Throughout the game, Okpara showed skills to score inside, grab boards and run the floor. His thinner frame provides a lot of room for growth and gives him the opportunity to be a star in the future. 
Evan Eursher, EAB 2022
Eursher had a phenomenal game Saturday morning and proved to be a very versatile player. The guard was able to score from just about everywhere with several strong drives inside along with four made three-point baskets. Furthermore, Eursher is a very willing passer and while some of his attempts got deflected or lost by the intended target, he had numerous high IQ assists in transition and in the half court.
Harrison Alexander, 2022 Team Loaded NC
Alexander was an absolute sniper in his early Saturday morning game. Making 11 pointers, the wing always found a way to get open and had at least three three-point baskets that's going in and out. With three years left of high school ball to play, Alexander has a lot of time to add various skills to his to make him a versatile but for the moment he definitely has a smooth enough jumper to be an efficient shooter at the next level. 
Joyful Hawkins, Game Elite Big 5 2022
Hawkins displayed what most already knew about, his dominant post presence. The 6'8 was able to score at will inside and showcased his explosiveness with multiple dunks, some even from a standing vertical leap. Having already fielded numerous Power 5 offers and heavy interest, Hawkins has the frame to grow and expand his game outside of the paint in the near future to showcase versatility.
Jah Nze, Team Parsons 2022
Nze showed just how versatile of a player he is throughout his Saturday games. The guard scored 23 and 27 points in his early two games and was able to score in a variety of ways. Nze scored inside, from mid-range and also from outside, hitting big shots from deep down the stretch in his second game against the Georgia Stars.
Notable Team Performances:
Manimal Elite:
Manimal Elite plays solid team basketball. There is no one guy trying to do all of the scoring but yet sound fundamental offense that ultimately results in convincing wins and a equal distribution of points scored from various players on the team.
Game Elite Big 5 2022:
They simply outmatch their opponents. Their size, athleticism and vision makes it easy for them to outscore their opponents. Joyful Hawkins is a star in the making and his surrounding cast plays very well with him.