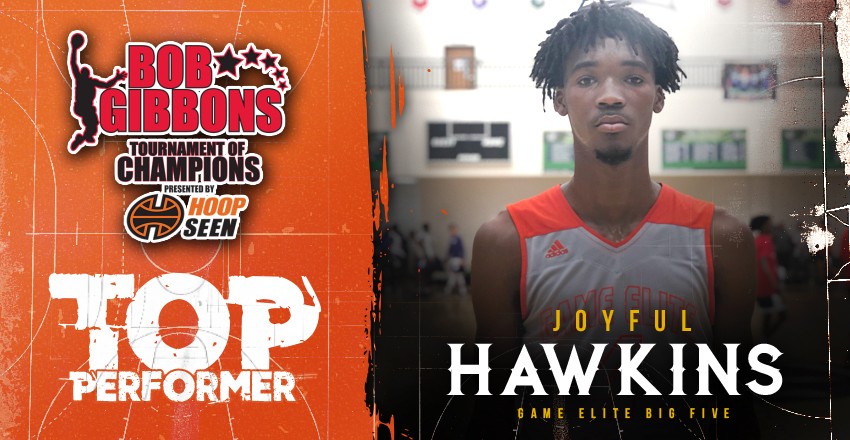 SUWANEE, GA - The prestigious 2019 Bob Gibbons Tournament of Champions officially kicked off on Friday evening. Here's a brief rundown from the action at Discovery High School.
Top Performers:
Rameses Melendez, 2021, Team Parsons (CP25): Melendez is a dead-eye shooter. With that being the most notable strength in his game, he made sure that we also took notice of his improved ability to put the ball on the floor. In a 23-point performance, Melendez was fearless in driving to the basket for scoring opportunities. What happens when you combine his aggressiveness in getting to the rim and hot shooting (4 made threes) from deep?  You get an offensive weapon that can just about score at will. Melendez was on his "A" game tonight. 
Joyful Hawkins, 2022, Game Elite Big 5: The 6'8 forward has generated a ton of national buzz within the past year. He looked to make a statement tonight, and he did just that. Hawkins punched in 23 points on paint touches and guard-like finishes around the rim in transition. The ball appeared to be magnetic to his hands with the numerous rebounds he snagged and the shots he swatted away defensively. 
Zoran Jackson, 2022, Southeast United: In the early minutes of SE United's 6:00pm matchup, you could immediately tell that Jackson was looking to make a living in the low-post. He was a nightmare for opposing defenders as he continued to score through contact. Scoring in transition wasn't a problem for the rising sophomore either. He converted crafty layups around contesting defenders. Jackson displayed his shooting ability by knocking down the 15-foot jumper as well.
Other notables:
Chance Morrow, 2022, Charlotte Guards: 19 points in a win over SBC. A versatile forward who thrived by attacking the paint from the high post and the perimeter. Multiple plays above the rim. Knocked down a pair of threes.
Urijah Handy, 2022, MS Elite Takeover: 19 points in a win over Team Power. Attack, Attack, Attack. That was Handy's mindset tonight. 7 of his 19 points came from the charity stripe. Showcased his shooting touch from the three-point line also.
Jalen Carruth, 2022, Atlanta Xpress UAA: 13 points in a big win for Atlanta Xpress over SBT. Carruth's athleticism was on full display tonight. A trio of highlight dunks and a high motor on both ends on the floor.
Team Performance Notables:
TSF Mack 2022: TSF Mack 2022 has risen to the national ranks as one of the premier 15U squads in the country. That was pretty evident in their win over TNBA South 2022. They had four players who scored 12 or more points tonight. Kobe Davis and Chauncey Wiggins led the way with 14 points each. 
God's Property 2022: A three-pointer gave God's Property the "sudden-death" victory over MEBO Team Hood. 4 players scored in double figures for God's Property. Ball movement on the offensive end and gritty pressure on the defensive end kept them in the game.  Abdulh Diaby finished the game with 16 points.