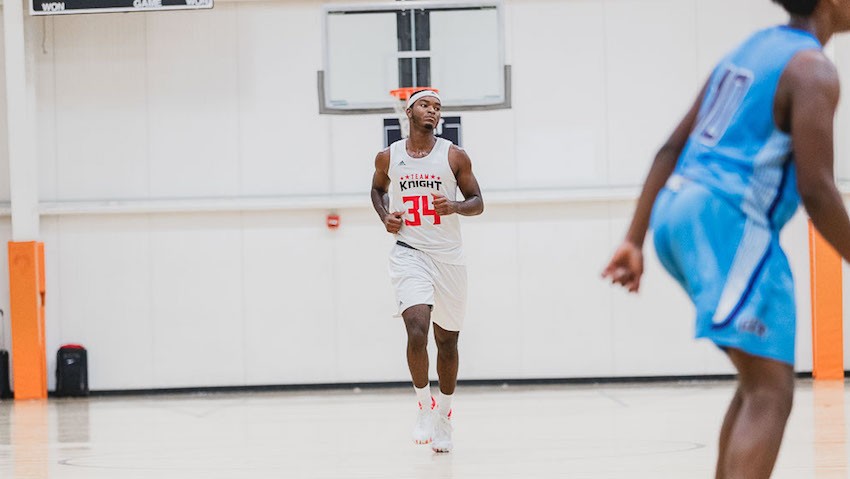 The state of Alabama represented very well at the 2019 Bob #Gibbons Tournament of Champions. Several players had quality weekends, but these five players seized the stage and started their stories as breakout players from the event.
Cameron & Zameron Boozer, Florida Knights
Lanett High School is on quite a run of churning out athletes in the eastern part of the state. Following Emmanuel Littles and Anquavious Pollard, the Boozer twins have next out of the small, rural area nestled on the Alabama-Georgia state line. Both Cameron (pictured) and Zameron stand at 6-foot-8 and played the role of paint enforcer at Gibbons. Built like future NFL defensive ends, the twins have perfected their roles as rebounders and shot-blockers. For much of their high school career, they have been role-oriented big men with a limited skill-set. However, both prospects have progressed with their offensive arsenal, especially Cameron. With limited big men in the South for 2020, I would expect several mid-major programs to prioritize the Boozer twins as the summer unfolds.  
Josh Paige, Auburn Raptors
Paige, a young 2022 prospect, impressed last spring at the inaugural Bama Jam in Hoover. He continued that impression at Gibbons with a couple of quality performances against quality competition. On Friday night against the Georgia Stars, the Eufaula (AL) standout knock down four three-pointers and was the leading scorer for the Raptors. Despite his scoring performance, what stood out about Paige was his competitiveness and motor. The freshman didn't back down and rose to the occasion against the EYBL squad. While it is still early in his development, I can see Paige being a quality 3 & D type player as his high school career gets going. 
Braxton Williams, Alabama Fusion-Jones
I have seen the Alabama Fusion-Jones squad the past few weekends and 2020 Thomasville (AL) wing Braxton Williams saved his most impressive performances for Gibbons. The 6-foot-5 wing has a strong body and frame where he can play on the perimeter and in the post. With his size, strength, and quickness, he is a mismatch problem for many opposing players. Williams made a loud statement on Saturday morning as he scored the first 10 points for his team in a game against SR1 All-Stars. Throughout the game, the junior scored in a variety of ways, headlined by his shot-making ability. His shooting probably needs to be more consistent, but Williams is a potential sleeper prospect for low-major programs going forward.
William Nall, Nike Elite Stars
After helping lead Center Point High School to the 5A Final Four this winter, 2021 wing William Nall is starting to come out of his shell as a player. At 6-foot-4, the sophomore is an intriguing prospect because of his athleticism and ability to shoot the basketball. He stretches the floor and can knock down shots from the perimeter with ease, as he showcased on a consistent basis this spring. Towards the end of Gibbons, Nall was playing with confidence and looked like a player on the uptick with his game. He does the little things to help his team win, whether it is rebounding, defending, or making the right play. I like where Nall's game is going at this stage in his development.