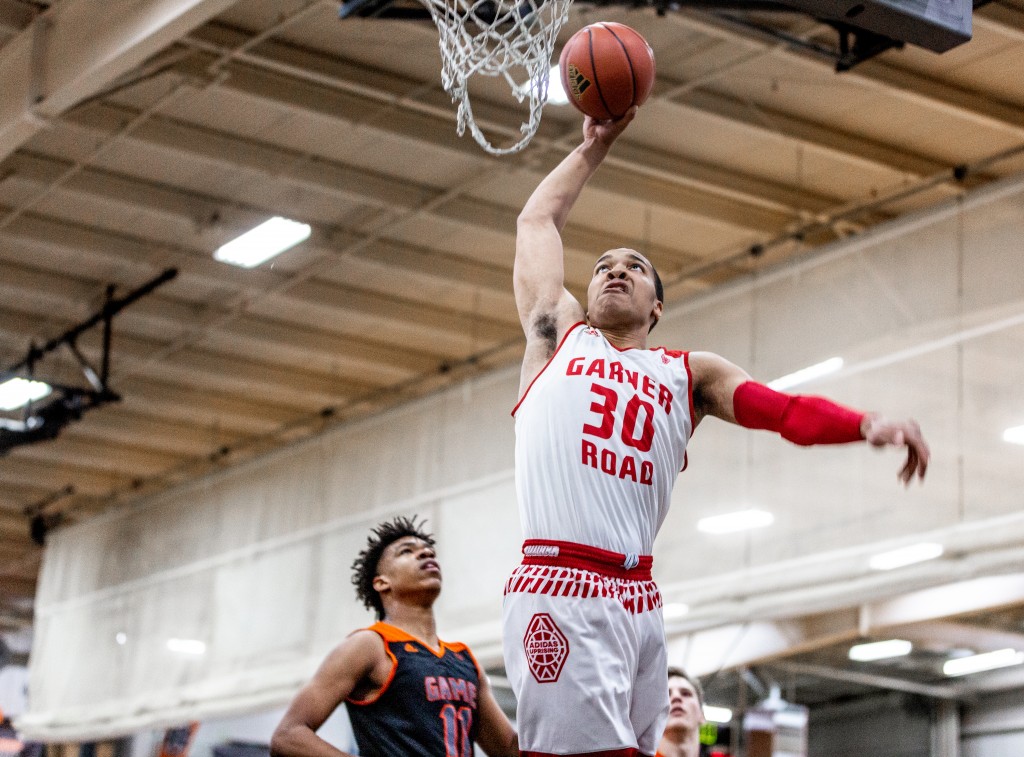 Kaleb Scott is one of the players that instantly passes the look test. At first glance, if he did not have a Garner Road Basketball Club jersey on you would think he was already a junior at the college level. His physical stature is something that we do not see too often in the 17U division of amateur basketball. 
Scott is a powerful forward that is physically built, has a great motor and is a strong rebounder. He gets his hands on a lot of deflections and causes steals with his length and he can handle contact. In fact, he thrives on the contact part of the game. 
Scott recently picked up an offer from Appalachian State new head coach Dustin Kerns. He gave us at HoopSeen a little insight on his recruitment so far, "My recruitment is going well. I currently hold offers from ECU, George Mason, and Appalachian State. I also have interest and contacts from twenty-one other Division 1 schools including Tennessee, Virginia, Marquette, Clemson, Kansas State and Wofford." 
Overall, Scott had a productive weekend at The HoopSeen Tip-Off, he scored when he needed to do, came up with a lot of offensive and defensive rebounds, caused turnovers and his biggest presence was felt when a strong body was needed to check someone on defense. "The weekend at HoopSeen was great. The tournament allowed us to kick off our 17u year season on the right foot. It allowed us to play against multiple gauntlet teams which will prepare us for tournaments in the future. Media coverage was great as well. No better tournament to tune us up for the season", he said. 
Throughout the weekend, no other player to me stood out with being as physically ready for the next level as Scott was. I asked him about his workout regime, he responded with "I work with multiple trainers throughout the week on my body and basketball development. Trainer Gawon Hyman  (@hymanprofitness on Twitter) the most frequently on explosion, footwork, and inside finishing. Gilbert Abraham (@ganabraham on Twitter/Instagram) I work with as well on perimeter skills, ball handling, and shooting. I also work with former Rockets trainer Zach Manolakes (@zmano23 on Instagram and @coachzmano on Twitter) on my strength and conditioning whenever possible. 
The future is bright for a kid that puts as much on his game as he does on his body. I expect some more mid-major schools to get involved and he to me resembles a body type similar to Grant Williams (SEC Player of the Year) from Tennessee.