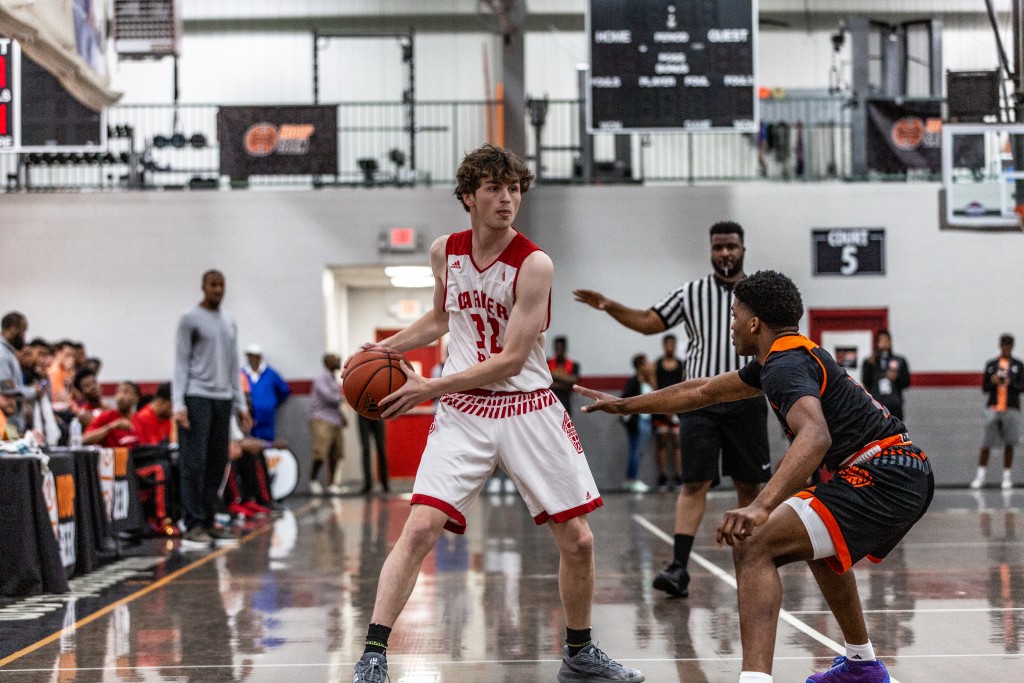 Garner Road Basketball Club has produced elite basketball players that went on to star in college and in the NBA. Director Dwayne West moved down to the North Carolina area after a college basketball career in New Jersey to be closer to his family who had recently moved to the Garner area. His younger brother David West was a sophomore in high school and starred at Garner High School before attending Xavier University and then playing in the NBA. 
The level of basketball that is played at 2245 Garner Rd in Raleigh, North Carolina is on a different level. This hoops mecca in Raleigh has seen over 200 of their players win college basketball scholarships. The 2020 adidas Gauntlet team also has a roster full of players that will join this prestigious group. 
First off is 6-foot-5 point guard Dji Bailey. Bailey started the weekend off at HoopSeen Tip-Off trying to get into the feel of the fast-paced game and eventually it started to come second-nature to him. In a game against Game Elite, Bailey took his defender off the dribble, got into the lane and scored what would be the game-clinching bucket to go along with a foul. He has a knack for finding his teammates in transition and when attacking the paint. 
Bailey had this to say about the Tip-Off, "It went well, I got the chance to play against some really good guards. I saw how I stacked up against high level guards against Game Elite and Stackhouse Elite, I also thought the event helped prepare our team for the adidas circuit." 
Bailey has some mid-major offers to go along with an ACC offer from Wake Forest. "
I'm not really sure about my (recruiting decision) timetable. I'm just trying to find my right fit. It could be tomorrow or it could be the end of the summer. My top four right now will be Wake Forest, Princeton, NC A&T and Rice."
Playing off the ball at the shooting guard spot is Virginia commit Carson McCorkle. McCorkle recently chose to go back to his original recruiting class of 2020 and be on campus at Virginia in the summer of next year. "I am excited to get to college "early". I am excited to get started with Coach Bennett and become a better person and player."
McCorkle is known for his shooting and overall basketball IQ when he steps on the floor. One thing that stood out to me was how well McCorkle understands where to be on the floor and his movement without the ball. I asked McCorkle how he thought he and Garner Road played this weekend and he responded, "The team played really well and I was proud of how our first weekend went. My performance was fine. I didn't shoot well which is going to happen but I thought my defense was good and passing got better, still need to work on handling the ball and becoming vocal."