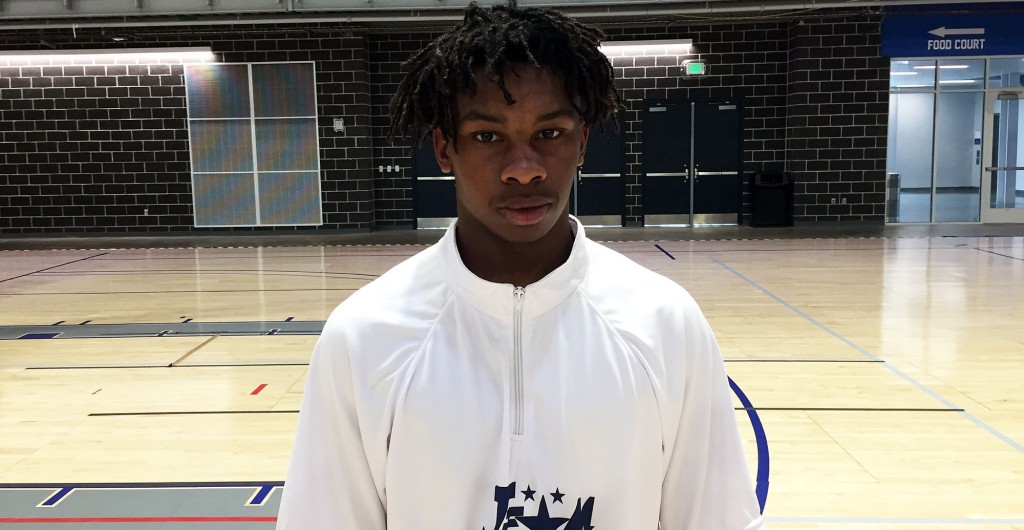 The second annual Bama Jam was another huge success over the weekend, as over 100 teams competed on the hardwood for championship trophies and bragging rights. Throughout the weekend several storylines emerged. Here are some things that stood out to Garrett Tucker…
OMARIE SHERROD IMPRESSES WITH TEAM SPEIGHTS
Team Speights made the trip up to Birmingham from Florida and did not disappoint our staff. Tai Young highlighted big man Jonathan Crumley from the 17U squad on Saturday, but the 16U group was filled with impressive guards. None was more impressive than 2021 St. Petersburg (FL) guard Omarie Sherrod.
Sherrod, pictured above, was impossible to keep out of the lane with his explosiveness and quick first step. He created scoring opportunities for himself and his teammates with his paint touches and attacking abilities. The sophomore was also a nightmare on defense with his quick-twitch abilities.
Sherrod is also a standout on the football field, but if his performances over the weekend are any indication, the Sunshine state product could potentially be a prospect coaches will want to see at the Atlanta Jam in a few weeks.
PRO ONE HAS HIGH UPSIDE SLEEPERS
Much of the talk surrounding Pro One this weekend centered around 2021 ultra-scorer Brody Peebles and 2022 big man Will Shaver, who, in my opinion, is the best long-term prospect in the state of Alabama. While they both deserve all the attention they have received following the Bama Jam, Pro One has two intriguing and bright prospects in 2020 wing Geraldo Lane and 2021 forward Colby Carter.
Lane, an athletic 6-foot-4 wing from Huntsville (AL) Columbia, had a solid showing on Friday night after a strong junior campaign. The slender, lengthy wing is as athletic as they come and sports a 6-foot-8 wingspan that benefits him on defense with deflections and blocks. He created several easy opportunities with his speed and explosive ability on the offensive end of the floor, too. While he still needs to improve on this part of his game, Lane did knock down a 3 with ease in Friday's viewing. He will be recruited as a quality slasher for the next level.
Lane is still a work in progress, but that's the beauty of projecting where he will land as a college prospect. The junior has one of the highest ceilings in Alabama's 2020 class, and with an extremely late birthday, he should be a member of the 2021 class. Either way, Lane could be on a similar path to Hoover guard C.J. Melton, who signed with Presbyterian in the fall. At this stage in their respective developments, Lane and Melton are extremely similar as high-upside, late bloomers. I'm excited to watch Lane as the spring and summer unfold. Sporting a 4.0 GPA, Lane will be tracked by a variety of different programs.
While talking about late bloomers, it's hard to not be blown away by the recent development from Hoover sophomore Colby Carter. The 6-foot-6 forward has improved since the end of the high school season and could end up being one of the best stretch 4 forwards in the 2021 class. Carter quietly torched the nets over the weekend, highlighted by 19 points and five three-pointers in Pro One 16U's championship victory on Sunday afternoon. He has carved his niche as a shooter up until this point, but over the weekend, he showed flashes of being more than just a shot-maker. The skilled forward has a soft touch and is precise with his passes and he proved to be a sneaky rebounder too. With that being said, he has all the makings of a player that will fit perfectly at a program similar to Belmont and Lipscomb.
The Hoover High school product also has an impressive athletic pedigree behind him. Carter's father, Brent, started his college basketball career at George Mason before transferring to local NAIA school Birmingham Southern and helping lead them to a national championship in 1990, while his mother, Jill, ran track at Alabama. With a couple of more inches left to grow, it will be interesting to see where he ends up in a few years.
THE MOST COMPETITIVE AGE GROUP WAS…
It wouldn't surprise me if we see multiple teams from the 15U age group win respective events this season and beyond. In fact, I would expect that our four semi-finals teams (Atlanta All-Stars, B-Maze Elite, OFW Stars Black, and Pro One) compete for a championship trophy at the Bob Gibbons Tournament of Champions in May. It was that competitive of a weekend up and down the age group.
I had the chance to watch both 15U semi-final games and was impressed with the number of college prospects each program had. Granted some things can change in only a few years, but all four teams have bright futures.
That goes without mentioning that one of the most talented teams in the age group, the Nike Elite Stars Black, didn't even make the semi-finals. They were defeated by the Atlanta All-Stars, but they post a talented nucleus headlined by Martavious Russell, DreSean Knight, Johnathan Murray, and Braxton Bishop.
BRMINGHAM AREA TEAMS REPRESENT WELL
I was sitting with a respected Birmingham-area high school coach watching a game on Sunday and we discussed the number of teams from the area that participated in the Bama Jam. It was great to see multiple teams in a handful of age groups sporting the 205 area code. To be honest, I couldn't believe so many players in the area were playing.
The Birmingham Thunder, Iron City Huskies, JBA Jayhawks, JSI Elite, and OFW Stars are just a handful of teams based out of Birmingham that was represented over the weekend. We even had some teams from the state of Alabama that I wasn't familiar with before the event, and it's always good to see new names, too. Either way, it's great to see so many people invested in basketball in Alabama. Not a bad weekend overall for a state that is regarded as a football state.