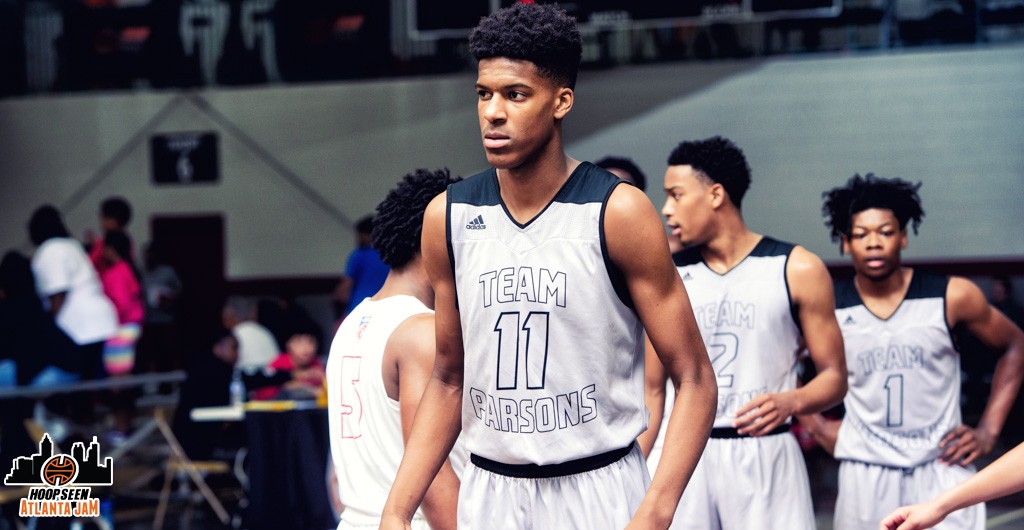 Best Game of the Night, Carolina Wolves vs Atlanta Timberwolves
This was the game to start off the Atlanta Jam and it didn't disappoint going down to the final possession and a buzzer-beater for the Atlanta Timberwolves. Coaches from The Citadel, Lee University, Belmont, Northwest Florida and a few others were taking the game in. Coach McLemore has a strong squad with most of the players based out of the piedmont of North Carolina and some further east. 2020 point guard Naeven "Chance" Minott had a solid game scoring 19 points and showing his ability to be a Division II prospect. He shot it consistently from beyond the arc and has a very quick first-step. 6-foot-7 big man Zach Shumate showed an ability to stretch the floor and make shots from the mid-range level finishing with 11 points. 
Also impressive was 6-foot-5 small forward Chazz Banks. He Can step out and make the outside shot does a good job of rebounding his area, finishing with contact and has a good soft touch around the basket with a solid mid-range jumper.  
The Timberwolves were led by unsigned 6-foot-6 forward Nate Dunlap and 2020 guard Joseph Staiti each scoring 18 points in the win. Staiti is crafty with the ball in his hands and can finish in the paint on drives. 
Wanting to See More
Team Parsons CP25 is a team that I could watch over and over. Full of energy and athleticism, the players are skilled and attack. Team Parsons took down Miami Tropics 85-47 in front of coaches from Oklahoma State, Oklahoma, Northwestern, Mercer, The Citadel, College of Charleston, Gardner-Webb, East Tennessee State and Lipscomb. 6-foot-7 small forward Isaiah Adams nearly brought the crowd into a frenzy with his dunk that left everyone wanting more. 6-foot-5 2020 shooting guard Kario Oquendo and 6-foot-8 center Jonathan Aybar each scored 12 points to lead CP25.
I liked the style of play that Kentron Poitier brings to the game. He scored 15 points using a slashing type game and finshing plays at the rim.
Strong Showing for Unsigned Seniors
The region still has some quality college level players around and they were on display in the opening night of Atlanta Jam. 
Nate Dunlap, Atlanta Timberwolves-The 6-foot-6 unsigned senior has good footwork and feel. He showed he has the ability to make shots from beyond the three-point line pretty consistently and is in range when he gets the ball past half-court. He has some Division Two offers at this point.  

Jalen Ware, Team Phoenix Elite-Ware scored 19 points in an OT win over Cherokee Legacy. He is long and runs the floor well, while showing the ability to knock down shots from beyond the three-point line and rebounded his area. He said he is considering Hargrave Military, Fork Union Military and Massanutten Academy.