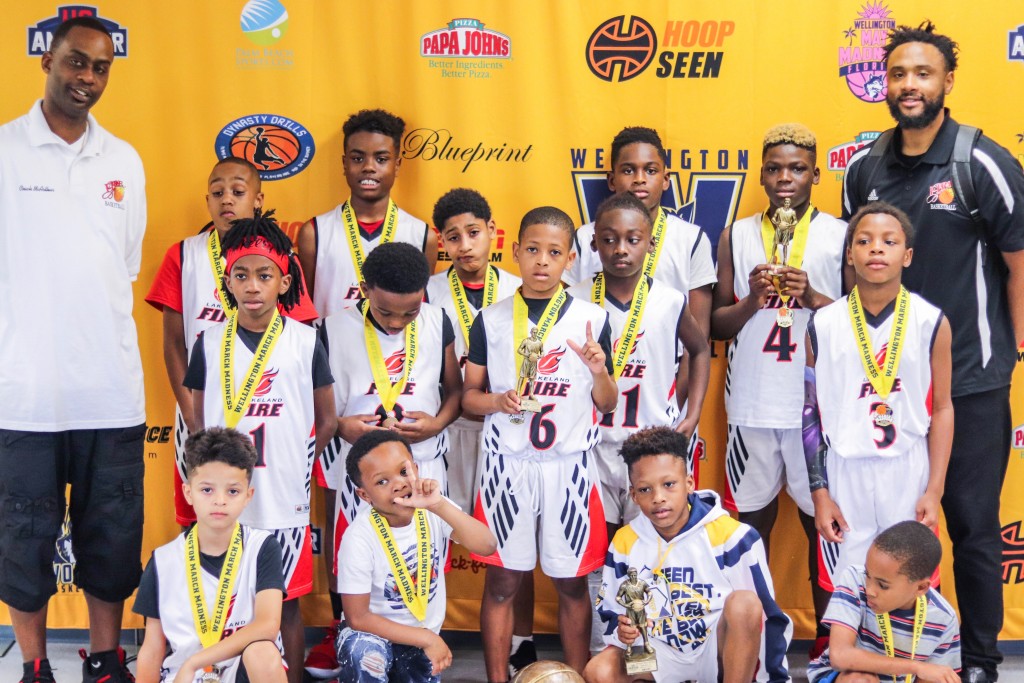 3rd Grade – Forest Hill Basketball 66, South Florida Heat 46
            Forest Hill Basketball picked up the championship game win over South Florida Heat on Sunday evening. Honour Mays of Forest Hill lead all scorers with 23 points. South Florida's Cameron Marcelo wasn't far behind with 19 points. Forest Hill took the lead early in the game and never let up. They won finished the game up twenty and took home a 66-46 championship game win.
4th Grade
            Division I – Lakeland Fire 53, Controlled Kaos 36
                    Lakeland Fire cruised to a 17-point championship game win against
Controlled Kaos on Sunday afternoon. Lakeland's A'Darrion Willis put up 17 points in the big win, while Controlled Kaos player Hatem Chehade put on a scoring clinic despite the loss. Chehade led all scorers with 26 points and added several boards and steals to is stat line. Adonis Cuyler had an all-around impressive game for Lakeland as well.
            Division II – Skills Center Elite 46, Jupiter Jaguars 8
                    Patrick Armour led the Jupiter Jaguars to the championship coming off a 16-point performance in the quarter finals. The Jags would have trouble putting the ball in the basket in the big game against Skills Center Elite. SCE won big, getting balance scoring from several on the squad.
5th Grade
            Division I – CBF Lightning 51, Skills Center Elite White 26
                 SCE White guard Christian Fuller hit a free-throw line jumper off one foot on Sunday morning to lift his team into the championship game versus CBF Lightning later that afternoon. Their luck seemed to have run out after that, as the Lightning came out firing on all cylinders. SCE was never quite able to recoup and fell to CBF Lightning by 25 points.
            Division II – P2 Ballers 56, Jupiter Jaguars 21
                 The P2 Ballers' scoring efforts proved to be too much for the Jupiter Jaguars to handle Sunday afternoon at Wellington Village Park. A big second half helped P2 separate themselves and pushed them to a 56-21 win.
6th Grade
            Division I – St. Cloud Kings 46, Iren Rainey Basketball 41
                 St. Cloud Kings and Iren Rainey Basketball faced off on Sunday afternoon at Wellington High School for the DI championship game. It would be a good one, coming down to the wire. The Kings escaped with a five-point win.
            Division II – Beast Mode 45, Skills Center Elite Orange 33
                  The Beast Mode squad had a solid all-around weekend winning all of their games by double-digits. The championship game was no different, and Beast Mode pulled away for a twelve-point win.
7th Grade
            Division I – Bad Boys Basketball 73, Wellington Wolves 52
                 The Wellington Wolves knocked off BBD by one point in their semifinal matchup but didn't have enough to take down Bad Boys Basketball for the championship. Bad Boys cruised to a 21 point win for the trophy.
Division II – Florida Blaze 82, Beach City Basketball 60
                 Florida Blaze made it out of their semifinal matchup with Lakeland Fire by just five points to set up their championship game against Beach City Basketball. The Blaze had a much smoother run in with Beach City Basketball to win it all by a margin of 22.
8th Grade
            Division I – Miami Impact 82, Wellington Wolves Blue 68
                 Both 8th grade championship game contenders had to battle their way into the title game on Sunday afternoon. Miami Impact survived their matchup with Lakeland Fire by only three points while Wellington Wolves Blue held off Florida blaze to win by five. When the two semifinal winners faced off though, Miami Impact had gotten into their groove. They coasted to a 14-point win to take home the trophy.
            Division II – Mamba Elite 79, Treasure Coast Titans 68
                 Mamba Elite's 8th grade crew won every game they played by double digits. Their championship game provided the most competition and Treasure Coast Titans got within 11 points.
9th Grade
            Division I – BBD 55, Wellington Wolves Gold 47
                     Wellington Wolves Gold got out of their semifinal game by just one point as they completed an incredible comeback to defeat Team Tampa 60-59. They would eventually but fall to BBD by 8 points in the championship game.
            Division II – X Factor Elite 56, South Florida Basketball 24
                 X Factor Elite grabbed a two-point win over the St. Cloud Kings in the semifinal round and handled South Florida Basketball easily for the trophy. The elite team won by a tough 32 points.
10th Grade
            Division I – Palm Beach Garden Starzz 69, MTB Training Academy 45
                 The Palm Beach Garden Starzz started their Sunday morning with a big win over DC Finest. They then proceeded to knock off MTB Training Academy by 24 points.
         Division II – St. Cloud Kings 58, Wellington Wolves 45
                 The 10th Grade St. Cloud Kings won each of their matchups by at least 10 points, including the championship game, which was a 13-point win over the hosting Wellington Wolves.
11th Grade
            Division I – East Coast United 79, X Factor Elite 63
                 East Coast United proved to be the strongest team in the 11th grade division one bracket. They found themselves down seven at halftime of their semifinal matchup, but quickly regained the lead and wouldn't trail again for the rest of the day. They took care of business against X-Factor Elite, winning the championship game by 16.
            Division II – Stampede 64, Fort Pierce Wolf Pack 33
                 Stampede's 11th grade squad was simply too much for Fort Pierce Wolf Pack on Sunday afternoon. They got scoring from everywhere and cruised to a 31-point win.