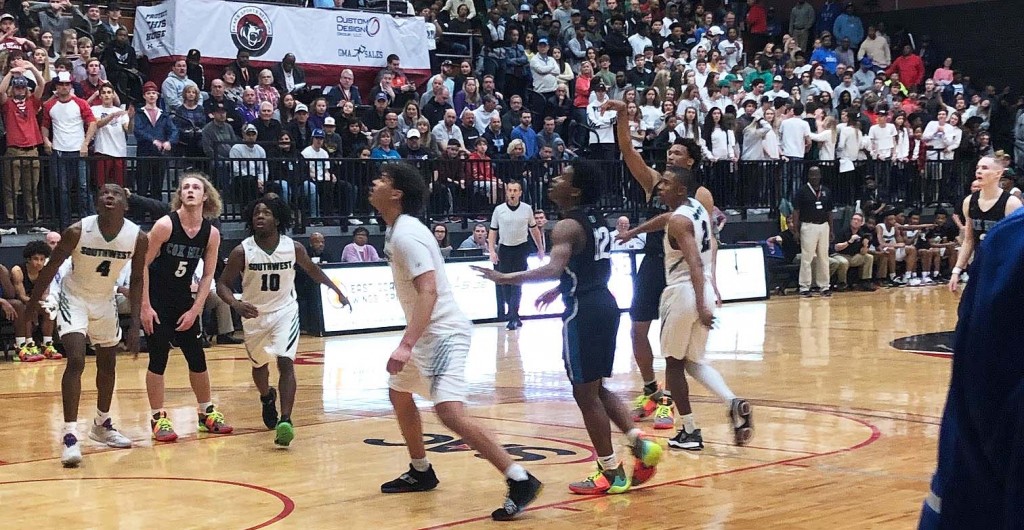 Inside a gym that holds 3,200 people, a crowd of roughly 4,000 packed Shuford Gymnasium on the campus of Lenoir-Rhyne University for the 3-A West Regional Final between Southwest Guilford (31-0) and Cox Mill (28-3). 
Throughout the first quarter and into the second quarter, both teams traded baskets. The score was 20-19 Cox Mill advantage when Christian Martin, a 6-foot-3 forward for Southwest Guilford went up for a jam and lost his footing crashing down on the hardwood head first. It looked like many plays I have seen before but turned into something much worse when he was unresponsive and started seizing. Paramedics and trainers took over for the next twenty minutes in front of a silent packed gym. Spectators started praying, both teams met at half-court and circled in prayer. Finally some movement from Martin and the crowd cheered thankful it was not as bad as what it could have been. Martin was taken out on a stretcher for further evaluation at the hospital. 
Southwest Guilford has had their share of tragedy. In 2017 one of the Cowboys, Dez Woods was killed in a car accident. He was a player that was going to be recruited to play college basketball. These tragedies would tear some teams apart but not Southwest Guilford. 
Over the next five minutes when play resumed I witnessed something that you only see when players rise from adversity and something "else" takes over. That something else was in full force with senior wing Jayden Turner. The 6-foot-5 Turner scored 17 points over the next five minutes, knocking down three 3-pointers, a couple of drives to the basket, one monster dunk and some of the best defense I have seen in a game of this caliber. 
Cox Mill had no answer for Turner, UNC-Greensboro signees Kobe and Keyshaun Langley and Joel Pettiford. The play of Myles Taylor (12 points) was also huge during this decisive run that almost seemed like it was meant to be for The Cowboys. Southwest would take a 45-30 advantage heading into the locker room with their mind on only two things, Christian Martin and winning this basketball game. 
The second half was much of the same for Southwest, a lot of transition baskets, knocking down long shots and stifling defense against The Chargers. Cox Mill hadn't lost to a North Carolina team since 2017. Jayden Turner would finish with 29 points, earning himself MVP of the Western Regional. Kobe (8 points) and Keyshaun Langley (13 points) and Joel Pettiford had 14 points and 7 rebounds. 
Cox Mill never returned to the same style of play they had before the injury to Christian Martin. Duke-bound forward Wendell Moore would go on to score 19 points (12 from the free-throw line) and Charlotte signee Caleb Stone-Carrawell chipped in 13 but it wasn't even close to enough as Southwest won 88-58, in a game that was never really close again once the clock in the second quarter paused for the injury with 5:54 left. 
Cox Mill Head Coach Jody Barbee who had won the last two 3-A state titles with The Chargers, announced that he was stepping down during the post-game press conference. Barbee is a class-act and one of the best coaches in the state. Barbee and Cox Mill were the first 3-A re-peat state champions since Dudley (Greensboro) almost 15 years ago. 
Barbee has decided to step away at a time and a place in their careers that many only dream of accomplishing. Two state titles, four conference titles, three trips to the Western Regional Finals. 
Jody Barbee would send me text messages trying to figure out why some of his players were not getting the recognition or recruitment he felt like they should be getting. He was always willing to let me know what was going on with Wendell Moore's recruitment, same with Caleb Stone-Carrawell. He helped me host The Justin Byerly WNC/Upstate Classic at Cox Mill last year, and it was by far the smoothest event I have had to date. Sitting back and thinking about it more, how many defending state champion coaches would have let me do that? Not many. Jody Barbee didn't rule out returning to basketball at some point, and when that time comes those opposing teams are going to have their hands full.