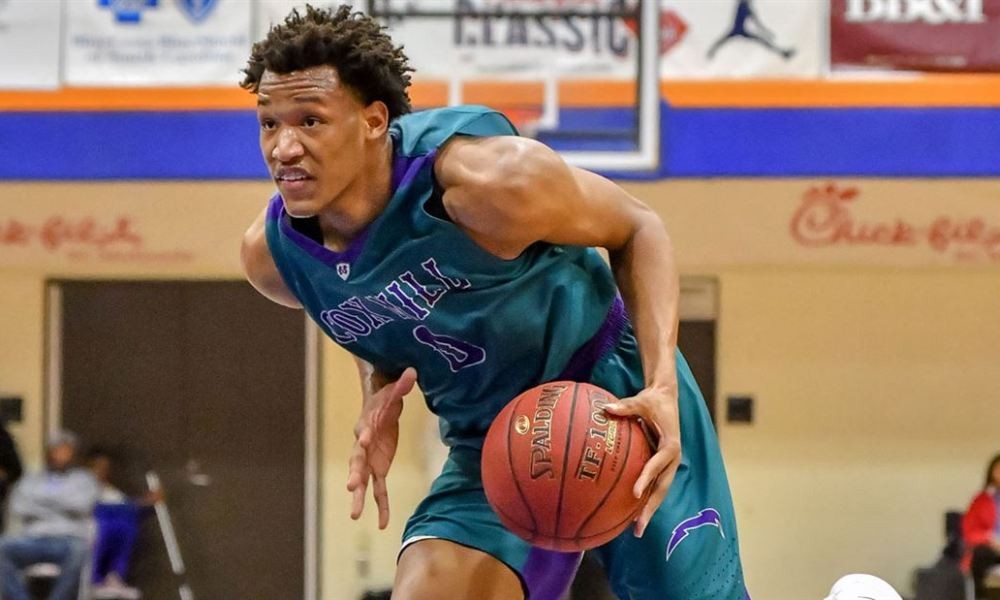 3-A West #4 Charlotte Catholic at #1 Southwest Guilford 
The Langley twins, Kobe and Keyshaun came home for the farewell tour to suit up for Head Coach Guy Shavers one last time before heading off to play for Wes Miller and UNC-Greensboro next year. The Langley twins helped Southwest Guilford to the 2017 NCHSAA 3-A state title as sophomores before transferring to Wesleyan Christian.  
Undefeated on the year, Southwest will host Charlotte Catholic Tuesday night for a chance to head to Hickory, North Carolina for the regional finals. The Langley twins are what makes the Cowboys go, but the play from Joel Pettiford, Christian Martin and Jay'den Turner have shown what senior leadership and a common goal can lead to. 
6-foot-5 wing Jay'den Turner is averaging 15 points per game this season to go along with 5.8 rebounds per game. He is able to guard up to four positions on the floor and he is one of the most athletic players in the state. The University of Maryland reached out to Coach Shavers today and are considering taking a look at him. Pettiford is a 6-foot-5 senior that is averaging 12 points and 6.3 rebounds per game. He has good size, he is a strong defender and is versatile. Martin, the other senior on the starting five is a 6-foot-3 wing averaging right at 13 points per game. 
Charlotte Catholic, coached by Mike King is a state championship-winning coach that always gets the most out of his players. Catholic has made it to the regional semi-finals by knocking off Ashbrook, McMichael and Kings Mountain by a combined 41 points. Leading the way for Catholic is senior Adam Robbe and sophomore guard Colin Thomas. Both averaging right around double-figures. 
3-A West #3 Freedom at #2 Cox Mill 
The two-time defending NCHSAA 3-A state champions, Cox Mill are led by Duke signee Wendell Moore (ranked #1 in HoopSeenNC rankings), Charlotte signee Caleb Stone-Carrawell and senior guards Cody Cline and Khalid Davis. Carrawell is the son of Duke assistant coach Chris Carrawell. Senior guard Malcolm Morgan is the younger brother of Matt Morgan who plays at Cornell. 
The only blemishes on Cox Mill's season happened at The Beach Ball Classic in a loss to Scott County (KY) and The Patrick School (NJ) during the NBA All-Star Weekend in Charlotte. This is one of the best teams in state over the past three years and a third-straight state championship is in reach for Head Coach Jody Barbee. 
Freedom is led by The Citadel signee Fletcher Abee who takes on a majority of the scoring load, averaging 19 points per game. 6-foot-3 senior guard Jakari Dula is averaging close to 16 points per game and is one of the most athletic players on the floor against any team. This will be one of the best teams Cox Mill has faced in the state this season. The winner of this game will head to Hickory for a match-up between the Charlotte Catholic-Southwest Guilford winner. 
3-A East #3 Eastern Alamance at #2 Northern Nash 
Northern Nash arrives to the fourth round with wins over Havelock, Dudley and Northwood. The 27-1 Knights are led by 6-foot-2 guard Joseph Cherry-Blue. The senior is averaging 16.2 points per game. Cherry-Blue missed all of the third round game and all but two minutes of the second round game against Dudley after colliding with a player that resulted in seven stitches. He has been cleared to play tonight against Eastern Alamance. Picking up the slack with the absence of Cherry-Blue has been senior Davontae Wiggins, who scored 20 points in the win over Northwood. Also leading Northern Nash is another senior, Same Page. Page is averaging 12.5 points per game.  
Eastern Alamance puts their 27-1 overall record on the line tonight too. The only loss coming from McMichael HS. The Eagles are led by 6-foot-5 senior forward Na'Zae Baltimore. The 235-pound Baltimore is averaging right at 15 points and 10 rebounds per game. 6-foot senior guard LJ Rogers is averaging 12 points and 5 assists per outing. Senior forward Josh Robinson is averaging 10 points per game. Freshman guard Darius Kane has had two games of 15 points this season and may be one to keep an eye on in this senior-laden contest. 
3-A East #4 Williams (Burlington) at #1 Hillside (Durham) 
The number 1 team in the 3-A East, Hillside (Durham) has a record of 28-1 heading into this regional semifinal. The Hornets are led by senior guard Derrick Wiley, a super-quick lead guard that can get by defenders in a hurry and is really strong at breaking down defenders. Hillside has mowed through Southern Nash, Terry Sanford and West Brunswick in-route to this regional semi-final. 
Williams is led by senior Nasir Johnson, a shooting guard that is averaging close to 20 points per game. He stands 6-foot-2 and is a steady two-way player. He may not have the most textbook jump-shot but he makes a lot of them. 
6-foot junior point guard Kennedy Miles is averaging right at 16 points per game. He has a Division One offer from Western Carolina University and will be playing with PSB Elite (will be in attendance at Hoop Seen Tip-Off). Miles is a strong defender and can score from all spots on the floor.