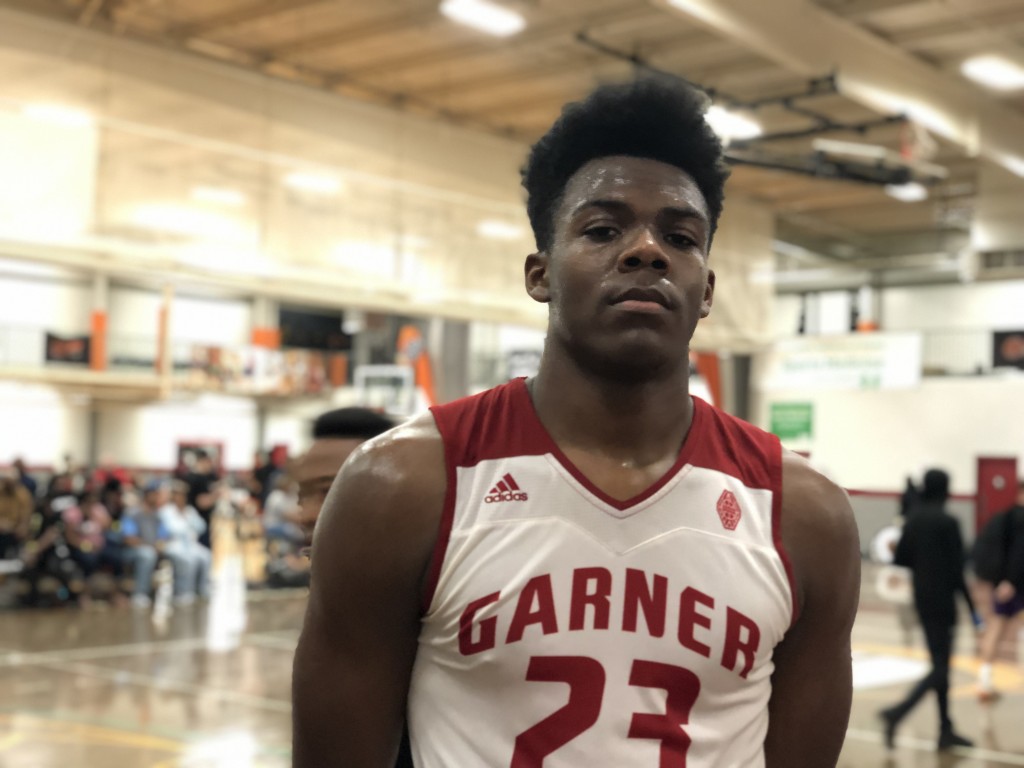 Having a head coach that spent 15 seasons in the NBA, a two-time NBA All-Star and a guy that has two NBA titles isn't something that a lot of young kids get to experience. Things are different at Garner Road Basketball Club in Raleigh. What you never see out of Coach David West is anything negative, he is always encouraging players and giving praise. He never gets on guys he just corrects them when they come to the sideline.
The guys behind the scenes, Dwayne West and Chris Myatt are some of the best in the business and have kids in their program as early as they can get them.
This year's 17U team has been one of those groups where the nucleus has been with the Garner Road program for a while is going to be a problem on the adidas circuit. Here is a closer look at the roster and some of their players. 
Day'ron Sharpe (UNC commit)- Runs the floor so well and it is unbelievable how quick he gets up and down the floor for a guy his size. He has an above average handle for size combined with good court vision. His second jump is as quick as I have seen and he has a good looking shot. Another aspect that stands out is that he has really strong footwork. 
Carson McCorkle (Virginia commit)-McCorkle possesses a high basketball IQ is one of the first things you notice about him. He missed first four three-pointers but he kept shooting and started making them when he had to. He does a job of getting through traffic on the break and has a really pure stroke. He seems to never gets upset while always stays calm and looks like he never breaks a sweat. 
Mylaejyl Poteat-The first thing you notice is the overall size of Poteat, he uses his drop-step to perfection that leads to easy dunks. The big man has good footwork and a good second jump for size. He runs the floor and does a strong job of following up misses in transition. He can score over either shoulder with a  soft touch and he is really good in the two-man game. 
Kaleb Scott-The 6'7 small forward looks like he is a sophomore in college, he is strong and can handle contact. He is all over the floor and hustles every play. He has a good motor and gets hand on a lot of deflections and steals. He told me that Appalachian State is his latest offer. 
Dji Bailey-The 6-foot-5 Bailey can play multiple positions on the floor, he is best when attacking the paint. He recently picked up an ACC offer from Wake Forest and I can see what they see in the prospect. Length at either guard position, he can shoot the ball and he pushes the tempo. 
Marcus Elliott-Elliot is a shooter with a nice handle, he is quick and makes defenders miss. He makes shots when he is called to shoot and has a really good change of pace in the open floor where he can blow right by the defender. 
Evan Joyner-The 6-foot-8 Joyner is a strong two-way player for Garner Road.He is a strong rebounder and has really good length. He recently won a state independent title with Piedmont Classical out of Greensboro. 
JustinThomas-The Baton Rogue native is in his first season with Garner Road. He is a really good finisher, during one sequence he took it coast to coast in a hurry and finished at the rim in traffic. He does a good job of keeping the dribble low and getting past defenders all while being athletic enough to finish with either hand in the air. He is also a really strong area rebounder. He tells me George Mason, ECU and UMass have offered.
Jeremiah Dickerson-The athletic 6-foot-3 guard is very quick; he plays the game with his emotions on his sleeve and has toughness. He finished a few plays above the rim and just makes winning plays for this team.
Tre Waller-What I saw in Tre was a sturdy and physical guard that can make shots from the mid-range out to the three-point line.