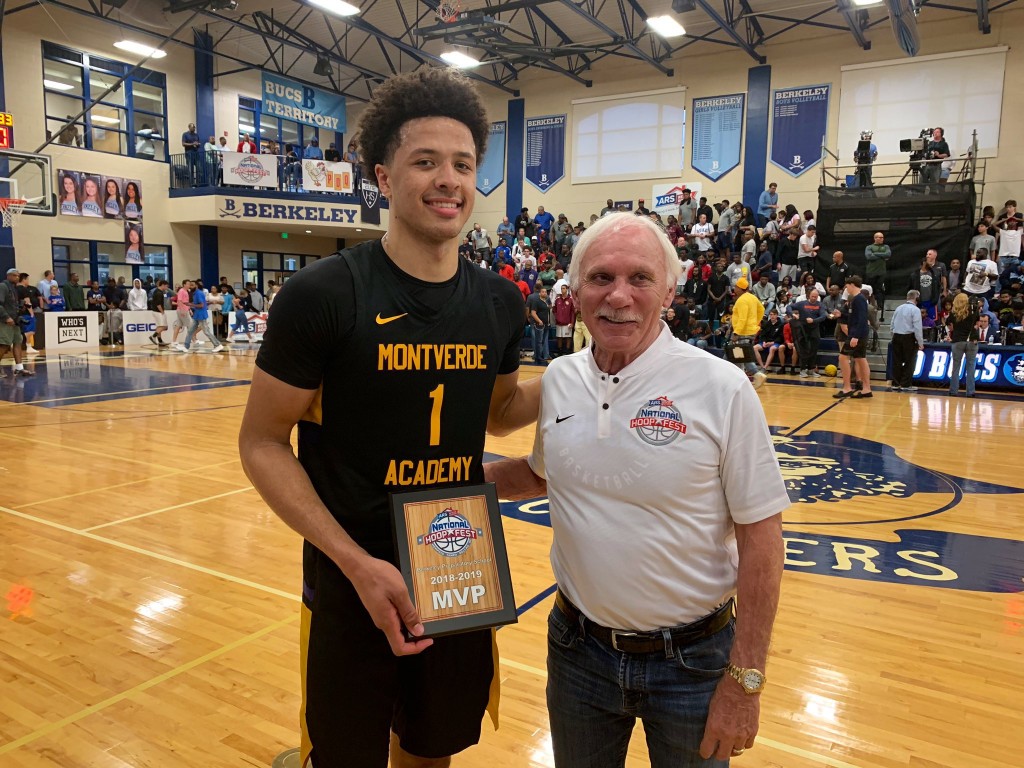 TAMPA, FLORIDA - Saturday at the ARS/Rescue Rooter National Hoopfest Tampa was about the big match-up between Montverde Academy and Oak Hill. We dive into that game and much more from the Sunshine State. 
CUNNINGHAM, MONTVERDE SHUT DOWN OAK HILL 
Just like it was in Washington D.C., the crowd packed into any space they could find inside of the gorgeous Berkeley Prep gymnasium on Saturday afternoon. The crowed came to see two of the best basketball programs in the country go after it. 
What they got was a Montverde Academy full bore attack. 
Cade Cunningham, the talented junior from Texas, has been the point guard for Montverde Academy this season and he drew the assignment of guarding Cole Anthony. Cunningham, a class of 2020 prospect, was the trending player on the biggest stage in the biggest game. 
Cunningham scored 26 points on 12-17 shooting from the floor, dished out nine assists and collected seven rebounds. He also played a big role in Anthony's 2-14 shooting from the floor. Cunningham put together the single best individual performance of the weekend on Saturday evening and did so with a national stage watching on ESPNU. 
Playing along Cunningham is top 10 senior Precious Achiuwa, who was also terrific in the win over top 10 national foe Oak Hill. Achiuwa sacred 25 points on 10-13 shooting from the floor and grabbed nine rebounds in the win. 
Cam Thomas was the only player on the Oak Hill team who could find his rhythm on offense. The junior from Virginia scored 26 points on 9-24 shooting from the floor. 
HI, MY NAME IS… 
Tampa Catholic doesn't have a senior on the roster. Zero. Not a one. So, the young guys have to grow up a little quicker than most. And on a day like Saturday and a stage like the National HoopFest, a good game could propel a recruitment into the next level. 
Tampa Catholic junior Johni Broome came out and played with purpose against The Villages and their senior frontline. Broome was terrific in the outing. He scored 20 points on 8-13 shooting from the floor and grabbed 19 rebounds.
Broome said he has not heard from one single school. Not a one. His recruitment is non-existent. That narrative shouldn't last very long. The 6-foot-8 junior from Tampa should see a spike in attention after his showing on Saturday.
NEXT UP KNOX 
Broome wasn't the only junior that stood out for Tampa Catholic. Kobe Knox went for a cool 20 points in Tampa Catholic's win. The younger brother of NBAer Kevin Knox has a first step that will blow you away. He's made some big strides with his growing frame. Don't be surprised to see Knox make a big move this spring and summer, based on what we saw from him on Saturday. 
BARNES DOING BARNES THINGS 
University School forward Scottie Barnes did what you'd expect the No. 2 player to do - he impacted the game in every possible way in a USchool win over Berkeley Prep. He scored 14 points, grabbed six rebounds and had seven assists in an easy win on Saturday afternoon. 
Barnes told HoopSeen.com that he'll announce his final seven schools sometime in the next two weeks. He's already visited Florida State and Oregon. 
MIGUEL MOVING ON UP?
Each time we have seen West Oaks junior wing Selton Miguel play, we've liked him. And each time we watch him we move him up on our rankings board (that is quietly hidden behind the wall). The 6-foot-5 power wing has high major ability and should be included inside of top 100 lists as we move into the top 100 for the class of 2020. 
NOTES FROM THE NOTEPAD 
Huntington Prep had terrific outings from junior forward Jaemyn Brakefield (29 points on 12-22 shooting from the floor) and 24 points from AJ Hoggard. 

Oak Ridge had 21 points from junior Niven Glover while CJ Walker (Oregon) and Kaleb Coleman (Lipscomb) each scored 19 points in a loss to Huntington Prep. 
The Villages point guard Tre Mann scored 25 points on 11-28 shooting from the floor. His teammate, unsigned senior Brandon Farmer, sacred 17 points and grabbed six rebounds. Farmer is a 6-foot-7 stretch four man.  
West Oaks senior Noble Crawford had a simple double-double with 11 points and 12 rebounds. He said he will likely move to 2020 and do a post-grad year. If so, Ole Miss has offered, Crawford said. 
Berkeley Prep guard Keegan Karnes was a nice producer this week for the host school. The crafty point guard scored 17 points in a loss to University School but he impressed with his perimeter stroke throughout the match-up.