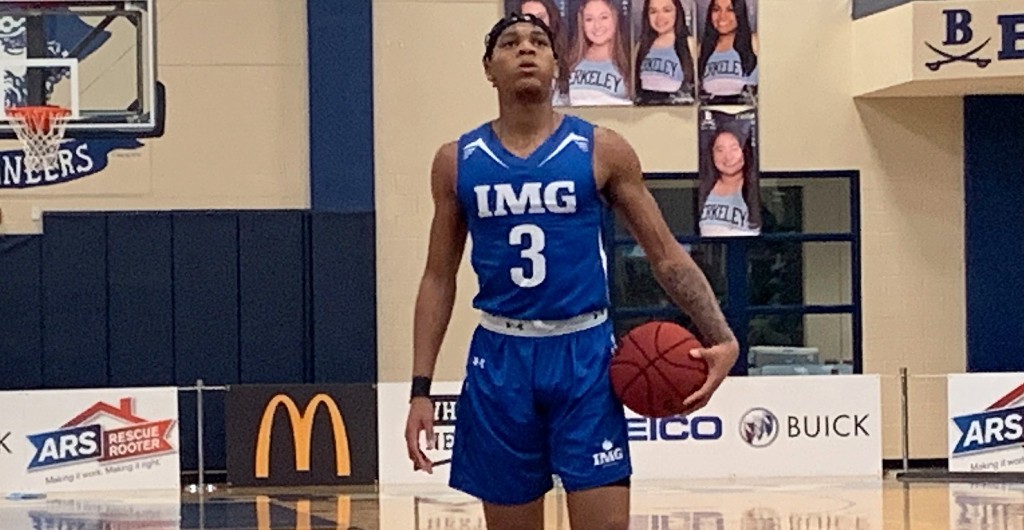 TAMPA, FLORIDA - Friday night at the ARS/Rescue Rooter National Hoopfest (Tampa) started with a wide variety of storylines. What stood out and what did I learn from the action at Berkeley Prep? Let's dive into the storylines from the three games of action. 
What I learned on Friday night: 
Terrence Shannon, Jr. and Lester Quinones are two of the better available players left in the class of 2019. The post-grad guards from IMG Post-Grad combined for 38 points in their team's 87-82 win over Monteverde CBD. They combined for five made three-pointers in the second half and made enough plays to open up the gap just enough to walk away with the win. Both players are high-major targets and have very active recruitments. It is easy to see why. Both guys bring good college-ready skill to the table - Shannon with backcourt versatility and toughness while Quinones is a dead-eye shooter on the wing. 
Gonzaga continues with their long tradition of talented and skilled big men with Pavel Zakharov coming to Spokane. The 6-foot-11 center is a skilled paint producer with professional size and movement. The St. Petersburg, Russia native was the best player on the floor for Montverde CBD and IMG didn't have the size to slow down Zakharov's game. In our next update of 2019 rankings, the center will be a top 50 player nationally in the class. 
If I'm a mid-major plus or high-major looking to add a skilled and athletic forward in the 2019 class, I'm making the call to Kevin Boyle, Jr. of Montverde CBD and asking about Oton Jankovic. The native of Croatia made several plays that made on-lookers sit up a little higher. He's a talented player with size, bounce and skill that should find a place at the next level and be an effective rotation piece for a program. 
I liked the speed of Montverde CBD's point guard James Lee. I liked the shooting touch of his teammate and Saint Louis bound Gibson Jimerson. I liked the feel of PG Trae Broadnax. 
For IMG…I liked grit of Penn State-bound Pat Kelly, who I would bet a lot that he'll be a college head coach later in life. I liked the backcourt versatility of Lonnell Martin, a 6-foot-4 combo guard. I liked the overall skill of IMG's Elias King. The 6-foot-7 wing (not the Mississippi State-bound King) did a lot of positive things inside and out. Nice overall skill from the California native. 
I learned that Berkley Prep (FL) freshman CJ Hawkins is a name to watch moving forward out of the Sunshine State. Hawkins scored 16 points against a bigger and more experienced Huntington Prep frontline. Hawkins was not intimidated by the match-up or the stage. HIs performance in a loss was a good first impression. His game reminded me of another CJ. Hawkins plays similar to Boston College bound CJ Felder from South Carolina. Hawkins has family that has played at South Florida. 
I learned what I already knew - AJ Hoggard is my kind of guard. He plays like an old Big East guard (and if you've read my work over the last two decades, you probably know that's my favorite kind of guard). He's old school and tough and gets the job done when the job needs to get done. Huntington Prep (WV) had a tough go at it against Berkeley Prep, the host program. Truthfully, it was a gem of a game to watch. The action was back and forth and highly competitive. Hoggard stepped up when his team needed him to and delivered enough kidney shots to down Berkeley's stellar four-quarter effort. 
I think sometimes you gotta just steal one in recruiting. Western Michigan did just that when they signed Berkeley Prep (FL) big man Chase Barrs. The 6-foot-9 center was an effective paint presence in a tight game against Huntington Prep (WV). Barrs has the length to be an impactful guy at the next level. He rebounded well in traffic against the big HP frontline and kept his team deep into contention all the way until the final buzzer. 
I liked the simple execution from Tampa Prep. Junior guard Gabriel Sharp and senior Jaren Phillips combined for 14-20 from the floor and 35 of Tampa Prep's 50 points in the win. 
I like the future of Orlando Christian freshman AJ Brown and Ven-Allen Lubin. Brown, a 6-foot-2 guard, and Ven-Allen, a 6-foot-5 forward, showed flashes of very good things to come for OCP. Keep these names on your watch list moving forward. Brown is a wired to score and Lubin is a terrific rebounder.