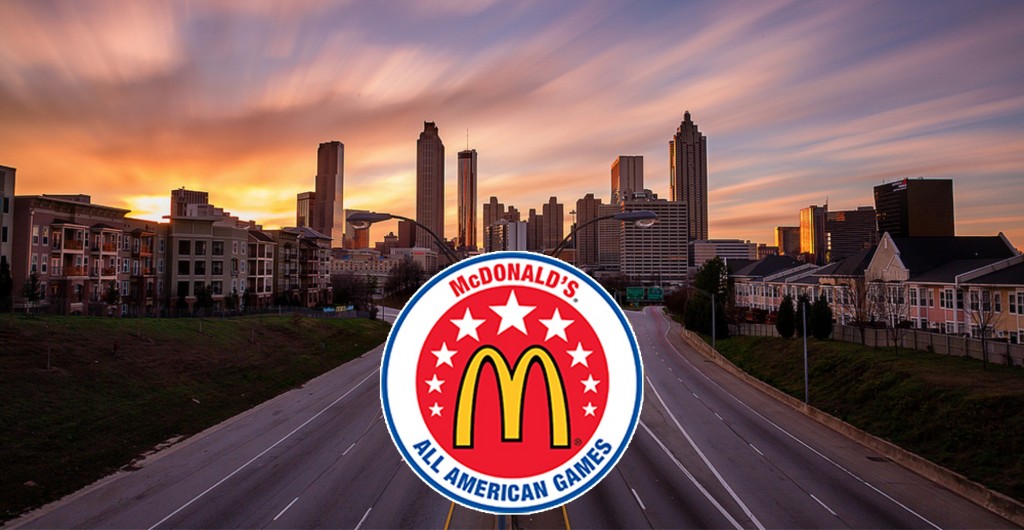 The McDonald's All-American game is March 27, 2019 at State Farm Arena in Atlanta, Georgia. The 24 players who will play in the game will be announced on Thursday afternoon on ESPN. The game features the top high school senior basketball players in the country. 
I were to pick the McDonald's All-American and If I were to pick it alone, this is what the roster would look like: 
EAST
PG Cole Anthony, Oak Hill Academy (VA)
PG Tre Mann, The Villages (FL) FLORIDA
SG Anthony Edwards, Holy Spirit Prep (GA)
SG Scottie Lewis, Ranney School (NJ) FLORIDA 
SG Bryan Antoine, Rnney School (NJ) VILLANOVA 
SF Isaac Okoro, McEachern (GA) AUBURN
SF Kahlil Whitney, Roselle Catholic (NJ) KENTUCKY 
F Precious Achiuwa, Montverde Academy (FL)
PF Jeremiah Robinson-Earl, IMG Academy (FL) VILLANOVA 
PF Trendon Watford, Mountain Brook (AL) 
PF/C Vernon Carey, Jr., University School (FL) DUKE
C Armando Bacot, IMG Academy (FL) NORTH CAROLINA
WEST
PG De'Vion Harmon, Guyer (TX) OKLAHOMA 
PG Nico Mannion, Pinnacle (AZ) ARIZONA
CG Josh Green, IMG Academy (FL) ARIZONA
CG Josiah James, Porter Gaud School (SC) TENNESSEE 
SG Tyrese Maxey, South Garland (TX) KENTUCKY 
SG Cassius Stanley, Sierra Canyon (CA)
SF Jaden McDaniels, Federal Way (WA)
PF Will Baker, Westlake (TX) TEXAS
PF Matthew Hurt, John Marshall (MN)
PF Isaiah Mobley, Rancho Christian (CA) USC 
PF/C James Wiseman, Memphis East (TN) 
C Isaiah Stewart, La Lumiere (IN) WASHINGTON 
Some to think about here: 
This is a strong big man class in 2019. Some of the very best players will be in the paint in this game. A potential meeting of Vernon Carey and James Wiseman will be fun to watch. But don't be surprised if new Washington commit Isaiah Stewart steals the show. 
Anthony Edwards, an Atlanta native, will be playing miles away from where he grew up. As a freshman he played at Therrell High School and played like a kids shot out of a cannon. Now, our No. 1 player in America, will play on the biggest stage in front of what should be a huge crowd of friends and family. He's also undecided in where he will go to college. I wouldn't be surprised to see him unveil his choice on this stage. 
The future Arizona backcourt of Nico Mannion and Josh Green against the Ranney School (NJ) duo of Florida-bound Scottie Lewis and Villanova-bound Bryan Antonie is a dream match-up for me. 
The most deserving but probably won't get in award goes toJustin Moore of DeMatha (MD). The Villanova-bound guard fits what the Wildcats do - he wins. He's won with Team Takeover. He wins with DeMatha. He's a USA Basketball kid. I don't think he'll make the Burger game but he's certainly worthy of such an honor. 
I'd guess that we have about four players on this that won't make the game.