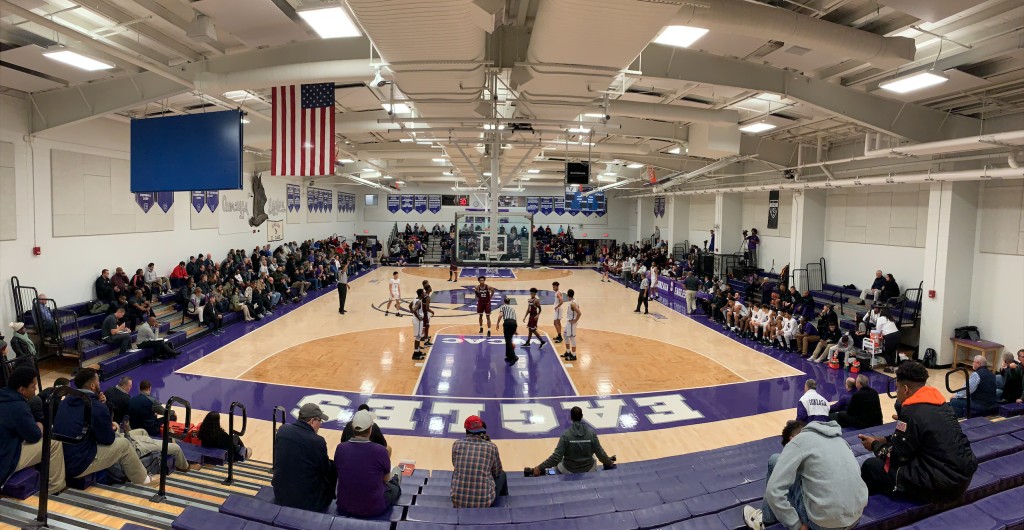 WASHINGTON, D.C. - The 30th annual Gonzaga DC Classic brought in eight teams for terrific weekend event just blocks away from the U.S. Capitol building. Each game was competitive and there was a lot to take in. We look through the news and notes from the action. 
MEET THE TOP DOGS 
Eric Dixon, Abington Senior (PA): The future Villanova forward embodies bully ball and powers his way through defenders. He drew fouls at a high rate and made sure anyone that wanted to slide over for a charge paid for it with a hard shot. He's unafraid to dive into the paint on either side of the ball. Against Gonzaga he was terrific throughout the match-up. Dixon finished with 29 points and 10 rebounds. Dixon is a consensus top 100 national prospect. 
DJ Steward, Whitney Young (IL): I'm going to say something that could cause you to read this again. Fair warning here. Steward reminds me a bit of Sacramento Kings point guard De'Aaron Fox at the same stage of their development. Sure, that's a lofty thing to say about a guy who is outside of the 60 national rankings but there are some traits worth noting here. Steward is long, fast and quick-twitched. He gets to the rim quicker than anyone on the floor just like Fox did and they both do it with long strides to the iron. Steward still has a lot of work to do in order to be in a conversation like this but keep it in mind. He played well in his team's come-from-behind win over St. Vincent Pallotti (MD), finishing with a game-high 21 points. He also had eight rebounds and four assists. We will have a full feature story on him on HoopSeen.com next week. 
Anthony Blunt, St. Vincent Pallotti (MD): In a tough loss to Steward and Whitney Young, Blunt was the toughest player on the floor. In fact, you could argue he was the toughest player on the floor all day long at the event. The 6-foot-2 guard powered his way to the rim time and time again and helped his team maintain the lead for 98 percent of the game. The junior 
Jahari Long, Episcopal (TX): The 6-foot-2 guard had a nice game in the opener. He said he has offers from Wichita State, TCU, College of Charleston, Louisiana Tech, VCU, Rice, Louisiana, UT San Antonio and others. He also said that Minnesota and Purdue are also in the mix. Long was great on the glass and helped his team separate the lead in the second half with his aggressive rim attacks. 
Chuck Harris, Gonzaga (DC): The majority of the Eagles could never find their rhythm in a loss to Abington Senior but Harris did. The strong 6-foot-2 junior guard had a nice diverse game, scoring from three and at the rim. He was also one of the best rebounders for the Eagles, too. Harris is a talented guard that can play multiple positions. The high-major schools that were on hand on Friday had to leave liking what they saw from him. 
BEST AVAILABLE SENIOR: Myles Baker, Whitney Young (IL) 
The 6-foot-1 guard is a nice scorer. You can tell he's played in a lot of quality and competitive games during his career. He doesn't get rattled and responded well to hard coaching. Baker scored the game-winner on a nice baseline to baseline play in the closing seconds of the game. Baker said he is being recruited by Tulsa, Saint Louis, Colorado State, Kent State, Central Connecticut and Cleveland State. He still has five visits to us. 
And like that, Whitney Young wins at the buzzer 65-63 over St Vincent. Myles Baker with the game winner. @GonzagaClassic pic.twitter.com/5jjm19Nt1T

— HoopSeen (@hoopseen) December 8, 2018
BEST GAME: Whitney Young (IL) 65, St. Vincent Pallotti (MD) 63
It wasn't the prettiest of games. And both coaches would probably tell you that. But it was a fun one to watch play out on Friday evening. The Dolphins from Chicago won on the shot seen above. Pallotti had great efforts from senior forward Gil Otoo and junior guard Joemel McNair. Junior guard Tyler Beard played well for Whitney Young in the come-from-behind win. 
ALL EYES ON YOU 
There were a number of coaches at the event on Friday night. Stanford head coach Jerod Haase was in to see Gonzaga junior forward Terrance Williams. Assistants from Hofstra, Pitt, NC State, Wake Forest, Florida Atlantic, George Washington, VCU and more than likely others that we just didn't see were on hand for the action.
NOTES FROM THE NOTEPAD 
Episcopal (TX) junior forward Adam Kanafani was terrific in his team's win. He was the most consistent force on both ends of the floor in their opening round win. The 6-foot-5 wing said he has heard from Texas A&M Corpus Christie, Sam Houston State and VCU.
Episcopal (TX) big man DJ Nussbaum had a nice effort for his team in the opening game of the event. The 6-foot-7 junior said he's heard from Seattle, North Texas, Lamar and Sam Houston State. 
Episcopal (TX) 6-0 junior guard DA Houston said he has interest from Charleston, Seattle, Longwood, North Texas, UT San Antonio, Rice and Sam Houston. 
Gonzaga (DC) junior forward Myles Stute was the best big man on Friday for the Eagles. The 6-foot-7 post player is a high-energy, dive-on-the-floor type of prospect. He was good on the glass and, at times, effective as a low-post scorer. 
St. Frances (MD) junior guard Jordan Toles was impressive in his team's win in the nightcap over Riverdale Baptist. He scored 20 points and got the rim without any pushback. Apparently, he's a top-level defensive back on the gridiron.
St. Frances (MD) big man Jason Murphy has some intrigue to his game. The 6-foot-9 senior was the best unsigned senior big man in the event on Friday.