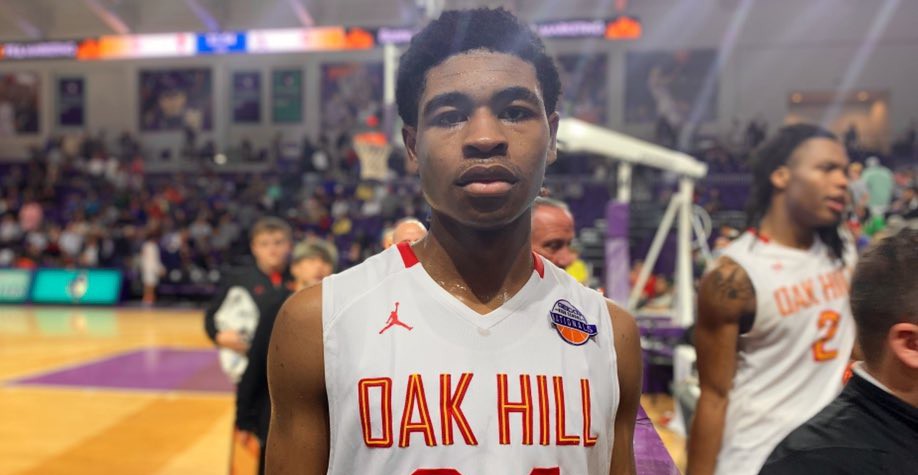 FORT MYERS, FL - With only three games on tap at the City of Palms Classic on Wednesday, there was a chance to see one of the best backcourts in the nation, a terrific nightcap and some nice unsigned seniors in action. 
TOP DOGS 
Cam Thomas, Oak Hill Academy (VA)/pictured above: The Virginia native went to work in the 1st half of action for the Warriors, hitting five threes en route to 20 points. He was cooking from the perimeter and played into the heat check. He has always been instant offense and put the Olive Branch push in it's place. Thomas finished with the loudest 28 points on the day. HIs recruitment has an extra ACC flavor to it at the moment. 
Cole Anthony, Oak Hill Academy (VA): Any time the All-American steps onto the court, you know he has something amazing in his back pocket. In the first half, he wasn't on his game. And he'll tell you that. Then the second half came around and his defense sparked the offense. Anthony finished with 19 points but was the catalyst in the separation. Roy Williams was on hand to see him play. So were assistant coaches from Oregon and Wake Forest. 
Isaac Okoro, McEachern (GA): The Auburn-bound wing was brilliant in his team's 59-52 win over Paul VI in the nightcap. Okoro was the energetic spark in the fourth quarter for the Indians and helped push his team to the victor's column. His intensity and strength at the rim were outstanding in the clutch. His game is understated but loud when it needs to be. 
Sharife Cooper, McEachern (GA): Cooper scored 17 points in the win but did a good job of balancing out his team against a talented Paul VI squad. With Cooper, you never know if he'll beat you with points or passing. This game he was the perfect game manager in one of the best games we've seen so far at the City of Palms. 
Dug McDaniel, Paul VI (VA): I will try to not be hyperbolic here but I don't know if I'll see a better combination of passing and ball-handling this season than what I've seen from McDaniel this young high school season. Buckle up because the next four years will be full of McDaniel highlights. It was fun to see him against Cooper, one of the best point guards in all the land. 
Zion Bethea, Immaculate Conception (NJ): The junior guard has thrived in bully ball this week in Florida. He's an aggressive rim attacker and corner three shot-maker for coach Jimmy Salmons. St. Joe's is the most involved, Bethea said, while Penn State, Minnesota, UMass, St. Peter's, Villanova and Syracuse have also shown interest. 
Amar'e Marshall, Immaculate Conception (NJ): The 6-foot-3 junior guard scored 16 points and hit a trio of triples in a win over Charlotte (FL). Marshall said he's been to Seton Hall and Rutgers unofficially and has South Carolina, Iowa State and Creighton also involved with his recruitment. 
Elijah Hutchins-Everett, Immaculate Conception (NJ):  The 6-foot-10 was the anchor in the middle for Immaculate Conception and their 76-61 win over Charlotte (FL). The big junior finished with 19 points and 12 rebounds. Said has visited Penn State and Ohio State. He said he also has Michigan, UNC and Minnesota involved.
HI, MY NAME IS…
Nick Jourdain, Immaculate Conception (NJ): The 6-foot-8 junior was always in the right spot at the right time in his team's afternoon win. Nothing flashy but always energetic, Jourdain is just tapping into his potential as a player. He's been a nice revelation so far this week at the City of Palms. 
UNSIGNED SENIOR MOMENTS 
Joe Cooper, Olive Branch (MS): The 2019 point guard continued his terrific showing here at the City of Palms with 22 points to pace Olive Branch against Oak Hill. Cooper has played very well in what turned out to be a blow out loss for the Conquistadors. Nonetheless, Cooper is riding a big wave of confidence right now.
Alyn Breed, McEachern (GA): The 6-foot-3 senior went for 13 points and hit three three-pointers in a win over Paul VI. His play in the third quarter, particularly his personal 7-0 run helped the Indians make a push to be back in the game. He's trending in the Peach State and will have some good options after this week. He's also considering a prep year.
Ahmad Johnson, Charlotte (FL): For the second straight day Johnson pumped in the points. He tallied 20 (8-16 FG) in the loss. He's an aggressive and athletic rim attacker. Low-major schools looking for instant offense should take a look at Johnson because of his quick trigger ability on offense. 
SCOREBOARD 
Immaculate Conception (NJ) 76, Charlotte (FL) 61
Oak Hill Academy (VA) 96, Olive Branch (MS) 59
McEachern (GA) 59, Paul VI (VA) 52 
Our @JustinDYoung was a judge at the @CityOfPalmsBKB judges for the dunk contest. He thought this was the best dunk @The_ColeAnthony had. pic.twitter.com/ZtW6URQNEQ

— HoopSeen (@hoopseen) December 20, 2018