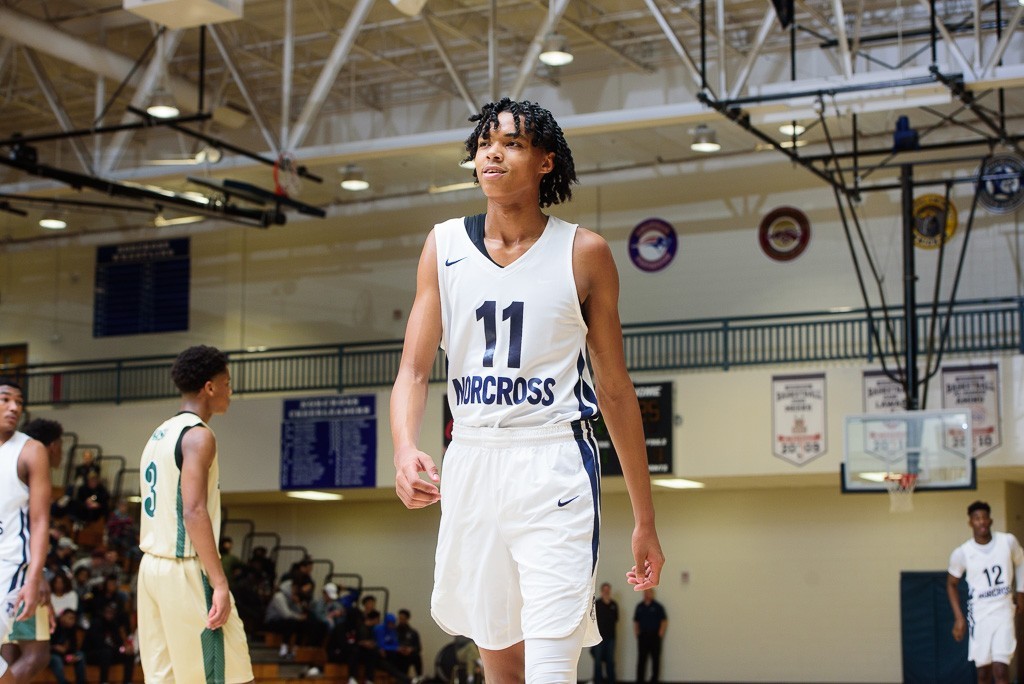 The Hawks Naismith Holiday Classic provided a two day stage for some of the areas best talent. As I reflect on some of the better showings, its time to give out some awards to those that stood out. 
Best Shooter: Eight made threes was enough to give Patrick Carter Jr. the nod over Hunter McIntosh as the events best long range shooter. A rangy set of arms and a quick release with make every attempt the 6'4 guard take seem effortless. North Florida is currently the only program involved with the Langston Hughes Jr but a productive travel season could haul in a handful of offers. Watch this one closely.
Best rebounder: Several players came across my mind when creating this list, as TJ Bickerstaff and Travon Walker brought down 22 and 4 respectively. Cole Middletons 18 rebounds was done in an aggressive manner that shined a beaming light on Walker Kesslers abscense. With his toughness and sucktion cup like hands, Middletons ability to grab out of his area rebounds was  very impressive. Two handed, strong and chinned. A very old school showing for the 6'5 sophomore.    
Most intriguing prospect: A growth spurt, some work in the weight room, and a NBA bloodline is starting to come together nicely in 6'8 sophomore forward Jabari Smith. Smith has come a long way in a short time, while still having miles left to go. His ceiling remains to be seen as he boast several qualities that could turn him into a well rounded prospect. Despite his size, he moves with some fluidity and has improved with the ball since his freshman season. As our 2021 class comes full circle, Smith could find himself in some intense recruiting battles. 
Best available: Mekhail Bethea surpassed the 1,000 point mark for Dacula this weekend in what was an exciting triple overtime game against Sandy Creek. While its an improtant milestone for any high school athlete, Bethea has built his high school resume on other things besides just his scoring. In fact, his proficiency for making the right play has probably shave points off of his ending total. That's what one of Georgia's best available guards brings to the table on a nightly basis. Heady decision making that doesnt often lend itself to questionable plays should be valued more than it is. 
Best Performance: The night cap of the Hawks Naismith Classic featured 5 star Norcross guard Brandon Boston. With a Duke assistant evaluating in the stands, Boston showed what we've all become accustom too as elite scorer. Every move was purposeful while still coming off as effortless on his way to 27 points. There's not much a defense can do to supress his play when he makes it a point to score. On most nights he will be head and shoulders better than his matchup. This was another one of those nights.