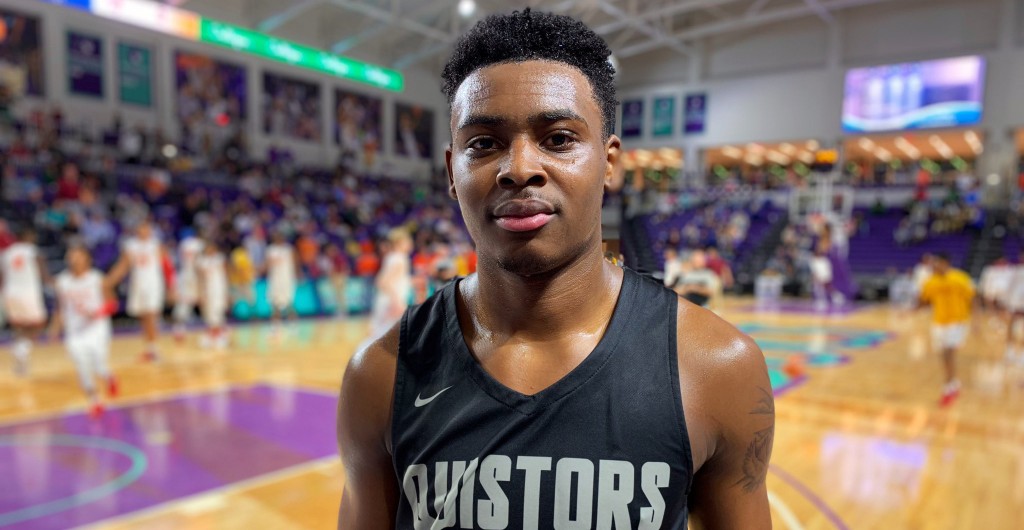 FORT MYERS, FL - The action has tipped off at the 2018 City of Palms Classic and the guys you'd expect to put on a show, put on a show. 
TOP DOGS SHINE ON OPENING DAY 
The D.J. Jeffries that showed up for the first 16 minutes of action for Olive Branch (MS) was the best D.J. Jeffries I've seen in a while. The Memphis bound forward did just about everything for his squad as they took an 18-point lead into the halftime break. He was a one-man wrecking crew against Charlotte. He's one of the toughest match-ups in the class of 2019 when he's clicking on all cylinders. Jeffries is one of the most versatile players in his class. Jeffries finished with an impressive 38 points and 14 rebounds in the blowout win. 
Trendon Watford is making his case for the McDonald's All-American game already as we tipped off the City of Palms tournament. The Birmingham, Alabama native picked up from where he left off last season down here in Fort Myers. He's keeping the stat crew busy. In the opening game of the bracket, Watford scored 31 points on 8-13 shooting from the floor. Indiana, Alabama, Memphis and LSU are in the final four. 
Cole Anthony did what he wanted when he wanted for Oak Hill tonight in their win over Sarasota (FL) Riverview. The five-star guard started his last appearance at the City of Palms with an emphatic bang. The native New Yorker pumped in 25 points, 12 rebounds, nine assists and five steals. His presence was felt on every possession on Monday night. North Carolina was in the house to see him play on Monday night. 
Tre Mann is bigger. The Florida bound point guard is noticeably taller than he was at the end of the summer. He's a dynamic guard that can log big minutes at either guard position. Looking ahead to Florida's terrific freshman class, Mann's value continues to soar because of his versatility among his incoming classmates. He finished with 27 points on 8-14 shooting from the floor. He's so crafty and smooth with the ball. It was an effortless and impressive showing in his only game at the City of Palms. 
HI, MY NAME IS…
Sarasota (FL) Riverview had a tall task of playing Oak Hill in the first round of the tournament this year but the in-state program didn't shy away from such a battle. The Rams came out tough and battled it out. Catching the eye of on-lookers was 2021 forward Jayven Millian. The 6-foot-6 sophomore scored nine impressive first half points, and drilled a couple of three-pointers. He's high-major long and jumped right into the octagon with some of the best players in the country. 
The Sunshine Series pins Florida teams against each other here at the City of Palms in one-game pairings. The Series are always bringing out the talent and players that use the stage to play their way into the national conversation. 2020 guard Quinton Desamours of Lehigh (FL) was an eye-catcher on Monday evening. The 6-foot-3 guard is an athletic and versatile guard who could be ready for a big upswing in his recruitment. 
AVAILABLE SENIOR SPOTLIGHT
Olive Branch point guard Joe Cooper played at a high level on Monday night against Charlotte (FL). The speedy floor general passed the rock all over the court and helped lead his offense to a 16-point win. Cooper said he is contemplating a prep year and could announce that decision by the end of the tournament. He said he is also considering interest from Tulane, LaSalle and Ole Miss. 
The Villages (FL) has a pair of big men worth a good hard look at for low-majors. Peyton Williams and Brandon Farmer both had positive showings in their win over Lehigh. Williams, a 6-foot-7 forward, said he is hearing from James Madison, Mercer, USC Upstate and College of Charleston. Farmer, a 6-foot-6 big man, played well at the rim as a scorer and rebounder. Williams finished with 10 points and nine rebounds while Farmer pumped in 20 points and four rebounds. 
Makai Reaves and Ahmad Johnson of Charlotte High School should warrant some Division I looks. The two guards fro the nearby school each had their moments in their game against Olive Branch. Reaves scored 14 points, had seven assists and grabbed five rebounds. Johnson has been great to start his senior season. He finished with 18 points and seven rebounds. 
NOTES FROM THE NOTEPAD 
Oak Hill's Cam Thomas is gonna get buckets in college. Believe that. He is wired to score and should be a talented point producer at the high-major level. 
Christian Brown played well above the rim all game long for Oak Hill. Playing alongside Cole Anthony and Cam Thomas will open the floor up for a rim slasher like Brown. 
2021 forward Tre Carroll of Charlotte High School impressed on opening night. He scored 19 points and grabbed 11 rebounds.  
SCOREBOARD

Mountain Brook (AL) 66, Woodrow Wilson (DC) 51
The Villages (FL) 81, Lehigh (FL) 61
Olive Branch (MS) 79, Charlotte HS (FL) 63
Oak Hill Academy (VA) 92, Riverview (FL) 73