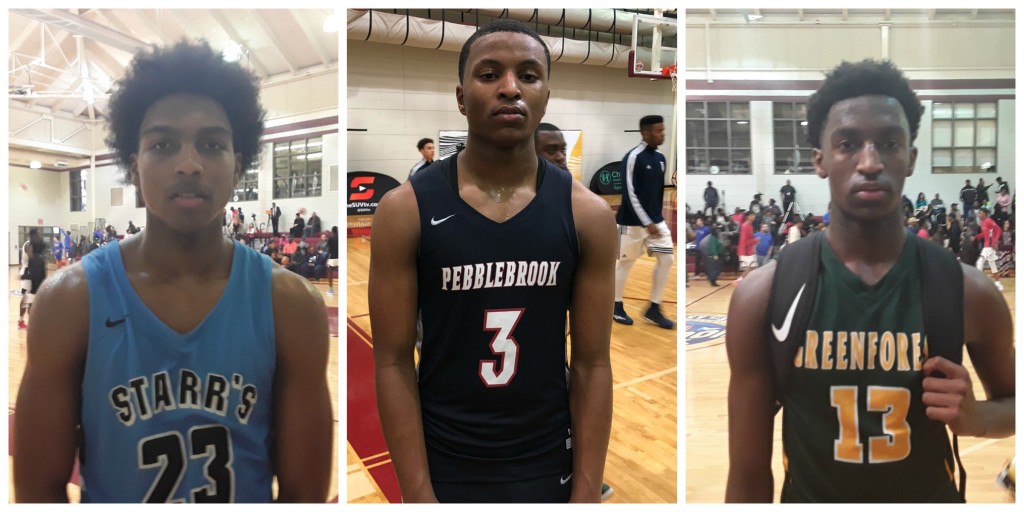 There was a lot of good basketball played over the Thanksgiving break in the state of Georgia. I got out to Holy Innocents Episcopal School to check out some of the action. Here's what caught my eye from Court 2:
FRIDAY
Aquinas 38, Sacred Heart (AL) 32: Aquinas kicked things off with a matchup against Class 1A state champion Sacred Heart out of Alabama. In what was a defensive battle, Aquinas pulled out the win late behind a couple of clutch baskets from Zy Wright. He finished the game with 17 points and 11 rebounds while Jonathan Taylor ended it with 13 points and five assists. Both are 2020 players to keep an eye on. They'll be big for Aquinas after the squad lost 5 seniors last year.
Carmel Christian (NC) 86, Lakeside 72: Lakeside found themselves down by double digits in the fourth quarter but managed to pull within eight points with just under three minutes to play. From there Carmel Christian senior Donovon Gregory took over and sealed the deal for his squad. He finished with 20 points and a slew of boards from the wing spot. Dykese King (16 points) and Kalen Williams (10 points, six boards, and seven assists) had solid backcourt performances for Lakeside. Tyshun Briscoe led all scorers with 22 points but couldn't get Lakeside over the hump despite a 15-point fourth quarter in an extremely physical game.
Greenforest 62, Langston Hughes 60: Patrick Carter Jr. hit two very clutch threes toward the end of regulation to pull Langston Hughes within two points of Greenforest. He would miss his third attempt after Nathanial Brown finished a tough layup at the other end to grab the win for Greenforest. Sophomore RJ Noord had a huge game for Greenforest, putting up 20 points, grabbing 5 boards and an offer from Xavier University who was in the building for the game. Lamar Oden helped out with 13 points and 6 rebounds. Carter Jr. ended the game with 20 points (3 3PM) and five boards for Langston Hughes while 2019 Tyrel Morgan had 20 points and 11 boards.
SATURDAY
Pace Academy 47, Starr's Mill 37: Pace Academy extended its lead to nine points with just over four minutes left to play in its matchup with Starr's Mill and would never turn back. Josh Mininberg had a great game from the point guard position for Pace, knocking in three 3's on his way to 11 points and 4 boards. Cole Middleton, a 6'6 sophomore had 14 points and 6 boards in a solid outing in the paint. Jamaine Mann and Daryl Rice were both in double digits for Starr's Mill, finishing with 14 points, 11 boards, and 10 points, 2 boards respectively.
Pebblebrook 57, Greenforest 51: Devin Gordon and Jalen Harper had stellar performances for Pebblebrook in its six-point win over Greenforest. Gordon put up 22 points (four 3PM) and had a couple of key baskets down the stretch to help Pebblebrook fight off a good Greenforest comeback. After taking a nasty fall on a layup attempt earlier in the game, Harper hit 3 threes on his way to 14 points. Abu Achor made a living at the free throw line for Greenforest. He'd finish with 14 points and a ton of rebounds. Nathaniel Brown couldn't come up with a few more baskets at the end and had to settle for 12 points in the loss.