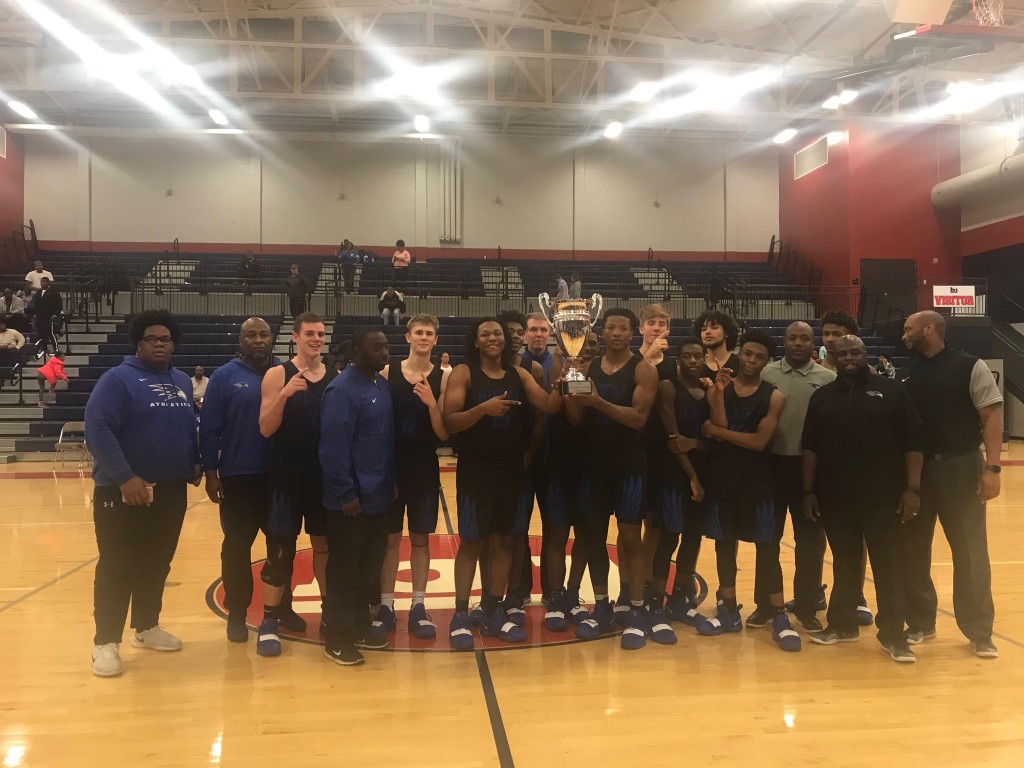 The fourth annual N2Hoops Invitational took place this week at Bob Jones High School, and, to no one's surprise, the field pitted some of the top programs from Alabama against each other. Blackman (TN), who claimed the tournament championship in two of the past three years, was also in the field.
A tournament newcomer, the Florence Falcons, took home the 2018 championship trophy after defeating host-school Bob Jones by a score of 58-47 on Wednesday night.
Here are five lessons learned over the course of the three-day event…
1.) New year, same mantra for Sparkman
Each year, it's like clock-work -- Jamie Coggins and Sparkman inevitably reload with a new group of talented players cut from the same cloth. It's no different this season. Coggins and his staff lost a considerable amount of production from last year's team that fell in the Final Four, and while this year's team may not be as talented as last year's group, they have bought in and play a tough brand of basketball that is synonymous with the Senators program.
Senior Malik Tyson will be the focal point for Sparkman this season. He proved as much on Tuesday evening against Lee-Huntsville, exploding for 36 points in a close loss. Rondell Cole and Kendall Wright will also be significant senior pieces for the Senators, but it may be time to look out for some underclassmen, too. 
Calen Lightford, a skilled 6-foot freshman point guard, introduced himself to the high school basketball community on Tuesday with 11 points against Lee. He made a couple of freshman mistakes throughout the game, but nothing overshadowed some of the big shots he hit down the stretch to keep Sparkman in the game. As the young season goes on, Lightford and fellow freshman Tyrese Elliot are expected to play significant minutes.  
2.) Decatur Heritage proves they belong with the best of the best
Decatur Heritage has quietly been building a strong program over the course of the last few years. With several deep runs in regional play, the Eagles have been identified as one of the top 1A programs in the state. However, that's all they've been considered up until this point -- a good 1A program.
I think it's safe to say that will change now. Decatur Heritage went 2-2 over the course of three days, earning wins against Tennessee powerhouse Blackman and Huffman. The opened the event with a loss to Columbia and ended on Wednesday with a narrow 75-74 defeat in the consolation bracket finals to Gadsden City.
That 2-2 record may not be impressive to the common eye, but for who Decatur Heritage beat and competed with, it is notable. They were able to beat one of the best programs in the state of Tennessee, as well as take down 7A Huffman, who has been one of the better teams in Birmingham the past few years. And then they lost by one point to another 7A school in Gadsden City. The school may be small in numbers, but the Eagles boast an impressive roster, and they proved they can play with some of the state's best teams. They will have a chance to prove doubters again at Christmas in the historic Huntsville Times Classic.
3.) Bob Jones has an impressive three-headed monster in the 2020 class
Bob Jones wrapped up their event with a runner-up finish, and while they may not be happy with that outcome, the future is extremely bright for the program. Some of their key players are members of the junior class: Jadan Coleman, Jalen Myers, and Chandler Porter.
We will discuss top performers in a different segment, but it's hard not to say that Coleman was one of the most impressive players from the event. The 6-foot-4 sharpshooter torched the nets with his shooting and scoring ability each game. He filled up the stat sheet in the scoring department and will be a guy we add to our rankings and depth charts. 
Myers has always shown potential in his long, 6-foot-7 frame, but nothing has ever really came to fruition with him. The junior quickly changed that narrative this week, as he looked more engaged on both ends of the floor and embraced the physicality that comes with the game. Coupled with Porter, a speedster of a point guard, the Patriots will cause problems on the defensive end of the floor for teams this season.
4.) Florence has the pieces to make a run at a state championship this season
Even before their impressive run to the 2018 N2Hoops Invitational championship victory on Wednesday, Florence struck me as a potential sleeper pick to make a run in 7A this season. Playing the past few years in 6A, the Falcons recently made the jump to 7A following the classification rezoning and it could benefit them in the long run. 
By moving up a class, Florence is now paired with Austin, Bob Jones, and James Clemens. They proved they can beat Bob Jones, as they did on Wednesday. Austin has a lot of youngsters and it may take them some time to get things figured out. James Clemens will be a formidable test, but it's hard not to like Florence's roster.
Lead by seniors Charlie Champagne, Kareem Thompson, and Cadarrius Thompson, the Falcons have a quality lineup that has size, length, athleticism, and scoring options. Add in junior Dee Beckwith and other teams will have a hard time matching up with what the Falcons have to offer on both ends of the floor.