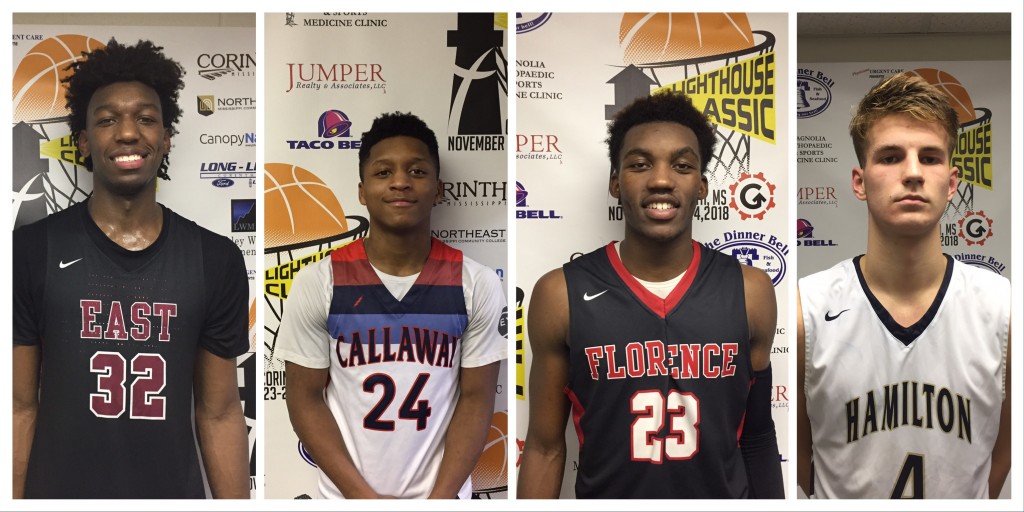 CORINTH, MS – The sixth annual Lighthouse Classic tipped off on Friday at Corinth High School with some of the top teams and players from the Southeast in attendance. With high-level matchups jam-packed throughout the day, there were several storylines that emerged from the first day of action.
Here is the rundown from Friday, led by a junior making his case as a national prospect, and two players well worth the price of admission.
SAMSON RUZHENTSEV MAKES STATEMENT AS TOP-50 PROSPECT
No one made a louder impression than 2020 Chattanooga (TN) Hamilton Heights wing Samson Ruzhentsev on the opening day of this year's Lighthouse Classic, as he pumped in an efficient 24 points to lead the Hawks to a victory over Wesley Christian (KY).
Ruzhentsev, a talented 6-foot-7 wing, showed off his full arsenal on Friday. He is known for his ability to shoot the basketball from behind the three-point line, but he showcased his well-rounded ability with several athletic plays and slashes at the rim. The Russian native has grown as an athlete since the summer. He made a couple of acrobatic plays above the rim on offense and complemented them with some big blocks against the backboard, too. With his skill-set, versatility, and shooting ability, Ruzhentsev is a top-50 prospect in the 2020 class and matches how the game is evolving at all levels now.
The junior landed some notable high-major offers this fall after a couple of big showings in front of college coaches. He listed scholarship offers from Vanderbilt, Tennessee, Florida, Kansas State, Auburn, Georgia Tech, and Illinois, with schools like Oregon, Ole Miss, and several others showing interest. That list will grow exponentially throughout the winter.
FORBES SHINES IN FRONT OF FUTURE COACH
2019 Florence (MS) wing Jaylen Forbes signed his Letter of Intent with Alabama earlier this week, and Crimson Tide head coach Avery Johnson returned the favor on Friday by making the trip to see him play against Lee-Huntsville (AL).
It's safe to say Johnson left Corinth High School impressed. Forbes, a skilled 6-foot-4 sharpshooter, poured in 31 points and 12 rebounds to lead his team to a convincing win over the Generals. The senior scored however and whenever he wanted to, especially from behind the arc. He converted on five-of-nine shots from 3 and was eight-of-nine from the free-throw stripe.
Forbes gained notoriety this spring and summer with his ability to shoot the basketball with the Mississippi Express. It is evident that Johnson and his staff targeted shooting in their current 2019 recruiting class, as Forbes and Jaden Shackleford make up one of the best shooting duos heading into the SEC.
MOUNTAIN BROOK (AL) DEFEATS BEARDEN (TN) IN A THRILLER
The best game of the day featured two of Alabama and Tennessee's best in Mountain Brook (AL) and Bearden (TN). Both teams are extremely similar and are well coached, but the Spartans of Mountain Brook ultimately came out victorious, as five-star forward Trendon Watford blocked a Bearden lay-up attempt at the buzzer to seal the game.
Watford stuffed the stat sheet with 15 points, 12 rebounds, and four assists, but the Spartans were extremely well-rounded throughout their lineup. 2020 shooting guard Colby Jones lead the team in scoring with 21 points, including five treys. Lior Berman also finished in double-figures with 11 points.
With the addition of Jones to the roster, Mountain Brook head coach Bucky McMillan has arguably the most talented team he has ever had during his tenure with the Spartans. The Birmingham-based program has star-power, depth, and a gruelling style of play that will wear down opponents.
Bearden (TN) came away with the tough loss, but 2019 point guard Ques Glover was the most impressive player on the floor. The 5-foot-10 guard oozes with toughness and grit and he showed it against a pesky Mountain Brook defense. His relentless play awarded him with a game-high 28 points.
Glover was prioritized by many mid-major programs following the summer, but the senior opted to hold out on signing until the spring. He listed interest from Murray State, New Mexico State, Florida International, Western Carolina, UNC-Asheville, and Northern Kentucky. Teams from Conference USA, the Missouri Valley, and the Sun Belt should be all over him at this point with his toughness and ability to win games.
WISEMAN & RUFFIN ARE WORTH THE PRICE OF ADMISSION
Memphis (TN) East pulled away from Jackson (MS) Callaway in the last few minutes of the game to a hard-fought win, but if there was one thing to take away from that game, it's this: James Wiseman and Daeshun Ruffin are worth the price of admission at the door. While both have different end-of-the-spectrum type games, they were both two of the most entertaining players to watch on the opening night of the Lighthouse.
Wiseman, who is one of the top prospects in the 2019 class, showed everyone in attendance why he is so heavily regarded on Friday. The 7-footer put together an impressive performance from start to finish, as he stepped out and made a couple of 3's and was a force in the paint with a number of finishes above the rim. His night was highlighted by a huge dunk over a Callaway defender in the 4th quarter, capping off his 29-point, 14-rebound performance.
With his fluidity and ability to run the floor, Wiseman is truly one of the most unique post prospects in high school basketball. The recent Memphis commit put it all on display on Friday and showed why many NBA scouts are already projecting him to be the potential No. 1 pick in the 2020 NBA Draft.
Despite only being 5-foot-10, Ruffin packs as big of a punch as anyone in the South. In fact, I'll go on record as saying he is the most entertaining player in the Southeast. At his size and stature, the 2021 prospect brings an entertainment that many players are not physically gifted with. Ruffin showed he is one of the quickest players with the ball in his hands, and he's also one of the most creative, too. Each time he touched the ball, the Mississippi crowd was ready to see what he would do.
Ruffin went for a tough 21 points with four three-pointers. All of his points were contested, including a couple of 3's falling out of bounds and a big finish at the rim against Wiseman. While it's still a couple of years until the 2021 class is figured out, Ruffin proved he can play against some of the best competition in the country and be a productive scorer. Auburn, Mississippi State, Ole Miss, and Southern Miss have all extended early scholarship offers.