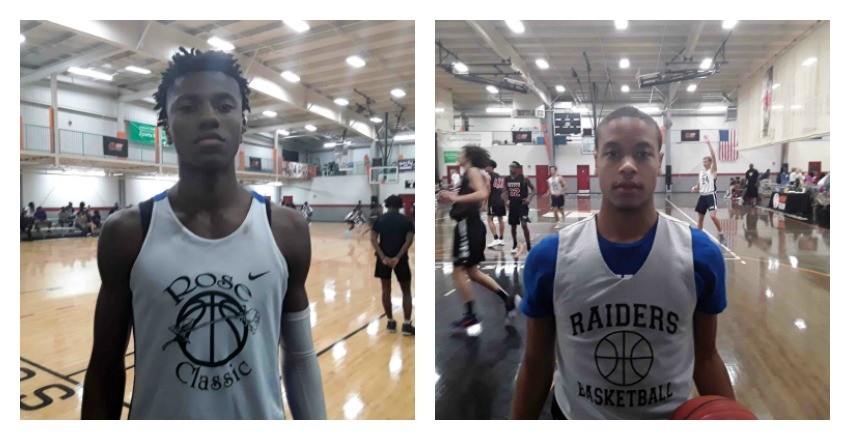 BROC BIDWELL HAS THE 'IT' FACTOR
2021 Cumming (GA) West Forsyth point guard Broc Bidwell was buzzing throughout the spring and summer with his point guard play on the travel circuit, and after an impressive day on Saturday, it looks like he's primed for a big high school season. 
The 5-foot-11 point guard was the sparkplug for a well-rounded West Forsyth squad. He created many different scoring opportunities for his teammates with his IQ and skill level, as he directed the offense and put players in scoring positions. It's not surprising to see him on teams that win – the sophomore makes winning play after winning play and is one of the biggest gamers when he walks in the gym. Bidwell has proven during his young career that he is a difference-maker on the floor.
While it is still extremely early in his career, Bidwell is already drawing a handful of college interest. Ole Miss, Campbell, and Lipscomb are among the programs showing early interest in him. - Garrett Tucker 
KENNESAW STATE HAS A GOOD ONE COMING IN LUKA JAKSIC
I first saw 2019 Woodstock (GA) Furtah Prep forward Luka Jaksic last year at our Fall Preview and he showed some signs of being a talented player. Fast-forward to this fall and the senior is now committed to Kennesaw State, and I think the Owls picked up a quality piece going forward.
The 6-foot-7 power forward has a strong, steady frame with a nice combination of sneaky strength and athleticism. He used all of that to his advantage on Saturday, but by far the most impressive aspect of Jaksic's game is skill-set. He is comfortable having the ball in his hands, whether it is on the perimeter or in the paint, as he knocked down 3's and converted tough lay-ins with his back to the basket. Kennesaw State head coach Al Skinner loves skilled big men and that's exactly what he's getting with Jaksic. He should have a quality career in the Atlantic Sun. - Garrett Tucker
NOTES FROM TAI YOUNG'S NOTEPAD 
If today was any indication of what Brandon Barron (pictured above) has to offer then fans, coaches and especially defenders need to start preparing. A 30-point outing showed everything Barron has to offer as athletic, scoring combo guard. An attacker's mentality and an underrated first step kept him blowing past defenders that would mistakenly pick him up at half court. Fast forwarding to the end of the season, I can see Barron being one of Georgia's most underrated scorers in the 2019 class. It will be interesting to see where his recruitment goes from here as he currently has offers from Georgia Southwestern and North Carolina A&T. 
Hoops 360 guard Cole Anton left a good first impression as a guard to watch in our 2020 class. A true speedster that can accelerate as well as anyone on the court, Anton shifted gears time and time again on the way to a basket. When things slow down he showed the IQ and feel of a guard that can make plays for others. There are some things to look forward to from Anton as the season progresses onward. 
There's been some slight buzz around Duluth forward Devin Evans (pictured above) since his arrival in the peach state. With size that jumps out at you, this 6'7 forward made some intriguing plays that gave glimpses into what could be a slow cooking prospect. A constant rebounder with the ability to start the break, Evans used his length well to snatch down a couple of boards that would be out of reach for some. When put into ball screen situations, Evans showed some good lateral quickness by containing driving ball handlers. His play so far has gained him an offer from USC Upstate as the sole division 1 offer that's currently on the table. The Tennessee native has the upside of a forward that may have some options down the stretch of his senior year to consider. It may take some time to come into his own but look for Devin Evans stock to rise over the course of this season. 
The old prospect watching saying of "he has a chance" was said a couple of times when watching Dacula guard Bryce Wilson. This long athletic prospect has some solid intangibles defensively that could put him on coach's radars going forward. This long-limbed 6'5 guard is a great positional defender that's capable of stretching out and getting his hands on balls. Being ahead of the curve defensively is often unheard of when discussing sophomore that is just getting acclimated to high school basketball. With some polish and experience on the other end, its not far off to see Wilson turn the corner into a legitimate prospect.
The day started with a bang as Kell guard Chris Henderson hit a game-winning shot at the buzzer from deep. It was the perfect way for him to end as a productive outing left him with 15 points for the game. His end to end speed often resulted in a breakaway layup as he was one of the fastest players at our HoopSeen Shootout. Stifling defense helped Kell get a win as they mend pieces together well enough to be a very active defense.