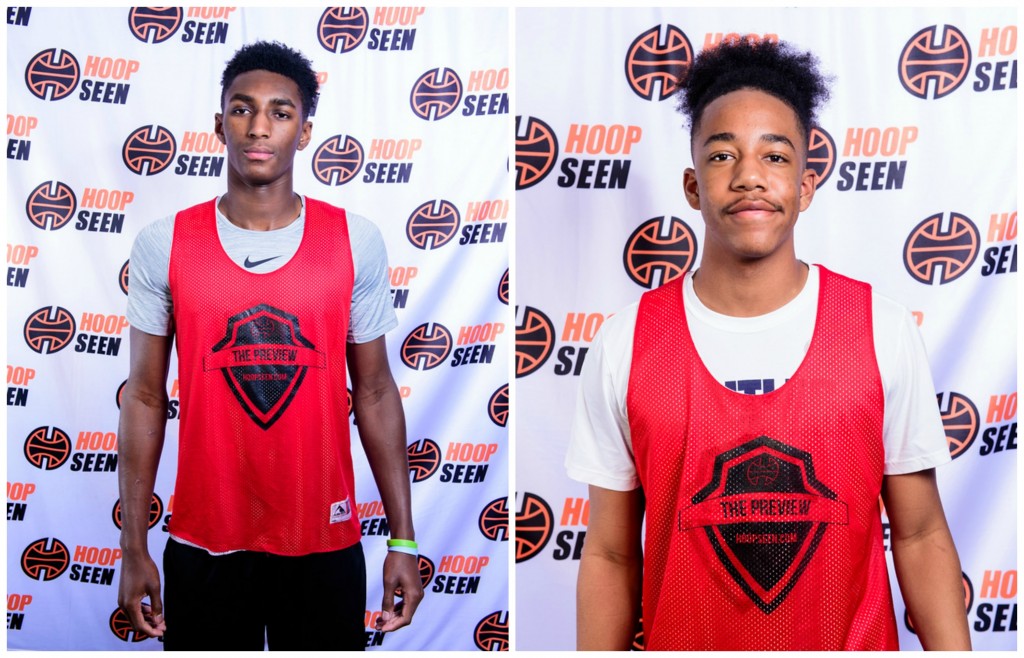 Allen Terrell, CG, 5-11, Parkview, 2020: Knowing how to play the game the right way is something that can often be overlooked in a camp setting with so many high-level players in attendance. Allen Terrell made sure to not get caught up in the game of over dribbling and overshooting by just making sure to blend in both his scoring and assisting. A consistent mid-range game made up most of his points during the few times his teammates couldn't find him spotted up from behind the arc. Terrell also feasted in transition.
Rico Wade, CG, 6-1, Arlington Christian, 2020: A good mix of inside-outside production summed up the day for Arlington Christian guard Rico Wade. Getting hot from deep while having the capabilities to explode to the rim made him a tough cover as opponents had to pick their poison. Wades shot making from behind the arc was non-stop through the first game as several of his deep threes were nothing but net.
 
Nason Simmons, PF, 6-5, Cherokee, 2021: Every team needs a rim protecting rebounder and team 10 found that in Nason Simmons. Each and every rebound was snatched down with 2 hands, leaving little ability for others to get involved. His ability to knock down the open 3 made him valuable as well as he could take his talents outside of the paint. Very productive day and intriguing talent for such a young prospect.

Brandon Green, SF, 6-5, Buford, 2019: One of the more underrated prospects in our Fall Previews '19 class came to make some noise this past Sunday. Anyone under the rim during his time of driving made sure to get out of the way as some sneaky athleticism would often put Green high in the air. His playmaking off the bounce allowed him to often play in space as he routinely broke defenders down. Green is a prototypical combo forward that should benefit greatly from another year around a loaded Buford team.

Jacobi Wood, PG, 6-2, Cleveland (TN), 2020: Jacobi Wood was a player that makes you love and hate the top performer's list at a camp like ours. A near miss doesn't take away from what was a stellar performance from the Cleveland(TN) guard. In transition, he was a tough cover as he took contact with enough explosion to easily finish with both hands. From the half court, he hit mid-range shots and used ball screens to set up the talented guys around him. There's a high ceiling in this one and even better a floor that's higher than most.   

Zack Futch, PF/C. 6-6, Etowah, 2020: One of the most physical players in attendance that would fight for rebounds until he was the man with the ball. Along with his ability to take same size defenders off the bounce, Zach Futch brought his hard hat with him as would battle for position in the low post. His willingness to defend and chase rebounds should bode well for him and Etowah this season.
Dylan Driver, SF, 6-3, Alcovy, 2020: An absolute difference maker on the glass. Great athleticism and a willingness to outwork others allowed Dylan Driver to contribute despite not having a ton of offensive production.
Jackson Gamble, PG, 5-8, Decatur, 2019: A very fundamental player that understands getting control of himself in traffic. When surrounded by defenders, Jackson Gamble would stop on two, pivot, and send out assists to wide open shooters. A good understanding of how to play the game didn't show much flash but rather the substance needed to make the proper plays. There weren't many misreads on the court when he had the ball.